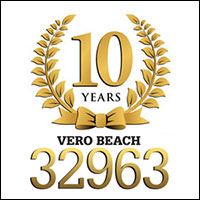 Vero Beach 32963 celebrates its 10th anniversary!
A RETIRED NEWS EXEC TELLS HOW THE PAPER BECAME VERO'S 'MUST READ' FOR LOCAL NEWS
STORY BY HENRY K. "BUZZ" WURZER | 32963 Reader

Never have we, as news consumers, been as inundated with international and national news, every day all day, as we are today. 
But local news is a different story.  Industry sources estimate that 15,000 editorial positions have been eliminated over the past decade at newspapers around the country, and many of these jobs were held by reporters and editors handling local news.
Vero's longtime newspaper of record, the Press Journal, was owned historically by local interests, and in the 1980s and early '90s, its local coverage was well regarded. But in the mid-1990s, it became an acquisition target of major media organizations.
Acquired by Scripps in 1996, the Press Journal was merged into a Treasure Coast network of Scripps Florida dailies based in Stuart. More recently in 2016, Gannett acquired Scripps and the Press Journal became part of a USA Today Florida network.
As a result of these acquisitions and mergers, Vero area residents have experienced a noticeable decline in local news coverage as have those who live in so many other similar communities across our nation.
Ten years ago, to fill this void, a local resident, Milt Benjamin, a newspaper veteran with excellent credentials, along with a couple of prescient investors, launched Vero Beach 32963 as "Your Vero Beach Newsweekly."
The mission of 32963 (the shorthand most of us use for the name) was to take a deep dive into how Vero as a community works, and to do so in a "must read" fashion. Of prime importance, Milt consistently hired reporters with impressive editorial backgrounds. 32963 was delivered on Thursdays to all households on the barrier island on a complimentary basis.  The product is regularly supported by the advertising of Vero's leading local businesses.
This decade of success has supported expanding staff. 32963 has also expanded news coverage beyond the barrier island into Vero Beach. It has brought on a digital staff and significantly improved its website, www.VeroNews.com, for daily updates between Thursday print distribution dates.
While international and national news is important, local news is imperative because it tells us what we need to know about the community we live in every day. Over the past 10 years, Milt's team has produced "must read" stories that included:
• Continued coverage of the Vero Electric saga that exposed the hidden tax users paid to support Vero municipal services; the complex negotiations of a contract to buy wholesale power from Orlando's utility; the struggle to depart from its entanglement with the Florida Municipal Power Assn.; and the just-concluded effort to sell Vero Electric to Florida Power & Light;
• Continued coverage of IRMC bringing to light the ongoing Emergency Room problems; various management and financial struggles in an ever-changing health industry; in-depth coverage of the quest to find a partner for the future; a comprehensive look at the four prospective bidders; tracking the progress of the negotiations with Cleveland Clinic;
• Continued coverage of the ecological problems in our part of the Indian River Lagoon and the need to stop harmful projects like the Oslo Boat Ramp Expansion and the development of the Osprey Estates; drawing attention to cleaning up local septic systems and achieving a wet season fertilizer ban;
• Continued coverage of the financial situation at the Indian River School District that has cost taxpayers millions of dollars;
• Coverage of Marine Bank, which  bounced back from the brink of failure a decade ago and is now a strong community financial institution;
• Coverage of St. Edward's School, which was struggling a decade ago but has emerged as a smaller but stronger educational institution;
• Coverage of how Piper Aircraft, which was hurt by attempting to enter the single-engine jet market, is now a viable manufacturer and important local employer;
• Coverage of Dodgertown, its struggles to find a new role after the departure of the Los Angeles Dodgers, and the new lease on life it was given first by Peter O'Malley and now by Major League Baseball;
• Coverage of problems at the Mental Health Association, and how it has emerged as a stronger organization;
• Coverage of the problems of short-term rentals and the efforts to put into place new regulations that have lessened these problems;
• Coverage of how the Sheriff's Department at one point did not have an adequate presence on the barrier island, and how the situation was resolved.
Such coverage is vital to our local residents. Often, because of covering important topics, and because people have different views on what is being reported, there are both receptive and unreceptive reader reactions to 32963 stories. But Milt and his staff fulfill the definition of a reporter's responsibility espoused by Col. Robt. R. McCormick, founder of the Chicago Tribune – "To provide that check on government, that government doesn't provide on itself."
Perhaps 32963 coverage of the murder a few years back of a young barrier island father in his home best tells how 32963 readers feel about their weekly newspaper and their fellow residents. The surviving family, not too long after the murder, was faced with foreclosure of their home. An appeal was made to 32963 readers, who quickly responded and retired the mortgage.
Vero is fortunate to have 32963. It is imperative that 32963 remains in local ownership. Thanks, 32963, for your past 10 years and may you have many more!
Henry K. "Buzz" Wurzer is a veteran newspaper executive. For over four decades he served in executive Marketing and Sales positions for Tribune Co. and Hearst Newspapers as well as several Industry Trade Associations. He has remained active since retirement in advising startups in the Digital Media sector. He has been active locally on the boards of the Indian River Community Foundation and the IRMC Foundation.