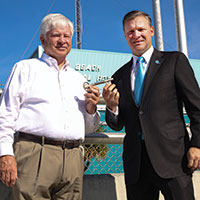 Vero to FPL: 'It's finally all yours'
STORY BY LISA ZAHNER
Photo: Vero's Jim O'Connor presents a symbolic key to FPL's CEO Eric Silagy.

It was mid-morning Monday when Vero City Manager Jim O'Connor had a moment of epiphany:  He no longer operated an electric utility.
Before heading to the power plant to symbolically hand the keys over to Florida Power & Light President and CEO Eric Silagy, O'Connor chuckled and said, "I can't get in there anymore."
As of the preceding midnight, Big Blue and the secure area around it had become FPL territory, and O'Connor's all-access city key card no longer worked on the automatic gate.
The second "aha moment" came when O'Connor saw that the city's bank account was $39 million richer. A wire transfer from FPL represented, approximately, the net proceeds of the sale after Vero meets all its long-term obligations to its bondholders, its employee pension plan and its two former wholesale power providers, the Florida Municipal Power Agency and the Orlando Utilities Commission.
The ceremonial closing Monday morning at Vero Beach City Hall was part reunion, part rally. It brought together many of the people without whom the $183 million transaction might not have happened.
If the efforts to sell Vero Beach electric were a television series, this would be Season 11 – and Monday was the season finale.
The two main characters from Seasons One and Two were there on Monday, Moorings resident Dr. Stephen Faherty and local CPA Glenn Heran. Heran and Faherty were the first two guys to channel the general angst of Vero electric customers over soaring rates into a salient argument and a spreadsheet model, famously showing that even if Vero gave away the utility, ratepayers would be better off getting power from FPL.
It sounded absurd, but it got the conversation started. Then the issue took on a life of its own in the off-season as Vero electric rates soared in the summer of 2009 to 58 percent higher than FPL rates. Tempers flared in the sweltering heat when city officials arrogantly told customers to "open a window" if they didn't want high power bills.
In Season Three, Charlie Wilson came on board. Wilson, who in his short tenure on the City Council before being removed over a residency dispute, used his decades of experience as a political strategist to bring some heart – and occasionally some heat – to the sometimes dry and weedy financial arguments that Faherty and Heran were making at every club and homeowner association meeting where there was a podium and a microphone.
Wilson took the numbers Heran had generated about savings to schools and hospitals, theaters and museums, and pitched it out with passion. Wilson was there Monday morning, inches from Silagy and current Vero Beach Mayor Harry Howle as the final closing documents were signed. Silagy even mentioned him by name in his litany of thank-yous, and later gave him the pen he signed with.
Days after being elected in November 2009, Wilson made a motion to invite FPL to a City Council meeting to begin negotiating a potential purchase. One-term Councilman Brian Heady also played a key role, casting one of three votes to launch talks with FPL.
That vote brought FPL's Regional Director of External Affairs Amy Brunjes into the drama.  When Wilson and Heady left the cast, Brunjes served as the glue that held the pro-sale team together and kept FPL committed to overcoming any political or economic obstacle to acquiring Vero's nearly 35,000 electric customers.
Season Four brought more characters into the show, as Wilson in 2010 engineered a slate of candidates running on an unstoppable pro-sale platform. Operation Clean Sweep did indeed sweep the opposition to the sale off the dais, paving the way for an April 2011 bona fide offer from FPL to purchase the utility for $100 million cash.
Former Mayor Pilar Turner and former Vice Mayor Tracy Carroll brought a dynamo factor to the sale effort when Vero needed it the most. They were like fire and ice, a deadly combination. With the steady hand of the consummate fiscal conservative, Turner brought her experience in finance and in the oil and gas industry where she held top positions as an engineer and an executive. Carroll was fearless, high-energy and brought significant sales experience, plus deep connections to the business and nonprofit community.
In any good show, characters from the past are introduced, and in Season Five, former mayor Craig Fletcher felt called to run for office again to help usher Vero out of the electric business in November 2011. Vero voters overwhelmingly gave the city permission to lease the power plant property and, for plot purposes, things were going too smoothly.
By 2012, one of the Operation Clean Sweep crew, Mayor Jay Kramer, went rogue, turning his back on his colleagues. Kramer found new friends who convinced him that municipal-owned utilities were a good thing, and openly opposed the sale.  But he was re-elected and joined by Dick Winger. The Kramer-Winger subplot would turn out to be a troublesome buddy story.
Season Six is typically when things fly off the rails in a long-running series, and that was the case for efforts to sell Vero electric. The Florida Municipal Power Agency seemed utterly recalcitrant about allowing Vero Beach to exit the statewide electric co-op. Without that exit, the sale was dead.
With the council back in the hands of an anti-sale majority, everything stalled for two long years. But the Indian River Board of County Commissioners and the Town of Indian River Shores began working  political and regulatory angles to put pressure on the FMPA acquiesce.
The county hired lobbyists who managed to get the FMPA audited, bringing public shame to their financial and investment practices. Legislators including then-Rep. Debbie Mayfield kept the municipal electric utilities and their lobbyists over at the Florida Municipal Electric Association busy fending off annual efforts at regulation.
The Shores, under the leadership of then-mayor Brian Barefoot, also hired lawyers to beat on Vero in court and at the Florida Public Service Commission. The war of attrition continued for four years, wearing down the FMPA and FMEA and its leaders until they either retired or found someplace else to work.
In the meantime, pro-sale candidates began to re-emerge in Vero city elections.
Finally in Season Nine, new key characters came on the scene who could actually work together toward getting Vero Beach electric out of FMPA's clutches, and to get a deal that would finally bring low FPL rates to Vero's electric customers.
As mayor, Laura Moss worked closely with FPL and with incoming FMPA chief Jacob Williams throughout Season Ten to hammer out terms by which Vero could buy its way out of the co-op for $108 million. But that meant the purchase price that had been offered by FPL had to go way up to make ends meet.
Vero brought seasoned negotiator, attorney Nat Doliner of the Carlton Fields law firm, in to make sure the city did not squander this latest opportunity to close the sale.
FPL came back with a plan to pay $185 million for the system, a deal that would relieve Vero of all its long-term contracts and commitments plus provide between $30 million and $40 million cash at closing.
Most of Season Eleven was spent on a subplot, with the city and FPL fighting it out with the last remaining naysayers at the Florida Public Service Commission. Finally three weeks ago, the PSC solidified its decision to approve the terms of the deal.
That's the deal that Howle and Silagy signed on Monday, something Howle called "a miracle."
Silagy was beaming as he addressed a packed house in the Vero council chambers, camera shutters snapping among a crowd grateful that FPL's top guy wanted to personally mark the occasion. Silagy credited the momentous event to a team of people within his company, and in the Vero community, whom he said "never, ever gave up." He pointed to O'Connor especially.
"He rolled up his sleeves and was always about finding a way to get to yes," Silagy said of the city manager, who took the helm in July 2011 and vowed to get the utility sold in his tenure. "It's a big difference when you have leaders who don't start with no."
Rep. Erin Grall, who came onto the  scene late but made an impact at the state level when it counted, said, "I am so proud to be part of a community that takes on obstacles together." Grall called the FPL takeover "transformational."
The coming year, 2019 is Vero's centennial, a detail Howle reflected on in his remarks about the gravity of the electric sale as a turning point in Vero's history. "This will lead us into the next 100 years stronger, happier and healthier."