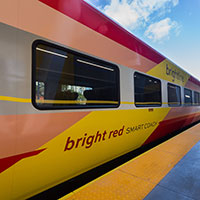 Virgin Group partnership seen big plus for high-speed train
STORY BY FEDERICO MARTINEZ

Global giant Virgin Group acquired just a 3 percent stake in the Brightline high-speed rail enterprise last month, but the partnership is expected to provide the train company, now renamed Virgin Trains USA, access to billions of dollars along with a range of other benefits.
The renamed rail company has failed to show a profit since beginning operations in 2016, and construction of the company's West Palm Beach to Orlando route will cost an estimated $2 billion, with all of the funding not yet secured.
Under those circumstances, gaining access to cash from Richard Branson's worldwide conglomerate seems like a smart strategic move. But the company's partnership with Virgin also is intended to help achieve other, long-term goals, such as eventually expanding high-speed railway services to other states, said Ben Porritt, vice-president of corporate affairs for Virgin Trains.
"Virgin is a globally recognized brand," Porritt told Vero Beach 32963. "The partnership could help to provide access to millions of customers with the potential for increased ridership from other Virgin branded travel and hospitality businesses, including Virgin Atlantic, Virgin Hotels and Virgin Voyages."
As an example, company officials cite Virgin Voyages, an embryonic cruise line that is currently building the first of four planned 2,770-passenger cruise ships. The first ship, which is expected to begin voyages in 2020, will be based in Port Miami and its passengers are seen as likely train patrons, before or after their voyages.
Presumably both Virgin Trains and Virgin Voyages will promote the idea of linking an Orlando theme-park excursion with a cruise, while also pursing Orlando visitors as likely cruise passengers.
"We believe there are significant opportunities to grow our ridership by directing customers of other Virgin branded companies within our markets on to our rail system, including by using the planned cross-platform loyalty program," company officials wrote in documents filed in November with the United States Securities and Exchange Commission.
Long-term, the partnership between Brightline and Virgin includes plans to expand high-speed rail services to Southern California and Las Vegas, where Virgin owns hotels, casinos and other entertainment businesses, according to the SEC documents.
In the meantime, the immediate goal for Virgin Trains USA is to acquire enough money to complete construction of the West Palm Beach to Orlando route, Porritt said.
Virgin Trains USA is hoping to sell $1.15 billion in bonds to help pay for that construction. The bonds must be sold by the end of December, and so far there has not been a sale.
In addition, Indian River County has a lawsuit pending that challenges the company's right to use the bonds on the project. Oral arguments for the lawsuit were heard Nov. 27 in Washington, and U.S. District Court Judge Christopher Cooper has said he will announce his decision by Dec. 31.
Officials for Virgin Trains USA have said that even if the county won the lawsuit and the company was forced to forfeit the bond proceeds, alternative funding will be sought.