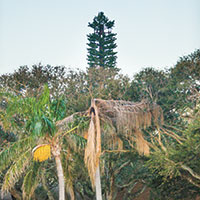 Christmas tree-like cell tower rises over Shores town offices
STORY BY LISA ZAHNER
Photo: Shores cell tower.

Indian River Shores' stealth "monopine" cell tower went up almost as quickly as Jack's famous beanstalk, hoisted into place and adorned with green fiberglass branches, adding a 115-foot pine tree-type structure to the town's landscape.
The main tower structure was delivered in two pieces by truck on Feb. 6 and assembled like a Christmas tree. Then the "branches" were installed and covered with special "socks" designed to mimic pine foliage, but not to block radio-frequency waves.
"I was pleased with how fast the tower was up and branched," said Town Manager Robbie Stabe.
Stabe said there were no surprises in the construction, which made up a little bit for all the many delays in years -long planning, approval and permitting process.
"The tower is exactly how Larson Camouflage depicted it and I personally think it looks even better than the pictures they sent us," he said. "Every resident that has shown up at the site had positive comments. Several said 'It's not as tall as I pictured it would be.'"
Mayor Brian Barefoot concurred, describing the tower as "less obvious than what I expected. You hardly see it from A1A and only when across from it on Fred Tuerk. I'm very pleased with the look."
The 108-foot tower, which extends to 115-feet with the faux branches on top, is rated according to the 2014 Florida Building Code to withstand wind speeds of up to 160 miles per hour. According to manufacturer Larson Camouflage, the "branches" are wind-tunnel tested at Texas A&M University to withstand wind speeds up to 140 mph.
"It will most likely lose pine needles in a hurricane but the tower is insured for that and they can easily be replaced as needed," Stabe said.
DataPath Tower, the company chosen by the town to permit, construct and market the tower, has secured a deal for Verizon to use the tower. That transmission equipment can be installed now, but Stabe said he's waiting on a definite schedule.
Some other technical facets of the project must come together in the meantime.
"Due to the flood-zone, all of the equipment cabinets will need to be fabricated and that will take some time," Stabe relayed from DataPath. "AT&T is working on running the fiber-optic cables from their cabinet on Fred Tuerk Drive to the site and electricians are scheduling the electrical connections."
DataPath will be bringing in fill and grading the 50-foot by 50-foot tower site and prepping it for a fence and landscaping.
Another piece of good news for town cell phone users: A second major carrier wants to broadcast from the tower.
"AT&T has applied for space and are currently in negotiations with DataPath so I would expect them to soon get busy installing their equipment as well," Stabe said.