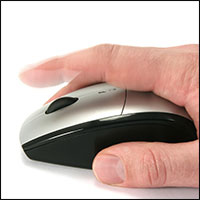 Click. Click. Have you voted yet? Click. Click.
STORY BY RAY MCNULTY

The keys to happiness in Vero Beach, according to Coastal Living magazine, can be found on your personal computers, laptops and smart phones – and the Indian River County Chamber of Commerce wants you to reach for them.
Then click every minute of every hour of every day.
From now until 5 p.m. Feb. 6.
That's when Coastal Living's online-only voting ends for its "America's Happiest Seaside Town" contest, which includes Vero Beach among its 10 finalists for the 2018 title.
And the local Chamber is taking this event seriously, fully embracing the non-scientific, criteria-doesn't-matter, anyone-can-vote-as-much-as-they-want rules of the contest.
Already, the Chamber has sent out press releases to local businesses and media, alerting them to the contest and urging people here to vote in an effort to "make it to the No. 1 spot and earn the official designation" as America's Happiest Seaside Town.
The release includes the necessary link – www.coastalliving.com/happytowns2018 – accompanied by the words: VOTE NOW.
"It's an honor to simply be nominated," Chamber Tourism Director Allison McNeal said in an email. "However, we want to win! I truly believe Vero Beach is a special place, and the locals take pride in where we live.
"We embody everything America's Happiest Seaside Town stands for," she added. "We would love to have bragging rights for a year."
Coastal Living announced the 10 finalists on its website, saying they were selected from a list of communities nominated via social media.
The website stated nominees were then evaluated using something called the Gallup-Healthways Well-Being Index, as well as percentage of clear and sunny days, healthiness of beaches, commute times, walkabililty, crime ratings, standard of living and financial well-being of locals, geographic diversity, and "our editors' assessment of each town's coastal vibe."
There was no explanation for how a community's "coastal vibe" is measured.
However, in describing Vero Beach, the magazine wrote: "Sophisticated and low key, this under-the-radar jewel of the Atlantic Coast has it all: art, food, shopping, historic architecture, gorgeous ocean beaches, and a blissful absence of high-rise buildings."
Previous winners of the contest were not eligible, and the final rankings will be revealed online June 12.
Why all the fuss over a magazine contest?  "With the amount of media coverage that comes with winning the designation, we will see an increase in tourism, simply from an awareness standpoint," McNeal said.
So the Chamber wants your help. It needs you to show some hometown pride and do your civic duty.
Vote early and often.
That's the key to happiness in Vero Beach.