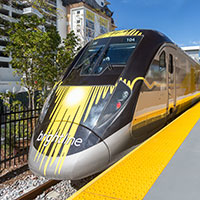 County gears up for next round in battle against all aboard florida
STORY BY BETH WALTON

In the wake of multiple fatalities, officials in Martin and Indian River counties are gearing up for a second expensive legal battle against All Aboard Florida in an attempt to derail plans for the high-speed passenger train before it hits the Treasure Coast.
Hundreds gathered last week in downtown Stuart at a meeting of the Citizens Against Rail Expansion in Florida to discuss legal, political and advocacy efforts against Brightline's planned expansion north from West Palm Beach to Orlando.
Among those in attendance at the Lyric Theater were Indian River County Commissioner Bob Solari and County Attorney Dylan Reingold.
Concerns over safety have increased following Brightline's introduction of service between West Palm Beach and Fort Lauderdale, starting with VIP runs Jan. 12.
Two people were killed and a third injured by the high-speed engines in the first days of operation after they tried to cross the tracks despite safety warnings. There was another fatality and a derailment during trial runs on the West Palm to Lauderdale route.
"Life itself is at stake for the people who are crossing those tracks," said Steve Ryan, an attorney with McDemott Will and Emery, a law and lobbying firm that represents CARE-FL and Indian River and Martin counties.
This isn't just people in cars inconvenienced by longer waits, he said. This is children playing and people carrying groceries home from the store.
One-hundred and 10 miles per hour is an unimaginable speed, Ryan explained. "If you can see it, you are within striking distance."
Even though Brightline's expansion over the next few years looks increasingly hard to stop, the Indian River County Commission agreed in January to another six-month, $50,000 contract with McDemott Will and Emery.
The Indian River County Commission also gave Reingold permission to use additional taxpayer funds to sue federal agencies if proper vetting of Brightline's publicly-subsidized financing is not done. 
Funds for such legal actions come from a pot of nearly $2.9 million budgeted between 2013-2018 to fight All Aboard Florida's extension through Indian River County. At the end of January, nearly $2.3 million had been spent in the uphill battle, the bulk on legal fees.
The Department of Transportation announced a final decision approving the Brightline's plans in December. Shortly after, All Aboard Florida boasted a provisional $1.15 billion Private Activity Bond allocation and approval from the South Florida Water Management District to lay track between Orlando and Cocoa Beach.
"This $1.15 billion is the dagger at the heart of the community," said Ryan, the attorney with McDemott Will and Emery. "We do not believe this project will be built unless it's subsidized by the government."
If All Aboard Florida gets that second set of bonds, they will have a substantial amount of the money they need to build phase two, from West Palm to Orlando.
Phase two would send 30 high-speed trains barreling through Indian River County each day during daylight hours. This would quadruple the number of locomotives coming through Vero Beach, dramatically altering the quality of life, advocates against the train say.
More trains will mean more delays on Treasure Coast roadways and waterways, causing traffic and boat congestion and the possible slowdown of crucial public services like emergency response, according to Bob Crandall, a member of CARE-FL and the former president, chairman and CEO of American Airlines.
"This is the most dangerous railroad in the United States," Crandall said at the Stuart meeting as he presented data CARE-FL is using to further its argument against expansion.
The Florida East Coast Railroad has seen 103 fatalities and 185 injuries between 2011 and 2017, Crandall reported. Those numbers are going to get even worse if dozens of new high-speed trains are added to the tracks.
Indian River and Martin counties estimate a $15 million price tag for 60 grade crossing safety upgrades if the project moves forward. Neither government has agreed to shoulder the cost and it remains unclear who will pay for the improvements.
Facing increased political scrutiny and public outcry after the most recent fatalities, All Aboard Florida said in January that it will expand its rail safety efforts, pledging to put up warning signs and recruit safety ambassadors.
Despite the serious safety incidents and local opposition, the permitting process for the phase two is almost complete, a spokesperson for the agency told 32963 last month. Brightline is actively pursuing financing alternatives, and once funding and permitting are in place, construction between West Palm Beach and Orlando will begin. It's expected to take 30 months.
"We have to go to judicial branch and hope that when we do that all of the facts and the issues that you have seen us raise will be addressed," Ryan said at the Stuart meeting. "That is one place where we can win."
In the last round of legal battles, Martin and Indian River counties successfully attacked public financing of the train venture, alleging the Department of Transportation attempted to skirt obligations to the National Environmental Policy Act by selling its Private Activity Bonds before the vetting process was complete.
When a federal judge ruled in 2016 that the approval of the financing was in fact subject to environmental review, All Aboard Florida terminated the bonds and sought private financing at a higher rate of interest.