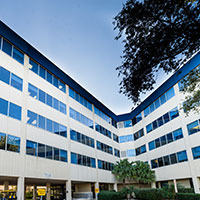 Impact of future Cleveland Clinic changes weighed
STORY BY MICHELLE GENZ

Indian River Medical Center officials continue to show concern not just for lives, but livelihoods, as they negotiate a hospital takeover agreement with Cleveland Clinic.
The hospital, with 1,750 workers, is second only to the school district in number of employees locally, and the potential economic impact of changes at IRMC weighed heavily on the minds of hospital board members and Hospital District trustees as they considered their votes last week.
Jamie Burgdorfer, the investment banker who has advised hospital officials through the partner-selection process, told the boards that there would be change no matter which of the four finalists they picked, including new construction, the hiring of employees, and physicians moving to the area.
But with Cleveland Clinic, Vero can expect the "super-dramatic impact" of a national brand, with reverberations in everything from philanthropy to the housing market to enrollment in schools, including the barrier island prep school, St. Edward's.
"The economic impact could be significant and therefore represent dramatic change," said Burgdorfer, wrapping up a presentation in advance of the Jan. 30 votes that selected the Cleveland hospital company.
"We're not used to advising hospitals that would join Cleveland Clinic," he said. "Cleveland doesn't do this historically; it's a rare day that someone of their stature is interested in doing that. But the overall economic impact for the community would be the most dramatic with Cleveland, and it would be immediate."
Philanthropy, already at a level Burgdorfer said he had never seen for a town this size, would swell with the arrival of an institution like Cleveland Clinic.
Chairman of the IRMC Foundation board, Tony Woodruff, seconded that notion after the hospital board's unanimous vote for Cleveland Clinic, claiming "new doors are going to open now" as "people in this community who never gave to this hospital and foundation" reconsider support under a name like Cleveland Clinic.
But to those elected officials on the Hospital District Board, who had two months to check in with constituents about the partner choice, the decision was more nuanced.
District Board chairman Marybeth Cunningham found one doctor's comment particularly insightful: "In the long run, Cleveland Clinic will be the best thing for the community," he told her. "In the short run, it will be the hardest."
While high-end real estate brokers may be rubbing their hands in anticipation of well-paid physicians transferring here from Ohio, the slots those docs will take – and the patients, in the case of independent physician practices – may feel like invasive surgery to established medical practices here.
No doubt, the sales pitch of having access to the Tiffany of healthcare seems likely to boost the housing market generally. And one doctor in the audience last week remarked on the pro-Cleveland vote coming almost entirely from affluent island residents.
But for the 1,750 people who make their living at IRMC, the "Cleveland Clinic standard" promised in the company's first proposal may have challenging consequences. Particularly for doctors, Cleveland's performance measures are known to be tough and employment contracts are only for a year.
As an academic, physician-led institution, Cleveland Clinic's threefold mission is patient care, education and research, and all are touched upon in a comprehensive annual review of each physician.
Conducted one-on-one by the department chair, the review includes patient volumes, and quality of care, as well as patient satisfaction surveys. It asks to what degree the physician has been involved in research, including participation in clinical trials and having papers published.
There are boxes to check for education, measuring participation in residents' training, and for engagement in both the clinic and outside communities. Career goals are reviewed and updated. A sample review shared by two former Clinic executives at a healthcare trade group conference last year could get thin-skinned doctors quaking in their surgical booties.
"They don't just talk the talk, they walk the walk," said District Trustee Allen Jones, wincing on behalf of IRMC doctors.
At the same time, Cleveland Clinic's achievements in medical innovation – a major point of pride – can impact its own employees, and conceivably cost some their jobs. There are robots in the basement of the main campus that move goods around on a track. Astonishing, and perhaps very cost-effective, but some cart-pusher somewhere isn't getting a paycheck.
Another innovation takes the place of at least one physician. A remote ICU care unit, featured in an article last spring in the Economist, consists of a doctor and nurses in a room they call "the bunker," watching from far away 150 patients they are monitoring, all of them in special-care and ICU clinics but with no specialist on the night shift. Along with multiple monitors, the medical staff looks in on the patients via a camera at the end of their beds. "The transformation in the coming decades will be as wrenching as any hospitals have yet seen," says the article.
"When I think of the hospital of the future, I think of a bunch of people sitting in a room full of screens and phones," said Dr. Toby Cosgrove, the recently retired Cleveland Clinic CEO, as quoted in the Economist article.
District Board chairman Cunningham, the retired head of operations for the Packard Electric Division of Delphi Corporation, listened closely to reactions of healthcare workers imagining life under the Clinic's scrutiny.
"I talked to a lot of the doctors here at the hospital and some doctors around town who have nothing to do with the hospital. Some are very nervous about Cleveland Clinic," Cunningham told her fellow District trustees as they settled in for the vote last week that split four-to-three for Cleveland.
"Others are really excited about Cleveland taking us to a new level and they want to be a part of it," Cunningham went on. "But we need to be prepared to be understanding. We're doing this for the future. Are we doing this because it's easier right now or are we going to be the best? I would like to be the best."
Her fellow trustee, Allen Jones, who is treasurer of the District Board, had also done his share of research among Vero physicians. "In terms of employers of choice, the doctors that I've spoken with, that I have great respect for, were unanimous: the one that raises the bar the most is Cleveland Clinic."
Dr. George Mitchell, a longtime critical care physician at IRMC, dropped in for the hospital board vote. When it came in unanimously for Cleveland Clinic, he thanked the board for its decision. "There are a lot of top-notch doctors here and when they hear this, they are going to stay."
Dr. Tom Spackman, a former District Board chairman and a retired radiologist who did his training at Yale New Haven Hospital and chaired the radiology department at the University of Connecticut School of Medicine, looks forward to the possibility of Vero finally having a graduate medical education program at the hospital.
"Five or six years ago, there was an effort to establish medical education here and it was resisted," he says. Part of the hesitation had to do with the commitment hospital physicians would've had to make to take on the intensive, one-on-one teaching involved in training doctors.
"I wasn't sure we had the clinical material and prestige to attract the kind of program we wanted here," Spackman said. "Certainly if it's Cleveland Clinic, that will be an attraction for a lot of people looking for residency programs."
Such a program, should Cleveland agree to one in current or future negotiations, could attract a pool of highly talented young doctors from which to recruit future physicians who want to live and work here permanently. 
Cleveland Clinic has one of the largest graduate medical education programs in the country, with 1,500 residents and fellows spread between its main campus and two other hospitals in Cleveland, as well as at its Weston location in Broward County, two hours south of Vero.
As for IRMC's nursing staff, there were "some high-fives in the hallways" when the news of the vote for Cleveland Clinic filtered through the ranks, according to Linda Walton, chief nursing officer at the hospital.
"It's exciting to be a part of a corporation that is held in such high regard nationally and internationally," Walton said. "And there are endless possibilities that come with that."
Walton pointed to the Institute for Nursing Excellence, a Cleveland Clinic initiative to further education and training for the 22,000 nurses in a system that includes nine hospitals and multiple surgical and family care centers. "It speaks to how they value nursing," she said.
"I think with any change, there's always a little bit of fear of the unknown," said Walton, who came to IRMC less than a year ago from Orlando Health, one of the four finalists considered; she also served as an Army nurse in Iraq. "You can lessen that fear when you know you're partnering with an organization that has done great things and is innovative and is focused on excellence.
"We know that healthcare has to change and it's going to continue to change going into the future. Cleveland Clinic is trying to make a positive impact on the future of health, as opposed to waiting to respond to it. To be part of that whole process is very inspiring."