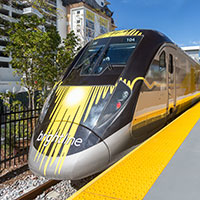 Indian River continues the fight to stop Brightline
STORY BY BETH WALTON

Even as All Aboard Florida chugs ahead with its plan to run high-speed passenger trains through Vero Beach and the rest of the Treasure Coast, local officials continue to fight the plan, which they believe would bring serious safety problems and economic harm to the area.
The latest move came earlier this month when Indian River County joined Martin County and advocacy group CARE-Florida filing a complaint in U.S. District Court of the District of Columbia, which names the U.S. Department of Transportation and the Federal Railroad Administration as defendants.
The lawsuit alleges the DOT ignored safety, maritime and environmental problems and improperly subsidized the Brightline trains with tax exempt bonds, while violating the National Environmental Policy Act.
"Throughout the NEPA process, Indian River County submitted comments to the [Federal Railroad Administration] demanding that the agency take a hard look at the environmental impacts of the All Aboard Florida project," Indian River County Attorney Dylan Reingold said in a statement.
"Unfortunately, after improperly waiting 28 months, the [Federal Railroad Administration] issued a flawed and legally inadequate Record of Decision."
The DOT announced approval for the Brightline project in December. Shortly after, the private passenger train company reported a provisional $1.15 billion Private Activity Bond allocation and approval from the South Florida Water Management District to build tracks between Orlando and Cocoa Beach.
Brightline began phase one service last month between West Palm Beach and Fort Lauderdale, and the high-speed rail project ultimately is set to run from West Palm Beach through the Treasure Coast before jetting west to Orlando.
The proposed expansion would significantly increase the number of trains passing through Indian River County where there are 31 at-grade road crossings, many in need of safety upgrades.
Safety concerns about the trains, which travel 110 mph in some stretches, have increased due to a multiple collisions and fatalities involving Brightline trains since the company launched its West Palm-to-Lauderdale service on Jan. 12. The most recent was Feb. 14 when police say a 90-year-old Highland Beach man was unable to get out his vehicle before it was struck by a train around 8 p.m.
Witnesses told investigators the man's car was stopped on the tracks at a red light when the gates dropped. He was taken to Delray Medical Center for treatment.
This was the first time since Brightline began service that a train hit a car. Two Palm Beach County residents were killed in Boynton Beach trying to cross the tracks in January. Melissa Lavell, 32, was on foot when she died. Jeffrey King, 51, was riding his bike home from work. Both attempted to cross the tracks despite safety warnings.
Others injured include a Wilton Manors pedestrian who police say was attempting suicide; a Fort Lauderdale teen walking with friends along the tracks; and a 55-year-old Fort Lauderdale man who walked into the train's path. Reports from Broward County claim he survived the impact, but will have to learn how to walk again.
"While the death toll mounts day by day, the fundamental issue is how many more encounters between AAF/Brightline trains and pedestrians, bicyclists and motorists will occur," attorney Steve Ryan said in a statement prepared by CARE-FL, Indian River and Martin counties.
"We don't believe that these crossings in highly populated areas can be made safe for trains traveling at 110 miles per hour."
A Brightline representative dismissed the claims in a statement last week. All Aboard Florida has pledged to expand its rail safety efforts by putting up warning signs and recruiting safety ambassadors.
"This is the seventh lawsuit Treasure Coast counties have filed in order to stop a privately funded transportation project that is critical to Florida's growth," she said.
"The anti-progress vision of the Treasure Coast has already cost taxpayers $7 million. Apparently, there is no limit to how much more taxpayer money they will waste."
Funds for such legal actions in Indian River County come from a pot of nearly $2.9 million budgeted to fight the expansion. At the end of January, nearly $2.3 million had been spent, the bulk on legal fees.
The Indian River County Commission agreed last month to another six-month, $50,000 contract with law firm McDemott Will and Emery to lobby state and federal lawmakers against the train.
County leaders also gave Reingold permission to use additional taxpayer funds to sue federal agencies if proper vetting of Brightline's publicly-subsidized financing is not done.