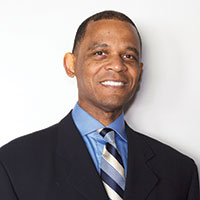 Johnny Benjamin claims his stash of pills seized illegally
STORY BY BETH WALTON

Attorneys for Dr. Johnny Benjamin, the Vero Beach spine surgeon facing life in prison on federal drug charges, has asked a judge to suppress evidence they say was illegally obtained at the Melbourne International Airport.  Benjamin, dressed in medical scrubs, was stopped Oct. 6with thousands of pills that appeared to be oxycodone tablets and a ticket to Philadelphia.  He was arrested six days later.
Donnie Murrell, a West Palm Beach defense attorney, asked in a Jan. 12 motion that the pills found in Benjamin's backpack at the airport, videotape of the seizure and statements the doctor gave to the police not be allowed as evidence.
The DEA had no probable cause to search Benjamin so its agents asked the airport police to look in his bags, argued Murrell, who did not respond to a request for comment. "This was illegal."
More than 40 years ago, the courts anticipated law enforcement would try to take advantage of warrantless, administrative searches and ruled evidence obtained this way should be inadmissible, he said. Airport searches are strictly limited to preventing firearms or explosives from being taken onto a plane.
Shortly after Benjamin's luggage cleared the TSA X-ray machine, officers told the doctor that TSA suspected there were bullets in his backpack.  "This was a ruse. TSA had no such suspicion," Murrell wrote.
"TSA discovered no evidence that Benjamin possessed any material or objects prohibited on an airplane. The Melbourne Police, at the request of the DEA, used the administrative search by TSA as cover to conduct a search to further a criminal investigation," the lawyer claimed.
Confronted with the pills, which were counterfeits given to the doctor by a confidential informant and presented as Fentanyl-laced Oxycodone, a highly addictive narcotic that would be sold for a high value on the street, Benjamin told airport police the drugs were for his alleged tonsil cancer.  He then drove back to Vero Beach and wrote himself a prescription for Fluoresce – a chemotherapy drug – when officers asked for more paperwork. 
When Benjamin returned to the airport with the prescription he wrote, officers told him they had done research while he was away and knew the pills were oxycodone. The police said they would confiscate the drugs pending further investigation. 
The day before Benjamin's impasse at the airport, DEA agents and an undercover informant orchestrated a drug transaction with the doctor behind Vero Beach's Pro Spine Center. Investigators say Benjamin took approximately 4,000 pills marked with an "A-215 stamp."  The tablets, made to look like oxycodone, were actually lactose. The price was $4 a pill.
After stopping Benjamin, agents did a field test and determined the pills he was carrying as he attempted to board the flight to Philadelphia were the same composition as the tablets handed to him the day before during the staged drug transaction outside his office.
Benjamin denied knowing why the tablets had an "A-215" marking and asked to call a deputy at the Indian River County Sheriff's Office. He also offered to call his office.
Prosecutors contend there was nothing wrong with the way the DEA conducted its investigation. In his Jan. 26 written response to the motion filed by Benjamin's attorneys, Assistant United States Attorney John McMillan said the search was voluntary. Not only did Benjamin offer consent, but at one point he asked if the officer needed help opening and searching his bag.  
The doctor was free to leave at any time, argued the prosecutor. In fact, Benjamin did leave "to manufacture prescriptions for his purported 'cancer medication,'" the prosecutor said.
Investigators are allowed to deceive defendants within reason, McMillan contended. The police did not falsely claim to have a warrant or tell Benjamin he had no right to resist the search.  Plus, the doctor had shown an understanding of his right to refuse a warrantless search in the past.
When Michigan State Police suspected a marijuana grow operation on Benjamin's Salinac County property in October 2016, Benjamin denied entry until officers had a warrant, McMillian explains.
The doctor was charged with a felony in that case, but later pled guilty to a misdemeanor. "There can be no question as to his identity as the person who refused to consent to a search previously," he says.
Benjamin is highly educated and intelligent, the prosecutor added. He clearly believed no incriminating evidence would be found. "Few people – other than possibly a pharmacist would have any idea what the designation 'A-215' on a pill meant, and most would take the word of a doctor at face value."
The DEA did have probable cause, McMillan said. Investigators didn't have a warrant because it wasn't clear what Benjamin's luggage would look like or how he would carry the drugs. These details are necessary for a search warrant application. 
Had Benjamin refused the search at the airport, agents would have identified themselves to him, legally seized his luggage for safekeeping and immediately applied for a search warrant based on their lengthy, undercover investigation, McMillan added.
Evidence obtained unlawfully may be admissible if the government can prove that it ultimately would have been discovered by lawful means.
The DEA began investigating Benjamin in 2016 after a Palm Beach woman died from an overdose and the fentanyl-laced oxycodone found in her possession was allegedly traced to him. The doctor is a registered controlled substance prescriber in Indian River County and holds staff privileges at the Indian River Medical Center.
Benjamin entered a not guilty plea shortly after his October arrest. He was denied bond and is being held at the Federal Detention Center in Miami.  An evidentiary hearing to consider the defense motion to suppress the Melbourne evidence is set for Feb. 9 The case is scheduled to go to trial in April.