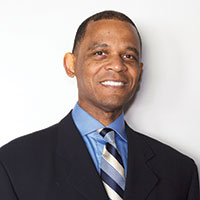 Johnny Benjamin's woes started with Michigan pot bust
STORY BY BETH WALTON
Photo: Photo of Dr. Johnny Benjamin.

Dr. Johnny Benjamin's legal troubles and alleged dealings with illicit drugs started nearly a year before Indian River County Sheriff's Office deputies arrested him at his island home. The doctor was later charged by federal agents for alleged attempted possession and distribution of a controlled substance resulting in death, namely the dangerous opiod cocktail of fentanyl-laced oxycodone.
Newly filed court documents suggest the Vero Beach spine surgeon, who is behind bars in Miami awaiting trial, struck a plea deal in Michigan after a state trooper stumbled upon a suspected marijuana grow operation linked to him.
Benjamin, 52, was booked in the Sanilac County Jail Dec.14, 2016, two months after police responded to an alleged electricity theft at the home.
The property in rural Sanilac Township had been deeded earlier that year to Marsha Benjamin, a woman the doctor claims he married years ago in Vero Beach, though federal prosecutors point out the county has no marriage certificate for the two on file.
Benjamin was charged with violating Michigan's Controlled Substance Act, accused of marijuana production and the possession of dangerous drugs, according to records obtained by Vero Beach 32963.
The case was later bound over to circuit court where the doctor faced allegations of maintaining a drug house and the delivery or manufacture of between 5 and 45 kilos of marijuana.
The record was sealed, which makes it hard to be sure exactly what happened next, but according to Assistant United States Attorney John McMillan, the felony case was dismissed after Benjamin pleaded guilty to a lesser offense in exchange for a diversionary sentence.
Even though Benjamin avoided jail time – and managed to keep practicing medicine in Indian River County – the marijuana venture was "a fully operational commercial grow house that the defendant engineered in Michigan," according to the federal prosecutor, who described the operation in an October court hearing after Benjamin's Indian River County arrest.
The Michigan State Police started investigating the doctor on Oct. 19, 2016, after an electrician arrived at his family's property to check the meters, according to a state police incident report introduced as evidence in the federal case last month.
Something at the Michigan home wasn't right, noted Trooper Bethany Craig. An electrician had installed a new meter and in only one hour the house used 6 kilowatts of power – a number "which is extremely high, especially for a house that is vacant," Craig wrote in the report.
"At this point due to the electricity issue, I suspected a possible marijuana grow or meth lab," she said.
A man claiming to be the caretaker of the property met police at the residence. He introduced himself as Benjamin's father-in-law and did not respond when asked if there were drugs inside the home. Instead, he got the Vero Beach surgeon on the phone.
Benjamin told the trooper that he was a doctor in Florida, and that he didn't know anything about electric larceny, Craig recalled. When Craig offered to go inside and see if there was some sort of malfunction, Benjamin acted confused and didn't grant her permission, she said.
The conversation was on speaker phone and Benjamin's father-in-law was shaking his head back and forth as he listened, Craig observed. "He stated he believed Benjamin was lying to him so he was going to tell me what was going on," she wrote.
Benjamin's father-in-law then told the state trooper the doctor and his daughter had purchased the home in 2016 and were growing marijuana inside. He said Benjamin had about 60 plants, but that none had been harvested yet.
Benjamin's father-in-law said the doctor had told him the operation was legal – that he was allowed to grow medical marijuana for his patients. The man "was skeptical because he had not seen paperwork yet, but he trusted his daughter and her husband," state trooper Craig wrote. "[He] did not believe Johnny would take those kinds of chances by growing marijuana illegally."
Doctors in Florida are not permitted to distribute medical marijuana, nor are they allowed to legally grow or sell it, according to the Department of Health. Medical marijuana is only legally dispensed in Florida by approved and regulated Medical Marijuana Treatment Centers.
Benjamin later told the state trooper he thought the state's laws allowed him to grow plants at the residence, Craig wrote. The officer told him this was not true, but he continued to deny wrongdoing and wouldn't let her search the home.
"I advised Benjamin I knew there were plants in the house and now was the time to be honest because honesty goes a long way," Craig wrote. "I asked him again how many plants were in the house. He stated there were none as far as he knew. I asked him for permission, then, to search the house if there were no plants inside. He hesitated again."
As she applied for a search warrant at the scene, Benjamin repeatedly tried to call his father-in-law, but the man was angry and refused to answer his phone, according to the trooper. The trooper eventually got the search warrant and Benjamin was arrested two months later in December 2016.
Despite the Michigan drug arrest and subsequent plea deal, Benjamin was able to continue practicing medicine in Florida, where he remains a licensed physician and controlled substance provider in Indian River County.
Neither the Michigan State Police nor the Sanilac County Prosecutor's Office would comment on the case. Both agencies declined to say if they alerted Florida medical authorities of the doctor's Michigan arrest and prosecution. The ProSpine Center, where Benjamin worked in Vero Beach, did not respond to a request for comment.
The DEA, whose work with federal prosecutors against Benjamin is ongoing, also refused to speak about his case.
In general, the federal agency would not be in a position to notify professional accrediting agencies of an arrest until after its investigation is complete, said Anne-Judith Lambert, a spokeswoman for the Miami field office.
The American legal standard is not to shut someone down on suspicion, she said. "We gather evidence as fast as we can to build a good case that will shut [these doctors] down and put them away forever or as long as legally possible."
The Florida Department of Health will neither confirm nor deny if it received notification of Benjamin's Michigan arrest or prosecution, said Brad Dalton, a spokesman for the state regulatory agency that oversees medical licenses.
By law, the Florida Department of Health cannot make such notifications public until the Florida Board of Medicine investigates and finds probable cause for disciplinary action.
Complaints are filed internally based on stories in the media and by patients, law enforcement, or physicians themselves, Dalton explained.  They are then analyzed to see if the department has regulatory authority and sent to the board's probable cause panel for review.
"According to our license verification site, Dr. Benjamin holds a clear and active license with no public complaints or discipline on his record," Dalton said last week, even as Benjamin remained in prison awaiting trial on the federal drug charges.
The DEA began investigating Benjamin in 2016 after a Palm Beach woman died from an overdose and the fentanyl-laced oxycodone found in her possession was allegedly traced to him. He was arrested in October days after being stopped at the Melbourne airport while trying to board a flight to Philadelphia with what appeared to be thousands of illegally obtained oxycodone pills investigators say the doctor planned to distribute up north.
Benjamin was indicted Oct. 31 on three federal drug charges, including the distribution of a controlled substance resulting in death, and faces 20 years to life in prison if convicted. He has pleaded not guilty and is being held without bond at the Federal Detention Center in Miami.
A hearing to consider a defense motion to suppress evidence obtained at the Melbourne Airport was held last week in a Fort Lauderdale courtroom. U.S. District Judge William P. Dimitrouleas ruled this week that the pills seized at the airport can be used against Benjamin. The case is set for trial in April.