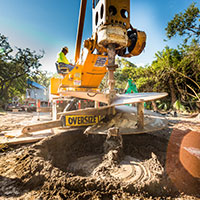 Long-awaited Shores cell tower to be delivered to site next Tuesday
STORY BY LISA ZAHNER

The long-awaited Indian River Shores "monopine" stealth cell tower will be delivered by truck on Tuesday to the construction site at the rear of the Shores Public Safety Complex if all goes as planned.
Town Manager Robbie Stabe said as of last Monday afternoon plans were still on for the 115-foot-tall structure to arrive in two primary sections and be fitted together atop a concrete foundation poured more than a month ago and cured for durability.
Once upright, the tower will be adorned with fiberglass "branches" that will be attached to the main pole. The branches will arrive the same day as the tower and be stored on-site until crews are ready to install them.
More important than the green tree boughs is the cellular transmission equipment that will go atop the tower.
Verizon Wireless has signed on to lease a spot on the tower. The town's contractor, Datapath Towers is still in negotiations with AT&T. Town Council members have stated that residents have been telling them they're switching their mobile services to Verizon, and are excited about getting service strong enough to use inside their homes.
"It will take six to eight weeks to get the carrier on it and in place," Stabe said.
While tower construction and landscaping work is winding down, another major project will be ramping up just yards away.
Town officials have put out a bid packet on the new Shores Community Center, and if all goes well, demolition of the old community center will begin by March 1. Completion of the community center is on a strict deadline, since it needs to serve as a polling place for the November 2018 election.