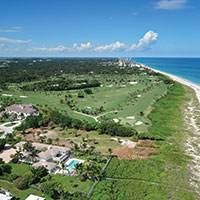 Riomar oceanfront lot sells for 'bargain' $4.4 million
STORY BY STEVEN M. THOMAS

One of the last prime pieces of oceanfront development land in Riomar sold last week for the "bargain" price of $4.4 million.
Treasure Coast Sotheby's agent Rory O'Dare, who handled the transaction and also owned the property, said the buyers were a local family who live in John's Island.  He said they plan to build "a modest home" that will be about 5,000 square feet.
Situated behind a live reef that shelters the accreting shoreline and creates Hawaii-style surf when conditions are right, the 1.5-acre property at 1930 Ocean Drive has 154 feet of Atlantic Ocean frontage, with a deep buffer of dunes and sea grass. It's also a golf course property, stretching for 267 feet along the southern edge of Riomar County Club.
"This is a once-in-a-lifetime legacy property," said O'Dare, who has a long history with the scenic piece of land. "There is nothing else like it and it will never be reproduced. They are not building anymore golf courses on the ocean in Florida."
One of only a handful of lots in the state that is on both the ocean and a golf course, the property was tangled up for years in post-real-estate-crash complications involving an overleveraged developer and badly bruised bank.
O'Dare first listed it for sale in 2010, after it had been foreclosed on, but the real estate recession was approaching its nadir that year and the lot did not sell. He then decided to buy and develop the property himself and worked for several years to put a deal together.
Backed by private financing, he eventually closed on the land in August 2013 for $2.7 million, a price made possible by the multimillion-dollar losses borne by the bank and prior developer, and tried marketing it as a lot/home package for $12,950,000.
He created a website, Riomarpoint.com, that showcased two virtual 12,000-square-foot homes, one modernist and one Mediterranean, showing what they would look like against the backdrop of the ocean and country club, and networked with top Vero brokers to find a buyer.
When no one bit on the package deal, he continued to seek a buyer for the lot. The property was under contract a couple of times in the last few years, but the deals fell through, mainly due to an odd restriction on the deed.
"The major issue was an easement attached to the golf course," O'Dare said. "When they plotted the course and the private lots around it, they put a landscape buffer between them, and at some point the course moved a T-box into the buffer area." Apparently that means golfers have access to part of the lot – something the buyers who backed out did not like.
Probably because of the landscape buffer issue, the buyers who finally pulled the trigger – signing a contract in December and closing last week – got what appears to be a phenomenal deal if you look at the comps: The 1.7-acre lot at 2300 Ocean Drive on the north side of the country club, the only other one in Vero that is on both the ocean and a golf course, sold for $7 million in 2015, and the 1.7-acre lot next to it at 2310 Ocean Drive sold in 2016 for $8,875,000 – more than twice the price of the Riomar Point lot, even though the property is only slightly larger.
O'Dare, a lifelong surfer and self-described waterman, said he stayed focused on the Riomar Point property for nearly 10 years because of its exceptional qualities and his fascination with the shoreline there.
"It is virgin land that has never been built on. The reef in front of it acts like an underwater seawall and blocks the northeast current," reducing the impact of nor'easters that erode the island shoreline each winter and resulting in a 75-foot-wide dune and expansive beach.
What's more, the reef creates a point break surf spot when southern storms bring a heavy southeast swell.
"It is very rare, but when it comes head high or double overhead, it peels perfect and looks spectacular – like Laniakea Beach on the north shore of Oahu. In September when there was a large swell, we had 10-foot faces, pretty as could be."
"Rory had the foresight to understand the unique value of this estate homesite in Old Riomar," said Treasure Coast Sotheby's broker Michael Thorpe. "He kept his energies laser focused selling this gem."
It was well worth the effort in the end. Even though the land sold at a bargain, O'Dare and his backers grossed $1.7 million on the deal and carrying charges were low. Property taxes during their period of ownership were less than $200,000 and there were no bank interest charges, so a substantial profit was made.