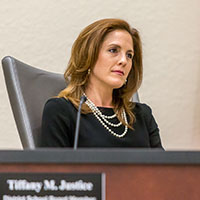 School Board member pushes her personal agenda
STORY BY KATHLEEN SLOAN
Photo: Indian River County School Board Member Tiffany Justice.

Indian River County School Board Member Tiffany Justice wants to throw out the African American Achievement Plan to adopt one she thinks will be better, pushing her plan forward over the objections of achievement plan committee members who say the change makes no sense.
The committee is composed of School District staff members and citizen volunteers.
Justice's interference comes despite School Board policy that discourages board members from attending independent committee meetings, because they may "unduly influence or stifle committee deliberations."
If a board member does attend a committee meeting, the policy says they should "participate in committee discussions as members of the public," not as elected officials with authority over School District policy, noting that "personal opinion will be clearly identified as such to committee members."
Despite those polices, Justice, whose comments are preserved in minutes published on the district website, has taken over direction of committee meetings and altered agendas while failing to clarify that she speaks as a private citizen, using her clout to direct school staff on the committee while ignoring citizen volunteers' recommendations.
At the Feb. 5 meeting, Jacqueline Warrior, the NAACP liaison on the African American Achievement Plan, asked who decided the old plan should be dropped. School District Equity Director Deborah Long, the staff member assigned to run the meeting, said it was decided by "consensus" and asked committee members "to speak up," but none confirmed the assertion.
Committee member Margaret Ingram said it was Justice who wanted the old plan dropped in favor of one she said would be better aligned with the district's strategic plan.
Citizen members Warrior, John Thornton, Michelle Scott and Eugene Wolff – who is running for School Board – all said the current plan's outcomes should be reported and evaluated for effectiveness before any changes are made.
Warrior emphasized the plan is supposed to be founded on and modified according to evidenced-based research that shows success or failure, not changed on the whim of a School Board member.
She said the current plan took three years to create and has established baseline data that can be used to chart improvement or decline in African American student performance. A new plan would waste three years of effort, take until the end of this school year to establish a baseline, and another year to accumulate comparative data, she said.
School District staff, however, took Justice's lead. Peggy Jones, executive director of secondary education, said, "I don't think any of us want to go backwards," supporting Justice's new plan proposal.
At the end of the meeting, Long stated the March meeting will again take up the new-plan draft.
The African American Achievement Plan Justice is meddling with a requirement of a federal court order put in place in the 1960s and amended in 1994 that is intended to bring about equal treatment of African Americans and whites within the School District and erase the vestiges of segregation.
The School Board filed a petition with federal court July 2017 to partially get out from under court oversight, claiming it has achieved equitable treatment for black staff and students in three areas – faculty ratios, staffing ratios and facilities access.
The NAACP, which is the plaintiff in the federal matter, does not agree.
U.S. District Court Judge Kathleen Williams ordered the parties go through mediation before considering the district's petition, as required by the desegregation order. Mediation began Jan. 29. Hearings are private, and not open to the public.
Warrior is also concerned that Justice, by flouting district policy and interfering with what is supposed to be an independent committee, is tampering with the School Board's ability to make transparent decisions as a body.
"School Board members can't speak to each other outside of noticed meetings," she said, "but Justice is skirting Sunshine laws by making her position [on the African American Achievement Plan] known in these committee meetings. The minutes are available to the members, which is similar to sending them an email, which is clearly a violation of the open meetings act."
Justice did not respond to a request for comment.