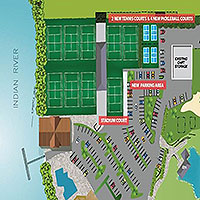 The Moorings plans major expansion of the club's racquet sport facilities
STORY BY RAY MCNULTY
Photo: Rendering of upgrade/expansion plans to the Moorings racquet sport facilities.

The Moorings is planning to embark in May on a $2 million project to upgrade and expand its racquet sport facilities.
The project is the next step in an ambitious capital improvement campaign that in 2015 saw the island club purchase the Hawk's Nest Golf Club – a long-sought, championship-level course that has helped The Moorings club grow its membership to more than 1,000.
The racquet-sports plan includes the relocation of two tennis courts and the conversion of a third into a stadium court that can be used for exhibitions, inter-club team competitions and the annual King of the Hill fundraising tournament.
HydroCourt underground watering systems will be installed beneath all three new courts, which also will have LED lighting. Fixed bleachers will be built adjacent to the stadium court, which is currently Court 4.
The relocation of the two easternmost courts – Courts 5 and 6 will be shifted to the northwest, behind the new stadium court and closer to the St. Edward's School property line – will allow for the construction of a four-court pickleball complex, which also will include LED lighting.
In addition, The Moorings will build a new, 40-space parking area east of the stadium court  and install gates at the Harbour Drive entrance to the club – not to the community – as well as at the employee entrance on State Road A1A, north of Harbour Drive.
According to Ursula Gunter, The Moorings' marketing and membership director, the project has been approved by the club's members and is scheduled to begin in May. The work is expected to be completed by next January.
"Getting a championship-length golf course was always this club's goal, and we addressed that need in 2015," Gunter said. "That acquisition has brought younger families to the club, and we're seeing an increased interest in tennis.
"We've also got about 150 members who play pickleball," she added, "and with the popularity of the sport booming, we want to provide a place for our members to play here.
"So with all this going on, now is the time to take care of our racket-sports people and create the ultimate club experience."
The new parking area will serve both the clubhouse and the new tennis pavilion, which was rebuilt with new roofing after Hurricane Irma.
"This is a very exciting time in the history of the club," The Moorings General Manager Craig Lopes said. "The master plan project will continue to deliver on our goal of enhancing member services, satisfaction and value."