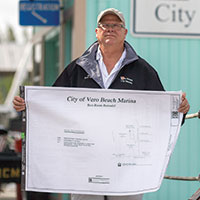 Vero City Marina to finally get needed repairs, renovations
STORY BY LISA ZAHNER
Photo: Vero Beach City Marina Harbor Master Tim Grabenbauer.

The Vero Beach City Council was set to award a contract this past Tuesday night for desperately needed renovations to 30-year-old bathrooms and laundry facilities at the city marina, which is brimming with boats this time of year.
Longtime Harbormaster and Marina Director Tim Grabenbauer said the marina's business has been bolstered by a rebounding economy, brutal weather up north and conditions at competing marinas that still have unrepaired storm damage dating from Hurricane Irma in September 2017 and Hurricane Matthew in October 2016.
As of Monday, the Harbormaster said he had about 90 vessels bobbing around the marina's mooring ball field, plus another 25 to 27 new guests renting out slips each week.
Ahead of the council vote, staff recommended the $114,600 renovation contract be awarded to Vero Beach-based Bill Bryant Construction, which was the lowest in-county bidder, within 5 percent of a Brevard County firm that bid slightly less – close enough to trigger the local preference provision in the Vero city code.
Some of the marina repairs, like the northern set of men's and ladies' bathrooms, have been on the city's wish list for a decade. But when tourism took a downturn in 2008, there wasn't enough marina revenue to support major renovations while still paying off millions in debt for a dry-storage facility.
The marina is supposed to operate as a self-sustaining enterprise fund, but Vero taxpayers and city leaders value the amenity and sometimes subsidize its operations, and the Florida Department of Environmental Protection helps out with money for things like pump-out equipment, Grabenbauer said.
But neither the city or state has been willing to fund the needed renovations, and years of neglect came back to bite the city recently when a series of mishaps occurred involving docks in disrepair, including a woman and her dog getting dunked into the lagoon when a "finger pier" collapsed beneath them in April 2017.
Grabenbauer took some heat last summer during budget talks for moving too slowly on the bathroom renovations and the docks. Councilmembers said a first-class city like Vero should have a first-class marina to match. They also criticized some of the services, like long lines for fuel.
Grabenbauer assured the council he would immediately address the problems; in July, he hired an architect and consultant and put together a bid packet that went out in November and closed in December.
Despite having a full house right now, Grabenbauer said the bathroom renovation will start as soon as possible after the contract is awarded, even though he said last year that he didn't want to tear up half the facilities in the middle of high season.
"That was our thinking last year, but now we just want to get the work done," Grabenbauer said.
The restrooms were moved ahead of remaining dock repairs after the most critical safety threats on the docks were taken care of. Dock repairs included in a three-year plan total $185,000. As the refurbishment progresses, city staff continues to look for state or agency grant funding to offset the local share of the cost.
Grabenbauer said guests will be shifted over to the southern set of bathrooms and showers while the new molded-fiberglass shower units and new plumbing fixtures are installed. "It will be a little crowded, but we'll make it work," he said.