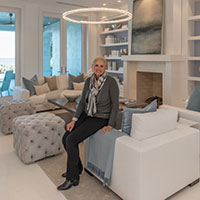 $9.9 million oceanfront spec home attracting interest
STORY BY STEVEN M. THOMAS
Photo: Developer Marianne Casarella at the 8,400-square-foot oceanfront spec home.

Developer Marianne Casarella seems to have timed her first Vero spec house perfectly. The brand new 8,400-square-foot oceanfront home that debuted last month – listed for $9.9 million – has little competition in its price range, and has already been shown to seven qualified buyers.
"I have one buyer who has been to the house three times, and another agent in town has had her buyer in three times as well," said Premier Estate Properties broker associate Cindy O'Dare, who shares the listing with her partners Richard Boga and Clark French. "It is highly unusual to have this much interest in the first few weeks."
The 5-bedroom, 8-bath transitional style house designed by Casarella, engineered by Bill Stoddard and built by Vic Lombardi of Waters Edge Estates, has plenty of inherent virtues.
It sits on a rolling 2.3-acre lot that is the deepest in Vero's prestigious Estate Section – 1,000 feet from A1A to the Atlantic Ocean – and has exceptional design features and finishes, expansive outdoor living space and gorgeous landscaping.
But if there were half a dozen other oceanfront homes in the $10 million range on the market, it could still be a tough sell. As it is, there is only one house that offers more or less direct competition, a beautiful 6-bedroom, 9.5-bath in Orchid Island Golf and Beach Club that is listed for $9,995,000.
O'Dare said the lack of inventory is a tremendous benefit to Casarella's house at 1840 S. A1A, and helps explain why a crowd of potential buyers have gathered around it so quickly.
The home's price point is another key selling point, in and of itself. Specs on the island priced closer to $20 million or higher often have not fared well in the market.
Two houses built in the estate section by Beachlen Development a few years back that started with list prices around $18 million languished for more than 1,000 days and ended up selling for around $10 million each. Another estate section home that was listed for $45 million sold at auction last month for less than half that amount.
"You'll likely see the days on market increase as the price rises," said Jay Parker, CEO of Douglas Elliman's Florida brokerage, in a recent article on globalmansions.com. "When you get into the realm of properties priced at $20 million and above, you can expect that timeline to increase even more."
"We think this is in a sweet spot in terms of price," said French. "The math obviously works more in your favor at $10 million than at $20 million. There are many more people who can afford $10 million than can afford $20 million."
For a full-scale oceanfront estate on a deep private lot in a desirable location, "this is the perfect home price-wise, size-wise, and in terms of style and quality," says O'Dare. "The owner did not spare any expense."
Casarella, owner of Sonnett Manor Construction, has a strong track record as a luxury home developer in New York.
"I have developed approximately 40 new-build homes and done full-gut renovations on approximately 30 homes," she said. "These new-build homes were at the top of the market for the areas in which they were located – primarily in Westchester in communities such as Rye, Purchase, Harrison, Armonk, Bedford, Pound Ridge, New Rochelle, Tarrytown and White Plains. I have also built in the Naples area of Florida."
Casarella decided to do a project in Vero after visiting the town and falling under its spell. She bought the Estate Section lot for what she viewed as a bargain price of $1.97 million in October 2015.
"Clark took us to the right place at the right time," she said. "We had an offer written up within 15 minutes after arriving at the property that the owner accepted."
Nine months later, in August 2016, permits were issued and work began at the site, with retaining walls going up to hold in place more than 10,000 cubic yards of fill used to raise the level of the lot 20-feet above sea level.
"The views from the first floor are like second-floor views in most houses," said Lombardi.
French said the accreting beach behind the house is the widest in south Florida and Casarella said the views of the ocean, at different times of year and in different weather, are "mesmerizing."
"I took a picture of the water when it was a clear turquoise and had the upstairs carpet custom-made to match that color," she said.
That detail exemplifies the care and creativity Casarella lavished on the house, which has white limestone floors, tumbled marble exterior paving, two two-car garages, two magazine-quality master suites, and an off-the-charts kitchen that includes among its features a $17,000 La Cornue La Flamberge gas rotisserie four French workmen traveled across the ocean to install.
"I have a sense of what will be aesthetically appealing in today's market," Casarella said. "I am a devoted reader of trade magazines. I belong to the Builders Association and I go to all the national trade shows."
"We think this will sell quickly," said French.