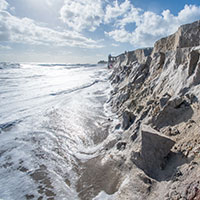 County awards contracts for beach repair projects
STORY BY KATHLEEN SLOAN

Indian River County has awarded engineering and design contracts for $7.7 million in post-Matthew beach repair projects at Wabasso Beach and Porpoise Point.
Wabasso Beach stretches for 6.6 miles from Seaview Drive to Sea Oaks. The Porpoise Point beach is about two miles in length and runs from Seagrove to The Moorings. 
Hurricane Matthew scooped countless tons of sand from the two beaches in October 2016, but it took until recently for state and federal repair funds to be approved.
The Federal Emergency Management Agency will fund 75 percent of the cost, the state 12.5 percent and the county 12.5 percent.
The county will use local option sales tax and tourist tax funds for its part.
APTIM Environmental Infrastructure of Tampa was awarded the contract for the Wabasso Beach repairs and Coastal Tech of Vero Beach was chosen to engineer and design the Porpoise Point project.
County Coastal Engineer James Gray estimates Wabasso Beach will cost about $5.2 million and Porpoise Point $2.5 million, but the scope of work, including the amount of sand needed and the timeframe for completion, will be more precisely defined by the engineering firms.
Gray said it will take up to 18 months to complete the complex design and approval process, with state and federal agencies weighing in. He expects the actual work to begin in late 2019 or early 2020.