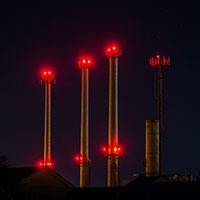 FMPA meeting seen advancing Vero electric sale
STORY BY LISA ZAHNER | NEWS ANALYSIS

The statewide power co-op, for five years seen as an immovable roadblock to the sale of Vero electric to Florida Power & Light, was set to meet Thursday to formally discuss freeing Vero from its never-ending contracts in exchange for a $108 million exit payment.
A vote on letting Vero leave the Florida Municipal Power Agency will not be taken until at least February, but Thursday's discussion, if it goes well and the concerns of all member cities are addressed, should help Vero's 34,000 ratepayers breathe a little easier about the city's prospects of closing the FPL deal by October as now planned.
A 2011 offer by FPL to purchase Vero's entire system fell flat after efforts to extricate the city from the FMPA ran up against one obstacle after another. Vero was told the contracts were unbreakable, and attempts at getting a reasonable and definitive figure for the cost to exit FMPA proved fruitless.
Then in late 2016, the convergence of a dynamic new FMPA leader, CEO Jacob Williams; the credible threat of regulation of the co-op by powerful Tallahassee legislators; and a vigorous pro-sale majority on the Vero City Council led by then-Mayor Laura Moss breathed new life into what had seemed like a dead deal.
After FMPA offered up the $108 million exit figure, FPL came through with the needed cash, plus a cure for Vero's $30 million contract dispute with Orlando Utilities, and a commitment to move all the electric equipment off the valuable riverfront parcel where Big Blue currently sits dormant.
Over the past six months, top staffers at the FMPA have been on the road meeting with the 20 member cities that must agree to releasing Vero from the energy co-op, and reassigning Vero's share of power entitlements to the remaining cities via the FMPA's All Requirements Project.
Most of the cities' governing boards have already approved the arrangement, but a few stragglers remain. As of press time, six cities yet had to vote.
The FMPA, today – as this issue of Vero Beach 32963 is arriving in mailboxes up and down the barrier island – is seriously mulling a vote to let Vero out, with the co-op's leadership and experts recommending approval.
City Manager Jim O'Connor has served as Vero's representative on the FMPA Board since Moss backed off from that role in November. He expected smooth sailing going into Thursday morning's gathering at the co-op's Orlando headquarters. "I do not expect any issues that FPL or the City can't address," O'Connor said.
The agenda packet for Thursday's meeting includes a three-page executive summary and a 10-page Powerpoint presentation outlining how Vero's exit will work and what needs to happen next.
CEO Williams wrote in his memo, "FMPA staff and legal counsel, including bond counsel, have been engaged in this effort extensively since February 2017. Currently, we anticipate bringing the transaction to the FMPA Board of Directors and Executive Committee for approval in February 2018."
Williams explained that he'll need a range of documents approved to take care of various elements of Vero's involvement with FMPA projects, including resolutions transferring Vero's virtual ownership interests in FPL's St. Lucie Nuclear plant and Orlando's Stanton 1 and Stanton 2 coal plants.
The FMPA Executive Committee of the All-Requirements Project will also need to release Vero from its membership in the ARP. Vero has not purchased power through the ARP since January 2010 when it began purchasing wholesale power from Orlando Utilities.
Another approval Williams needs from the board is "the waiver and release agreement, to achieve a full and total discharge of all liability between Vero Beach and FMPA related to Vero Beach's participation in each of the FMPA power supply projects, and Vero Beach's membership in FMPA generally."
Parallel to this effort, FPL has filed the required petitions with the Florida Public Service Commission to get regulators' blessing of the transaction as fair and equitable, and to amend FPL's territory to encompass Vero's customers in the city, the unincorporated county and Indian River Shores.
This is a historic moment for long-suffering Vero electric ratepayers and for utility activists who stuck with a cause that's been a decade-long roller coaster of steep ups and downs, of victories stymied by defeats and stagnation. Those folks who got disgusted with the duplicitous politics and bad news and tuned out might want to start paying attention again
Those in the community who have very closely followed every aspect of this issue and this transaction may feel the desire to cross fingers or pray or do whatever might be done to facilitate good fortune and a positive outcome. The next 30 days or so are critical.
Indian River Shores residents are watching sale proceedings closely. There's a backup clause in the agreement between FPL and Vero that says if the sale of the entire system fails to happen by the end of 2018 or soon thereafter, Vero and FPL will move forward with the sale of only the Shores customers to FPL for a $30 million price.