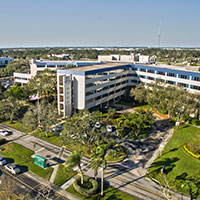 Hospital tours wrap up; time to narrow list nears
STORY BY MICHELLE GENZ

After touring four hospitals in Cleveland, Ohio, and Orlando in just two days in early January, Indian River Medical Center officials looking for a partner may have thought last week would be easier.
That wasn't necessarily the case. With rush hour traffic in Miami one day and Orlando the next, Round Two of the  tour of potential partners was exhausting.
But it also was exhilarating for board members of IRMC's management company, as well as the elected trustees of Indian River County's Hospital District. Both groups have fretted over the health of the taxpayer-owned hospital for years now, and last summer decided to begin the search for a much larger system to take over IRMC.
That process is quickly reaching a climax. A vote scheduled for Jan. 30 will determine which of the four finalist systems will go to the next stage of negotiations. Those finalists include the Cleveland Clinic, whose main Cleveland campus as well as one in Akron were visited by the IRMC team Jan. 4. The next day, the same officials toured two campuses of Orlando Health. Those tours were covered in last week's issue of Vero Beach 32963.
After an all-too-brief weekend of rest, the four District trustees and four representatives of the IRMC board of directors headed south to Miami-Dade County, where they visited two hospitals owned by the for-profit HCA, the largest hospital management company in the nation with 166 hospitals. The next day, they toured two properties that are part of the 45-hospital faith-based nonprofit Adventist Health System.
Both groups seemed to pull out all the stops for their Vero visitors. After months of harsh self-examination, the local hospital board members' focus shifted from IRMC's viability to its sudden and intense desirability, as the hospital's strengths – chiefly its heart and cancer centers, as well as physicians – received commendation after glowing commendation. "They really want you," observed one PR person.
At HCA's 488-bed Mercy Hospital in Coconut Grove, fresh white roses and snapdragons were set at every place for lunch.
At Adventist's vast 1,300-bed Florida Hospital in Orlando, a roster of doctors rearranged their day on a moment's notice for the Vero visitors when Florida's Sunshine laws derailed a planned two-part presentation with a tour in between. Under Sunshine, elected Hospital District trustees were not allowed to end one meeting, properly noticed and publicly teleconferenced in Vero, then disband for a tour, and reconvene without the required public notice.
Unflappable Florida Hospital executives apologized and sent staff to scramble the speakers STAT. Minutes late, doctors began coming through the doors, one still in scrubs, an hour ahead of schedule.
As the meeting wrapped up, Eric Stevens, senior executive officer and administrator for the Orlando campus, spoke of the "awkward rush" of the bumped-up schedule. Juniper Advisory's Jordan Shields, one of two IRMC consultants who were omnipresent on the partnership tours, made a rare comment: "We see what a giant facility this is, and you had people here within two seconds. It's unbelievable."
Stevens didn't miss a beat. "Please interpret that as your importance."
At HCA's Aventura Hospital, the assembled group included three small-town mayors and a university president intent on making a lasting impression on their Vero guests. They likely did – by taking up a third of the hospital's presentation talking about a new medical school at Nova Southeastern University that appeared to have little to do with Vero.
In some ways, the final two suitors were dramatically different. While the prior week's tours of Cleveland Clinic and Orlando Health were similar in tone – both eager to play up their respective patient-first and physician-first philosophies of care – these final tours were enigmatic opposites: At HCA's Aventura and Mercy hospitals, the personality-driven courtship display may have been aimed at humanizing the huge corporate healthcare system. By contrast, the nonprofit Adventist Florida Hospital concentrated on a carefully choreographed display of professionalism.
Florida Hospital hardly had to mention of its Seventh Day Adventist affiliation. Throughout the hospitals but especially in Orlando, religious paintings are prominently displayed, and the day with Vero Beach representatives began with a prayer at the system's Ormond Beach hospital, Florida Hospital Memorial Medical Center.
It was more of a surprise that at both HCA hospitals, religion also played a part, perhaps to show that the corporation allows communities to determine the culture of their hospitals. At Aventura, there were several references to the community's large Jewish population and the accommodations made for it.
Mayor Enid Weisman, a longtime hospital board member, noted the impatience of Aventura's affluent population, saying it could be the root cause of low patient satisfaction ratings. "We have a very elite community. They don't wait for anything. They'll hit the call button and say, 'It took you 30 seconds to get here? Wait a minute. I wanted it 30 seconds ago.' So much is key to that little buzzer, and we don't minimize it. It comes up at every single board meeting."
And at the Roman Catholic hospital, Mercy in Coconut Grove, Sister Elizabeth Worley, a retired chemistry teacher and member of the board of directors, still wears a habit. She pointed out that the presence of religious statuary in the hospital is spelled out in its covenant with HCA. That includes the crucifix over the door of a pediatric playroom where a "Finding Nemo" mural covers the walls.
When IRC Hospital District Board chair Marybeth Cunningham asked the jovial Dr. Rolando De Leon, an OB/GYN and chairman of Mercy's board of trustees, if the hospital offered abortion services, he said no. "And no sterilizations, either," he added.
Not that all souls are free of taint at either hospital group. It is widely known that in 2000 and 2003, HCA paid a total of $1.7 billion in fines in the largest case of Medicare fraud in the nation.
In September 2015, Adventist Health paid $118.7 million to the federal government and four states, including Florida, to settle allegations of overcompensating physicians who referred patients to its hospitals, as well as buying up physician practices to assure a patient stream.
That followed a settlement in March of the same year, when Adventist paid $5.4 million over allegations that it violated the federal False Claims Act by not providing enough supervision of its radiation oncology services in multiple Florida hospitals from 2010 to 2013.
And in October 2015, both Adventist and HCA paid out millions more to settle allegations involving the implantation of heart defibrillators before the Medicare-required waiting period. Adventist paid out $5.5 million to settle allegations that included Florida Hospital Orlando. HCA and 42 affiliated hospitals, including Mercy and Aventura, paid out $15.8 million. In all, 457 hospitals were involved in the settlement nationwide.
In all three cases, the Justice Department statements noted that settlements did not address liability.
Just north of Daytona in the affluent town of Ormond Beach, Florida Hospital Memorial Medical Center seemed just the place to show Vero officials how the Adventist Health system nurtures its community hospitals. Visible from I-95 and rising out of a 27,000-acre tract of pine and oak scrub, Memorial Medical's gleaming glass-faced tower is flanked by a five-story medical office building plus a freestanding cancer center.
The $270 million complex opened nine years after Adventist's Florida Hospital group was chosen in a process similar to what Indian River Medical Center officials are going through today. Looking back, Adventist leaders today say that acquisition, along with the takeover of two other hospitals in the area, marked a new era for the system, which poured millions of dollars into not just the hospitals but various health care entities, including rehab, urgent care and physicians' practices.
A year after the new Memorial campus opened in 2009, Adventist added a $15 million cancer center at the Ormond hospital.
The most recent additions have much to do with the three large housing developments slated to add more than 13,000 homes to the area. In 2016, Florida Hospital's Ormond hospital opened a Level 2 Neonatal Intensive Care Unit, or NICU. With 16 private rooms providing space for parents to sleep over, the $14 million investment was followed by $12 million more in family-driven expansion: 24 beds for OB/GYN patients, 10 pediatric beds plus eight more in an emergency unit.
Today, the hospital's CEO, Ed Noseworthy, looks out the north window of a 12th floor conference room, and points to a white oval in the distance: the Daytona International Speedway, just five miles away. On race days, Florida Hospital sponsors a health fair – counterintuitive maybe, but the irony may not be lost on visitors; the fair offers among other things bike helmet fittings and accident prevention.
"The speedway, it's not all that healthy," laughed Noseworthy. "But just because of our partnership, you started to see a lot more health at the speedway."
The hospital earned four stars in "Center for Medicare and Medicaid Services" CMS ratings, an "A" rating by the Leapfrog Hospital Safety Grade, and ranks in Truven Health Analytics Top 100 Hospitals.  "You don't apply; they look at the data and they call you out. To me there's no better recognition," says Noseworthy.
A half-hour's drive southwest, Florida Hospital's flagship hospital in Orlando sits not far off I-4, just south of Winter Park. A stunning facility, it offers multiple referral specialties including transplantation and interventional endoscopy.
If there was a ready-made connection to sell Vero hospital officials on Florida Hospital Orlando, it was the list of IRMC physicians already familiar with it. Among them: Dr. Ashley Canipe, interventional gastroenterologist; she did an advanced fellowship with Florida Hospital. "You did good," said District Board chair Cunningham. "She's awesome."
Dr. Muhammed Husan agrees. As head of the fellowship program at the Orlando campus's Center for Interventional Endoscopy, he trained Canipe. "I know all the docs over there at Indian River."
There was another Vero connection in the neurosurgery center.
Dr. Ravi Gandhi is a 1998 graduate of St. Edward's School. Enrolling in seventh grade, he decided to become a neurosurgeon when his grandfather had a stroke. He didn't dawdle – he wrapped up his high school degree in tenth grade and headed for Johns Hopkins University.
Now specializing in brain tumors as well as vascular interventions for stroke and aneurisms, Gandhi spends his days at Florida Hospital Orlando in a $32 million wing that opened in 2011. He spoke to Vero visitors in a theater setting before an operating room the hospital calls the Innovat-OR.
Behind him through a large window, the operating table was dramatically lit, a Plexiglas skull perched at the end of the table. On a small monitor above Gandhi's head, a video ran in a loop of a tumor, green with fluorescent dye, being plucked out of a brain.
He talked about his confidence in the hospital in the context of his own family, still living in Brevard County. "I'd want my parents to be treated in the place that I work. That gives me a lot of pride and excitement every day."
At the edge of Biscayne Bay, after I-95 has funneled the remains of its traffic onto the canopied streets of Coconut Grove, a handsome structure topped with a simple white cross completes a triad of significant buildings: the historic Vizcaya mansion; the private Catholic girl's school LaSalle High (part-time Vero resident Gloria Estefan is a graduate); and Mercy Hospital, the only Catholic hospital in Miami and since 2011, owned by HCA.
Mercy's 488 beds may generate a drop in the publicly-traded HCA's bucket of $41 billion in revenues. But to its patients and staff, it remains distinctive, a spiritual oasis amidst HCA's half-million bed machine of health care delivery.
Mercy claims kinship with another HCA hospital: Aventura Hospital and Medical Center, an earlier stop on IRMC leaders' tour.
The hospitals, paired in such a vast system, share executives, resources and expertise but retain very different cultures. At least, that seemed the principal thrust of HCA's sale pitch to Vero.
Affluent Aventura, home to many from Northeast cities, and Mercy, an old-world holdover in its Catholic orientation, have benefited from similar investments on the part of HCA.  Mercy has seen $650 million of improvements delivered by its angel, HCA, since the healthcare giant acquired the hospital six years ago.
That was close to the number – $700 million – that HCA has spent on Aventura over its 25-year history.
Considering that Vero officials had already been wowed by HCA's mind-boggling numbers during a presentation in November in Vero, the magnitude of those investments wasn't entirely a shock.
In all, HCA spent $2.8 billion in capital outlay last year.
As a one-time convent hospital, the Mercy leaders worked with HCA to put together a covenant – a document that went through the details of the hospital's identity as a Catholic hospital, including ethics and traditions.
Sister Elizabeth Worley, who sits on the Mercy board, said the covenant relates "to who we are as an institution. What was it that mattered to us in the delivery of healthcare? What made Mercy different? We were able to articulate all that in the document and HCA said, 'You know what? It's going to cost us a little bit more, but we agree to do it.'"
Worley spoke with pride about the hospital's exterior renovation, and now, floor by floor, the interior space. "Much has been invested back in it. We could never have put back into the facility what has happened with HCA these last few years," she said. "It supports our mission. And the mission needs a margin." 
AHEAD:

The Hospital District Board has a meeting set for Thursday, Jan. 17, at the District office to "debrief" the trips. The IRMC board is expected to do the same on Jan. 22, meeting in the hospital board room.
Consultants from Juniper Advisory will be present for both meetings. Then on Jan. 30, Juniper will present to both boards the results and summary of the second-round proposals. Following that meeting, the two boards will meet separately to come up with a recommendation.