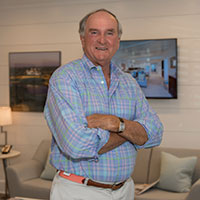 John's Island real estate market hot after a record year in 2017
STORY BY STEVEN M. THOMAS
Photo: John's Island Real Estate Broker Bob Gibb

Realtors around town are talking about the bustling real estate market in John's Island.
"JI is always popular and with recent upgrades it has become a lifestyle choice once again," says Sally Daley, owner of Daley and Company.
"It is very active," says Premier Estate Properties broker associate Kay Brown, whose parents lived in the club community. "I have a lot of friends up there and there is very little product available. They had the best year last year, as far as I know, that they have ever had."
John's Island Real Estate Broker Bob Gibb confirms, "It was a record year for us. We had 141 properties closed or pending by the end of December, and our dollar volume was up 40 percent over 2016."
The 141 sales number understates the company's accomplishments. While most realtors count transaction "sides" – meaning they count it as two if they represent both seller and purchaser – John's Island Real Estate counts properties.
"We were either on one side of 141 sales, including those pending, or more often on both sides," representing both buyer and seller, says the company's marketing director Robyn Flick.
Gibb says all segments of the John's Island market have been strong, with the condo market leading the way in terms of high demand, and oceanfront properties seeing the greatest price appreciation, rising more than 10 percent in value on average.
"We have 292 condos and at some points in the year we had as few as three or four available. Right now we are up to six or seven," Gibb says.
John's Island's appeal to buyers is shown by tight inventory across the board, in all types of housing, from oceanfront, riverfront and golf course single-family homes to less expensive cottages and condos. Only 65 out of 1,362 homes in the community were on the market in mid-January, which is less than 5 percent and signifies a strong seller's market.
"Anything less than five percent is always a seller's market," says Gibb, "and anything less than 10 percent is a seller's market in a second-home community like John's Island."
The company's highest-priced sale in 2017 was $9.9 million, which was paid for an oceanfront estate.
The 65 homes now on the market range in price from $170,000 for a small one-bedroom condo, to $11.5 million for a 5-bedroom, 7-bath, 14,500-square-foot oceanfront house on a 2.58 acre lot. A majority of available homes are priced between $1 million and $6 million.
Gibb gives John's island Club much of the credit for the booming real estate market. "The club has been fantastic with food and service. They do a great job of anticipating and meeting members' wants and needs."
He cites a new watering hole called Jack's Bar and the Market Place, a small convenience store that opened in the remodeled golf clubhouse in 2016, as examples of ongoing upgrades at the exclusive by-invitation-only club community.
Named after John La Roche, who homesteaded the area in 1889, John's Island was founded in 1969 by noted Florida developer Edwin Llwyd Ecclestone, and the club was sold to the membership in 1989.
According to the John's Island Real Estate website, the 1,650-acre ocean-to-river community known for its live oak trees and Georgian architecture has been "designated as one of the top 100 Platinum Clubs of America and named one of 'America's Top 25 Golf Communities' by Travel + Leisure."
The boutique real estate company has eight agents, including Gibb and new agent Susie Perticone, a John's Island "legacy" whose parents lived in John's Island.
Originally from Darien, Connecticut, Perticone, like all her fellow agents, now lives in John's Island year round. According to Gibb, his agents' insider knowledge and connections enable the company to dominate sales in the community, handling approximately 95 percent of listings and sales.
"John's Island Real Estate does a great job," says Brown. "They kind of cover the territory up there."