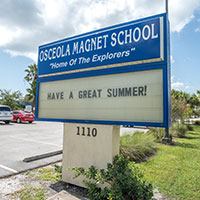 Osceola teacher fined by state for bullying a pupil
STORY BY KATHLEEN SLOAN

Scott Sanders, who for four years was director of facilities planning and construction for the Indian River County School District, and his wife, Denise Sanders, a regular substitute at Osceola Magnet School, claim staff at Osceola mistreated and harassed their son after he was injured in a car accident and had difficulty with school work, and the Florida State Education Practices Commission agrees.
Ashley Darnell, then a fourth- but now a fifth-grade teacher at Osceola Magnet, was reprimanded and fined for violating the Principals of Professional Conduct for the Education Profession, by failing "to make reasonable effort to protect the student from harmful conditions," intentionally exposing "a student to unnecessary embarrassment or disparagement," and failing "to keep in confidence personally identifiable information" on students.
Darnell did not admit, deny or contest she violated one state statute and three administrative codes. She did, however, accept without contest the settlement agreement, which puts her on probation for one year and orders her to pay $900 in a fine and costs. 
The Sanderses, who have since removed their child from the district, say they complained to the state agency only after trying without success to get help from numerous school and district administrators, including former superintendent Fran Adams and current Superintendent Mark Rendell. 
"All of our district-level complaints were dismissed with only retaliation against our family," Scott Sanders said.
"We decided it was necessary to relocate our children to a school district that we believed provided a safe learning and developmental environment," Scott Sanders said, "where they would not have to worry about retaliation from school staff."
The Sanders' complaint stemmed from their middle son Tate's treatment. Nine years old at the time, he received a severe concussion in a car accident while with his family on New Year's Day, 2015.
"Tate's neurologist prescribed a plan for Tate's reintroduction to school," Scott Sanders said, but the school staff wouldn't adopt it as the child's Temporary Individual Education Plan, a legally binding document. 
Instead, school officials insisted on using their own plan, which Sanders says "was very loosely and poorly implemented by the teacher, Ashley Darnell. There were several instances of Ms. Darnell ignoring the plan for Tate, but some were more concerning than others."
"Tate's headaches worsened," Denise Sanders said, and a follow-up examination "showed serious signs he regressed cognitively, to the point the neurologist was very upset with me for not following his directions."
"It came out, in questioning Tate, that Ms. Darnell had forced him to take three tests in one morning, in violation of the school's plan," Denise Sanders said. Only one test a day, and double the time in a small-group setting, were called for in the plan.
Tate's half-day attendance and lack of focus were irritants to Darnell. In emails to Scott Sanders, she complained "Tate is really not doing much in class . . . and doesn't seem any too worried about it. He wants to play on the playground but just doesn't want to do his work."
"What we knew," Scott Sanders said, "was these problems were not his fault. At home, we saw him try to complete worksheets that had been easy for him. He couldn't do single-digit multiplication problems he'd known for two years." 
Tate was an all-A gifted student prior to his head injury. After the injury, his grades were uneven, sometimes high and sometimes low. "When he was working under the prescribed accommodations, he scored in the top 2 percent," Scott Sanders said.
During a meeting to discuss Tate's grades, Scott Sanders said then-Principal Kathleen Goldstein pressured him to send his son back to school full time instead of sending him to occupational and physical therapy in the afternoon.
Special Education specialist Colleen Davenport said the school's plan "was law," and their neurologist's plan was "opinion," and Tate had earned the low grades.
Another meeting, in which Denise and Scott Sanders were alone with Tate's teacher, turned into a he-said, she-said nightmare, with the school district backing the teacher. She claimed the Sanderses yelled, tossed a chair and were threatening. But the Sanderses said Darnell manufactured the drama to avoid being confronted with the fact she had shared Tate's confidential information with her ex-husband.
The Sanderses bolstered their argument Darnell broke student confidentiality by providing a text they received from her, with spreadsheets attached that contained personally identifiable information on every student in her classs.
Nevertheless, then-Principal Goldstein sided with Darnell, and School Board Attorney Suzanne D'Agresta and then-Human Resources Assistant Superintendent Bill Fritz insisted Denise and Scott Sanders phone well in advance before coming on campus and that they be escorted at all times.
This ended Denise Sanders' substitute teaching at Osceola, where she had worked three or more days a week for three years.
School Board members, Superintendent Mark Rendell, Darnell and other officials were asked to comment on the Sanders' allegations and the state reprimand. The only response came from current Osceola Principal Scott Simpson who said, "Osceola has a proud tradition of a positive atmosphere among students and staff.  I invite any members of the community to come visit our amazing school at any time."
Scott Sanders decided to tell his story to Vero Beach 32963 because, he said, "We wanted to share a portion of our horrific experience with Osceola Magnet  and district administration in hopes that the other parents of children who have suffered similarly can know there are avenues available to them for dealing with the deceptive, stonewalling tactics of the district."