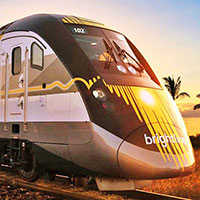 Ready or not, the train appears to be leaving the station
STORY BY KATHLEEN SLOAN

Despite the apparent willingness of the County Commission to continue funding legal maneuvers aimed at blocking All Aboard Florida's high-speed passenger rail project, Brightline, from traversing Indian River County, the train appears to be leaving the station.
Brightline, the only privately-owned passenger train in the U.S., is scheduled to start service in South Florida any day now, and the company says it will begin work on Phase 2 – which will connect West Palm with Orlando, running through downtown Vero Beach – in early 2018.
"This was a great year for us as we completed construction on two of our major stations and rail infrastructure, successfully presold tickets and corporate packages to individuals and businesses throughout the region and priced $600 million in Private Activity Bonds to fund Phase 1," said Brightline Chief Executive Officer Dave Howard Dec. 15.
"We look forward to launching service to Miami and starting construction north to Orlando in the first quarter of 2018."
The first train service will be between Fort Lauderdale and West Palm Beach, starting the week of Jan. 8, Brightline said last week. Ticket prices and train schedules were still unannounced at press time.
There are three stations in the first phase: Miami, the southern terminus, Fort Lauderdale and West Palm Beach, and Brightline says it will take 30 minutes to travel from station to station, with train speeds up to 125 mph.
It takes about 40 minutes to travel between Miami and Fort Lauderdale by car, and nearly an hour to get from Fort Lauderdale to West Palm Beach, so taking the train could save a little bit of time, but shaving commuter time is not the main point of the venture.
Brightline is marketing itself as a luxury line or "travel option that lives at the intersection of transportation and hospitality," a press release stated.
"The luxury service will provide all-reserved coach and business-class seating, on-board wireless service and food service," according to a statement provided to investors by Fitch Rating, the company hired by Brightline to rate its $600 million bond issue.  
The crucial Private Activity Bond was authorized by the U.S. Department of Transportation and issued by the Florida Development Finance Corporation. Morgan Stanley led the market sale of the 30-year tax-exempt bond, which closed in mid-December.
Fitch gave the bonds a BB- or non-investment grade rating because private passenger rail is unknown in this country, and a rail line that "targets business and leisure traffic and has no similar U.S. comparables" could not be rated higher.
Brightline will use bond sale proceeds to refinance the $534 million debt incurred for Phase I building and rolling stock, which was privately financed at 12 percent interest, according to Tom Nelthorpe of txf.news.
Brightline's marketing strategy and revenue models also were revealed by Fitch. Brightline expects 10 percent of riders will be business people, 10 percent commuters, and the rest vacationers or leisure travelers. It expects ridership and revenues to stabilize after three years.
Brightline "initially plans to price tickets at a low level, comparing a proposed fare of $0.69 per mile with the $2.04 per mile on the publicly-owned Acela service between Washington, D.C., and Boston, but if it turns out to have strong market power, it will be able to set fares at whatever levels it can maximize revenue," according to Nelthorpe.
By 2020, Brightline believes the first-phase stretch will take in $107 million from 2.9 million rider-fares and $34 million in combined parking and food sales a year. Brightline's Phase 1 has three parking lots with 1,720 parking spaces in addition to restaurants and kiosks on the train and in the stations. The food and parking sales will comprise 24 percent of its revenue, Brightline estimates.
Fitch estimates ridership could be 41 percent lower than projected and Brightline's Phase 1 would still break even.
On Dec. 22, Brightline announced it got authorization from the U.S. Department of Transportation for  another $1.15 billion in tax-exempt Private Activity Bonds for Phase 2, the 170-mile leg between West Palm Beach and the northern terminus, Orlando.
The company said it is still weighing another DOT financing option, a "Railroad Rehabilitation and Improvement Financing" loan, which allows private companies to borrow at low interest rates.
Completing Phase 2 will be considerably more complex than Phase 1, requiring Brightline to acquire 40 miles of new right-of-way between Cocoa and Orlando. The remainder of the project – including the section that passes through Indian River County – will utilize existing Florida East Coast freight right-of-way.
While Phase 2 has the support of Brevard County, which hopes a stop may ultimately be added in Melbourne, it has met with fierce resistance from Martin, Indian River and St. Lucie counties, where no stops are contemplated and local officials see no advantage to having high-speed trains racing through the Treasure Coast.
Local governments are expected to have to pay millions to upgrade train crossings to make them safe. Indian River County estimates it will cost about $13 million to upgrade over 30 crossings.
Brightline still has to sell the recently authorized second phase bonds or borrow the needed $1.15 billion. But nevertheless, Phase 2 work is expected to start in a matter of weeks with the Orlando station. In a press release, Brightline said it is finalizing "design for the rail infrastructure and the 70-acre Vehicle Maintenance Facility," which is adjacent to, but soon to be enmeshed with the airport.
"Brightline's station in Orlando will be located at the Orlando International Airport's new Intermodal Terminal Facility (ITF) that will be the hub of the future South Terminal complex," states the press release.
"The ITF is connected to the North Terminal by a recently completed Automated People Mover and includes a 5,000-space parking garage. SunRail, Central Florida's commuter rail system, has a planned connection to the ITF. The completion of the South Terminal will add 16 new gates for international and domestic flights."