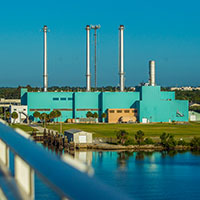 Speed bumps, but no road blocks, for Vero electric sale
STORY BY LISA ZAHNER

No barricades have been thrown up yet to block the sale of Vero Beach electric to Florida Power & Light, but a handful of Vero's sister cities in the statewide power co-op may act as speed bumps as the city rushes to exit the electric utility business for good.
Nineteen equity member cities in the Florida Municipal Power Agency must approve releasing Vero from its long-term obligations to the co-op in exchange for $108 million.
After tedious negotiations – which saw the FMPA's chief legal counsel put 4,000 miles on his vehicle traveling around the state with CEO Jacob Williams selling the Vero exit plan to the cities' elected boards – more than two-thirds of the cities had voted in the affirmative as of press time.
Four cities – Lake Worth, Alachua, Clewiston and Fort Meade – raised a variety of issues or concerns, but both Williams and Vero leaders believe those can be successfully addressed.
The City of Lake Worth earlier this month approved documents paving the way for Vero's exit, but did so contingent upon the FMPA issuing some extra assurances that Lake Worth would not be assuming any additional risk. The FMPA board last Thursday in session at its Orlando headquarters approved a document clarifying that for Lake Worth.
Another city that had already voted to approve the Vero deal, but whose FMPA representative would still need to cast a vote along with the full board, brought up an issue related to the purchase of bulk power, but O'Connor said CEO Williams told him that he believes he has the Fort Meade issue taken care of.
That's two down.
Two other cities might end up causing the formal FMPA vote approving Vero's exit to be postponed until March. The city attorneys in Alachua and Clewiston had yet, as of press time, to sign off on the documents needed to OK Vero's exit.
Just as Vero's attorney Wayne Coment or Indian River County's attorney Dylan Reingold must sign off on documents before they are placed on the agendas of those boards, Alachua and Clewiston cannot vote on the FMPA Vero electric sale item until their respective attorneys are satisfied and give the go-ahead from a legal perspective.
O'Connor said Williams and the FMPA's chief attorney Jody Finklea have been working to make Alachua and Clewiston's attorneys comfortable with the documents by putting them together with municipal attorneys from cities that have already vetted and approved the deal.
The Fort Pierce Utility Authority, which has still yet to vote, also brokered a side deal with Vero and FPL for some transmission equipment it wanted on the shared southern border of the Vero system, and City Manager Jim O'Connor said that arrangement was a win for all concerned. Vero's closest neighbor Ft. Pierce, O'Connor said, is not expected to be a problem.
Jacksonville Beach City Manager George Forbes was perturbed that Fort Meade, or any other city, might be using their straggler status as a bargaining chip. Last week at the FMPA meeting, he accused some members of trying to play "Let's Make a Deal" because they know how critical the timing is for approval.
Williams downplayed this, saying he would tackle the big and small concerns one at a time until everyone was satisfied and ready to vote a resounding yes. Williams has been a game-changer in Vero's efforts to get out of the FMPA.  The new leader is politically savvy and realizes the value of putting the all-consuming Vero Beach controversy in his rear-view mirror.
The deal also infuses much-needed cash into the FMPA's coffers at a time when it is finally making progress digging out of decades of debt, and relaxes the pressure Vero and Indian River County were putting on state regulators to increase oversight of the co-op.
The FMPA is set to meet on Feb. 15, and if all the cities have voted on Vero's exit, it will take the matter up at that meeting, or possibly at a special call meeting later in February, or in March.
FPL and Vero officials hope to close the sale on or before Oct. 1 – provided all regulatory and legal approvals are in place. "We're still marching in the same direction and expect to have this concluded in a timely manner," O'Connor said on Monday.
The Florida Public Service Commission approval process has already begun, with the PSC conducting an audit of FPL's valuation of the Vero electric utility.  FPL on Jan. 16 submitted seven pages of responses to the PSC staff's detailed questions about the transaction.
It's the PSC's responsibility to make sure that the $185 million FPL is paying for the Vero system, plus the $23.5 million in inducements FPL has brokered with OUC and the capital outlay for FPL to build a state-of-the-art, storm-hardened substation off the river in Vero so Big Blue can be dismantled, are fair and equitable to FPL's existing 4.9 million ratepayers.
Of the $185 million cash proceeds, the FMPA will receive $108 million and Orlando Utilities will receive $20 million in penalties for Vero to exit a wholesale power contract six years early. Another $26 million will go to pay off Vero's outstanding electric utility bonds. Legal fees also will be paid out of the closing, leaving the city with the decision of what to do with the slightly more than $30 million remainder.