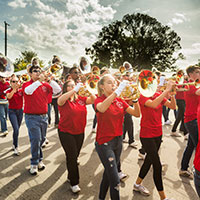 Vero High band hoping to march in London's New Year's Day parade
STORY BY RAY MCNULTY

Through the years, the Vero Beach High School Band has marched and played in great venues across America – from the Macy's Thanksgiving Day Parade in New York to the Tournament of Roses Parade in Pasadena to the deck of the U.S.S. Missouri at Pearl Harbor.
Never, though, has the band performed overseas.
That's likely to change next year, when as many as 200 Fighting Indians are scheduled to march in the 2019 London New Year's Day Parade in England.
Associate Band Director Brandon Putzke on Sunday confirmed that the band had received an informal invitation to participate in the prestigious parade through London's West End, where more than 650,000 people lined the streets along the two-mile route for this year's festivities and an estimated 3 million watched on television.
Parade representatives – it's possible the great-grandson of Great Britain's iconic Prime Minister, Winston Churchill, will be among them – are expected to travel to Vero Beach within the next few weeks to formally extend an invitation to the Fighting Indians.
Putzke said the band decided in October to accept the invitation, which will provide the band with an opportunity to perform in front of its largest audience ever and, possibly, members of the British royal family.
"This is a once-in-a-lifetime experience for these students," Putzke said. "A lot of them have never been overseas; some have never been outside Florida. So when we told them about the invitation, their eyes were as big as saucers and their jaws dropped to the floor. They were stunned.
"We've played in some big events in the past," he added, "but this is a lot bigger than anything we've done."
So is the price tag.
Putzke said the trip will cost about $3,200 per person and that the band will seek donations from local individuals and sponsorships from local businesses, as well as conduct fundraisers to offset expenses. In addition to airfare, accommodations and food, the group must pay to ship instruments and equipment to London.
"Our goal is to raise $500,000," Putzke said. "We'll be reaching out to the community, which has always come through in the past."
Putzke said it's too soon to know how many band members would make the trip, which is not mandatory, but he expected between 90 and 200 to depart Vero Beach on Dec. 27 and return on Jan. 4.
"That's doesn't include parents and chaperones," he added.
There are currently 208 band members, and at least 90 must commit to the trip, Putzke said, adding that he and Howell are "exploring options," seeking a way to include any of this year's seniors who want to go.
The Fighting Indians were among 20 U.S. bands invited to march in the 2019 event. The bands were chosen based on their reputations, state ratings, success in competitions and performances at other significant events.
This is the first time Vero Beach has been invited to perform at the London parade, Putzke said.