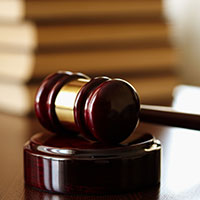 Court of appeals allows 'pill mill' evidence
STORY BY BETH WALTON

State prosecutors recently strengthened their case against several defendants accused of running a "pill mill" in Vero Beach. The Fourth District Court of Appeals overturned an earlier ruling and found police work done by a local sheriff's deputy outside his jurisdiction was admissible.
The order usurps Circuit Court Judge Cynthia Cox's earlier determination that Maj. Eric Flowers, then a narcotics detective with the Indian River County Sheriff's Office, was acting out of bounds when he secured search warrants for defendants' property in Broward and Palm Beach counties.
Florida statue has no requirement that someone who applies for a warrant be an officer of the law, therefore jurisdiction is not relevant, opined Judge Spencer Levine. Appeals Court Justices Burton Conner and Alan Forst concurred.
"The statutes merely require the affiant be 'some person' or 'some credible person,'" they wrote, comparing the issue to police officers making a citizen's arrest outside their jurisdiction. "The officer did not violate the 'under color of office' doctrine because he relied on evidence lawfully obtained," they said.
The panel heard oral arguments in the case in May after Cox's 2017 ruling jeopardized the state's aggressive prosecution of those behind the now-closed Stuart Pain Management Center in Vero Beach and other allegedly fraudulent pain management clinics.
Practitioners at these facilities broke the law by prescribing excessive and unnecessary painkillers, authorities claim. Drugs were so easy to access that patients from as far away as the Midwest traveled to Florida for prescribed opioid narcotics like Oxycodone.
Culpable doctors and other healthcare professionals made millions from people's growing addiction and pain, they say.
The Indian River County Sheriff's Office embarked on a year-long investigation into the Stuart Pain Management Center in 2011. At that time, Flowers obtained a warrant for a phone tap that yielded information about pain clinic activities in other counties throughout the state.
He then went to judges in those counties to obtain warrants to search the property of several defendants. Flowers did not execute any of the warrants and remained at home while local law enforcement and the DEA searched the homes in other counties.
Laws regarding jurisdictional authority are there to prevent police overreach, argued defense attorney Donnie Murrell at a hearing in West Palm Beach.
Flowers used evidence obtained in Indian River County to secure warrants elsewhere, he said. He didn't partner with local law enforcement or follow the fellow-officer rule.
It's not the same as a private citizen applying for a search warrant, Murrell explained. Detective Flowers has more assumed credibility than Mr. Flowers. The evidence he used to obtain the warrants, the wiretap conversations, were under seal, and only available to officers of the law.
"Frankly, judge, in most modern courthouses, a civilian isn't going to be able to get to a trial judge to apply for a warrant. I mean it's the uniform that got him there."
The Legislature has already spoken on this issue, countered Assistant Attorney General Kimberly Acuña in an attempt to have Cox's ruling overturned. "The statutes control," she said.  An Appeals Court cannot modify the plain language of a clear and unambiguous statute.
If the warrant application satisfies probable cause and a judge has jurisdiction, all that matters is that the applicant is a "credible person," Acuña said.
Flowers was not asserting his authority when he went to those counties to get warrants; rather, he was applying for it, she explained. The attorneys for the defendants are not challenging the content of the warrants at all, only the signatory.
"I'm glad the 4th DCA affirmed my actions were correct," said Flowers. He said he felt vindicated by the ruling and happy the courts found in his favor.
Flowers' detective work helped launch a statewide investigation targeting a complex web of doctors and clinics that extended from Miami to Pensacola and resulted in 14 high-profile arrests.
Among those arrested were Lewis Stouffer, 37, of Coconut Creek; Clark Jeffrey Thompson, 38, of Pompano; and Craig Turturo, 38, of Boca Raton. All three men lived outside of Indian River County at the time their homes were searched using warrants filed by Flowers.
Stouffer was "the organizational leader of the drug trafficking, money laundering and racketeering organization," the detective alleges in court filings.  Thompson, Turturo and others were "lieutenants" designated to operate pain clinics, distribute pills for profit and grow the organization, he writes.
"Basically, this organization has blanketed the State of Florida with their 'franchise' clinics in an effort to attract pill seekers from all corners of the state and beyond."
This is a battle the Sheriff's Office is fighting every day, Flowers said recently. "We know this is a very real problem around the state and in Indian River county."
It's crucial to continue these prosecutions, he said.  These are the original defendants, the people who started the epidemic. "I hope we get closure in the near future."