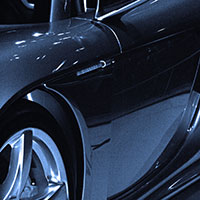 John's Island hit by luxury car thieves
STORY BY NICK SAMUEL

In a highly unusual incident, three luxury vehicles were stolen from a condo and two homes on the ocean side of John's Island in the early-morning hours Sunday, according to Indian River Shores police.
Police say they believe several youths scaled the perimeter fence along State Road A1A sometime around 2 a.m. on Sunday, and tried doors of cars until they found three that were unlocked and had keys inside.
The thieves took a Mercedes GLC 300, a 2018 Porsche Convertible and a Toyota Land Cruiser, police said.
John's Island security officers declined to comment on the thefts, but sources said the suspects were captured on video surveillance. Capt. Mark Shaw with the Indian River Shores Public Safety Department said officers also were able to determine the direction the vehicles took leaving town by checking video from cameras that capture license plate numbers of all vehicles passing on State Road A1A.
Sources said police believed the youths had come from Fort Pierce.  As of 2 p.m. Monday afternoon, no arrests had been made and none of the vehicles had been recovered.