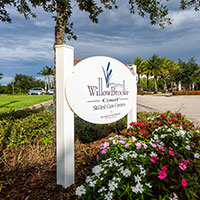 No change coming in Vero nursing home ratings
STORY BY MICHELLE GENZ
Photo: Willowbrooke Court at Indian River Estates got five stars on Medicare.gov's Nursing Home Compare.

The annual Medicare rating of nursing homes will not be updated this August, so two of Indian River County's seven skilled nursing homes will continue to carry the top Medicare rating and two will still have the worst rating possible.
The Centers for Medicare and Medicaid Services temporarily froze the health inspection component of its one-to-five-star ratings system for nursing homes in February, leaving in place whatever rankings were assigned based on data from previous years while it implements changes to the inspection process.
Other data based on surveys and payroll information will continue to be updated but the hiatus in inspections is problematic for those who need to place a family member in a nursing home.  The choice of a nursing facility is a decision faced by many in Indian River County, where the elderly population stands at 31.7 percent, or more than 48,000 people.
The best two homes in the county got five stars on Medicare.gov's Nursing Home Compare, the quality rating website. Those are the 72-bed Grace Rehabilitation Center, which earned top marks for quality measures and above average for staffing; and the 120-bed Willowbrooke Court at Indian River Estates, with five stars for both quality measures and staffing.
Unlike the other homes, Willowbrooke is part of a continuing care retirement community, Indian River Estates, and its nursing home component only accepts residents who already live in assisted or independent housing there.
The worst-ranked nursing homes in Vero each got only one star on Nursing Home Compare: Consulate Health Care of Vero Beach and Palm Garden of Vero Beach.
Consulate, which has 159 beds in Vero, is part of a large national chain; prior reporting by 32963 showed its Vero facility has been sued for negligence of one kind or another 23 times since 2008, eight of those cases involving a patient's death. Palm Garden, the largest nursing home in the area with 180 beds, has been sued for negligence multiple times, all listed on the Clerk of Court's website.
Tiny Florida Baptist Retirement Home, which has only 24 beds, got a four-star rating – above average – from Medicare.gov's Nursing Home Compare, but only a two-star rating – below average – from U.S. News and World Report's ranking of nursing homes nationwide.
Atlantic Care and Rehab got two stars from Medicare; with 110 beds, it had nine health citations in its 2017 health inspection, twice the state average.
The rehab center within Steward Sebastian River Medical Center earned three Nursing Home Compare stars overall but had below average scores in both health inspection and quality measures ratings. On the other hand, it got five stars for staffing.
According to the senior care advocacy group Florida Health Care Association, the county's seven homes are among 683 licensed nursing homes in the state caring for 73,000 residents. 
For families and friends forced to relinquish caregiving at home to the paid professionals of an institution, the choice of where to move an ill or aging person is seldom made lightly.
Along with proximity and cost are a range of factors to consider. While local social agencies may offer lists of available nursing homes, they seem reluctant to reveal shortcomings. For that, families must rely on data compiled by state and federal agencies.
Since 1998, the Center for Medicare and Medicaid Services, or CMS, has published a report card on every nursing home it certifies, switching to its current star rating system in 2008. The ratings are posted online just as those for hospitals are on its Hospital Compare website.
The information on the site, which examines 15,000 nursing homes nationally, is closely tied to two other ratings entities: the state of Florida's Agency for Health Care Administration, which conducts the inspections for CMS; and U.S. News and World Report, which bases its rankings on Medicare information but weights it differently.
With the freeze on inspections data now in effect, the last data considered in the U.S. News ratings is from August 2017. Medicare.gov looked at the two last inspections prior to Nov. 28, 2017. The agency expects to end the freeze next spring.
Another website to consider is ProPublica's Nursing Home Inspect, updated in June, that lets users compare nursing homes by deficiency reports and penalties imposed over the past three years. It also allows users to search through some 60,000 inspection reports nationwide.
There are also online records of civil litigation alleging negligence, available through the Indian River County Clerk of the Circuit Court's website by simply entering a nursing home's name.
While Nursing Home Compare's inspection data may be frozen, state inspections will continue. The state looks at safety issues from fire prevention to food preparation to infection control. Also considered are quality of life and residents' rights.
Inspectors look at the time staff spends with residents each day, especially registered nurses, by using payroll-based journals that electronically log hours worked. The quarterly reports, which can be audited, show the hours of administrators and nurses like, down to aides in training.
The ranking websites comb through annual inspection records, that note issues like leaving patients in hospital gowns instead of getting them dressed to get up and socialize.
Inspectors' notes describe witnessing staff setting meal trays down but not staying to help people eat; leaving people to sleep in one position instead of shifting them to prevent pressure ulcers, or bedsores, a serious risk for the elderly, or as was the case of one inspection in Vero, leaving a resident's door open so people in the hallway were able to see a man using the toilet.
Those inspection reports are available on FloridaHealthFinder.gov, though there have been complaints of late that the reports are more heavily redacted that in years past.
In Florida, nursing home residents and the people who know them can file complaints about care with AHCA. If the incident happened within the last year, the complaint could trigger an inspection.
With one of the highest ratios of nursing homes to residents in the nation, Florida is making strides in safety measures, according to AHCA.
In the past six years, there has been an effort to rein in the use of anti-psychotic medications, with Florida showing one of the biggest declines in the country – 10 percent. The state also ranks high for nurse staffing. In the past legislative session, lawmakers added $130 million in Medicaid spending for nursing home care, including a $25-per-month boost in the amount Medicaid provides to residents for personal needs like clothes or haircuts.
Florida's AHCA's Nursing Home Guide includes a watch list for homes operating under bankruptcy or conditional status in the past 30 months. Conditional status is defined as not meeting or not correcting on follow-up the minimum standards at the time of inspection.