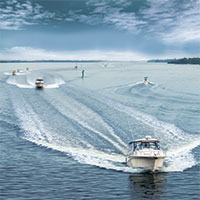 Vero summer getaway: Field trip to the Bahamas
STORY BY RAY MCNULTY
Photo: Vero Beach Grady Whites approach Fort Pierce's North Causeway Bridge en route to the Bahamas.

The Vero Marine Center's "Grady Bunch" – a growing group of customers who purchased their Grady White boats from the Royal Palm Pointe dealer – is celebrating the 30th anniversary of its first trip to the Bahamas in a big way.
"It's a record-breaker," said Vero Marine co-owner Brian Cunningham, who led the nautical conga line of 17 Grady Whites that departed Friday morning from Vero Beach's Memorial Island for a two-week island excursion with stops at five Bahamian ports of call.
"We've been averaging 10 or 12 boats on these trips, but it's been a big year for boating," he added. "So not only do we have more boats going, but we also will have a record number of people."
Cunningham, who has missed only one of the club's annual Bahamas cruises, said 64 of the boating club's more than 200 members signed up for this year's trip, "if you include those who fly in and fly out" because they can't commit to the entire 14 days.
"We'll also have a record number of first-timers," he added, referring to the five boaters who embarked on their maiden voyage to the Bahamas.
The trip from Vero Beach to West End on Grand Bahama was expected to take four to five hours. The group's itinerary included stops at Marsh Harbor and Elbow Cay in the Abaco Islands, and then Green Turtle Cay before the fleet returns to Grand Bahama, where it is scheduled to dock in Port Lucaya, a suburb of Freeport.
The boaters plan to return to Vero Beach on July 19.
"Some people are hard-core fishermen, some like to go diving, some just enjoy staying on their boats or going ashore on the islands," Cunningham said. "There's something for everyone."
The brainchild of Cunningham's former business partner, Bruce McIntyre, the club was formed in 1988 after McIntyre noticed that many customers who had purchased Grady Whites where not using them very much, if at all, because they lacked the know-how and confidence to undertake long cruises.
The Grady Bunch arranges numerous activities and cruises throughout the year that enable experienced boaters to mentor people new to boating and allows Cunningham to show customers and potential customers how to get the most enjoyment from their Grady White boats.
Cunningham said the group's scheduled outings include jaunts to local eateries for lunch, day trips to Cocoa and Stuart, and multi-day voyages to the Florida Keys, Florida's gulf coast and the Bahamas.
"Doing the group thing, we act as tour guides and show them how to have fun in their boats,"
"We started this in 1988, and we're still going strong," Cunningham said. "All of our functions are very popular, but the Bahamas trip is our Super Bowl."