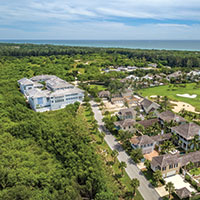 Windsor Park Residences bring iconic island community closer to build-out
STORY BY STEVEN M. THOMAS

With the completion of 12 new condo residences this month, Windsor – an internationally known club community toward the northern end of the island with amenities that range from its art gallery to its polo facilities – moves one substantial step closer to being built-out.
Founded in 1989, the 425-acre ocean-to-river community is mostly developed. A 47-acre parcel north of the new Windsor Park Residences is the last remaining piece of raw land, and the developer plans to start the entitlement process for that property within the next six to 12 months.
"The village is almost entirely built out and the south village is not far from complete," says Mark Justice, Windsor's vice president of construction and development. "The north property is the last area left to complete at Windsor. We should be ready to close sales on that property in about 18 months."
Justice did not say what type of homes will be built on the north property, but a carefully designed, world-class product that blends with Windsor's existing Anglo-Caribbean architecture can be assumed, based on the history of the iconic club community.
"Windsor always aims high," says Scott Merrill of Merrill, Pastor and Colgan Architects, who designed the 12 new homes that just came on the market, priced between $1.8 million and $2.4 million. "They ask you to do your best and assume you will rethink old problems and try to address them better.
"I moved here in 1990 in order to work on Windsor – before construction had even begun – because it is an interesting model for how to use land in a state that expects so many new arrivals in coming years."
Despite his long history with the community, which is based on the ideas of New Urbanism, Merrill was not simply awarded the design commission for the Windsor Park Residences.
Instead, showing the developer's drive for innovation and excellence, Windsor held a design competition for the project, in which four architects competed and Merrill emerged as winner.
He and half a dozen colleagues began work on the design in 2014, and construction got underway in 2016 with Huryn Construction as builder. Susan Schuyler Smith was the decorator for the common areas and a model.
Island brokers love the finished project.
"They hit it out of the park," says Premier Estate Properties broker-associate Cindy O'Dare. "We have registered two clients with them who are very serious potential buyers and we expect they will sell out quickly."
"The homes are beautifully done," says Sally Daley, owner of Daley and Company Real Estate. "They offer a great alternative for someone who wants a property that lives like a single-family home but offers the convenience of a condominium, with a low-maintenance, lock-and-leave lifestyle, along with all the available services and club amenities.
"For people who live in Windsor and love it, but are ready for a change, these homes allow them to downsize without downgrading. They also open up the community to a whole new kind of buyer."
As finishing touches are being put on the 1.1-acre, multi-building project, five of the 12 units have already sold, and buyers' comments echo Daley's observations.
"Three of the buyers are existing members at Windsor," says sales associate Laurin Lott Pohl. "One couple looking to downsize from a very large home was attracted to the turnkey lifestyle at the Windsor Park Residences. New construction, low-maintenance and the ease of access by elevator from the garage directly into their home was very appealing. They chose their [particular unit] for the sunset and river views.
"Another buyer looking for turnkey living was most impressed by the architecture. They love the high ceilings, expansive windows and French doors and the spacious floor plan, which they said, 'feels like a house.'"
The Windsor Park Residences are located riverside at the northwest corner of the community in three-story, Anglo-Caribbean buildings with varied roof lines and beautifully landscaped courtyards.
Lobbies, garages and storage space unobtrusively occupy the first level, with six second-story homes and six third-story homes above. Natural stone and hardwood finishes, top-quality appliances, luxury bath fixtures and expansive balconies are found throughout.
Some homes have fireplaces and the third-floor homes have vaulted, wood paneled ceilings in many rooms.
"All the residences sold so far are on the third floor," according to Pohl. The one third-level home that remains, No. 301, is a three-bedroom, three and a half bath, 2,454-square-foot unit that "has southern exposure, looking down Savannah Drive, with beautiful sunset views."
The six second-level residences range in size from 2,738 square feet to 3,282 square feet, and in price from $1.82 million to $2.4 million. Three-, four- and five-bedroom homes are available, all with four and a half baths.
In keeping with the ideals of New Urbanism, Windsor has many different types of homes, including row houses, courtyard apartments, golf, tennis and lake cottages, and golf and oceanfront estates.
In addition to the undeveloped 47 acres, about 22 lots remain, scattered through different sections of the club, ranging from a 4,328-square-foot, street-front lot in the village listed at $400,000 to a .8-acre oceanfront estate home site offered for $3.4 million.
Besides the seven remaining Windsor Park residences, community developer Windsor Properties is currently offering custom South Village Golf Estates that start under $3 million for lot and house, and oceanfront home sites that start at $2.85 million.
Resale homes currently listed in the community range in price from $1.75 million to $7.5 million.