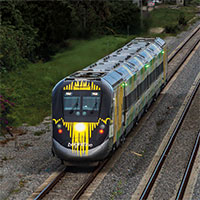 All Aboard Florida gets time to sell bonds for Orlando stretch
STORY BY BETH WALTON
Photo: Brightline's hopes of running trains through Vero en route to Orlando got a boost from the federal government.

All Aboard Florida got another break from an indulgent federal government last week when the U.S. Department of Transportation granted the company more time to issue $1.15 billion of Private Activity Bonds to finance the second phase of its high-speed passenger rail service.
"This propels our project as we extend Brightline to Orlando, developing a transportation network that will benefit the entire state," said Brightline President Patrick Goddard.
The tax-exempt bonds were allocated in December and set to expire May 31. So far, investors have not rushed to buy the bonds. The seven-month extension through the end of the year was granted on the condition that the company continue to seek alternative financing.
The rail company's access to Private Activity Bonds, which are subsidized by the government and offer tax-exempt interest rates to investors, remains a source of contention as counties along the Treasure Coast fight to keep Brightline trains from traveling through their communities.
The train, which travels at speeds up to 110 miles per hour, launched a West Palm Beach to Fort Lauderdale line in January and extended service to Miami last month.
The final stretch of the proposed Miami to Orlando service, which will travel through Martin, St. Lucie, Indian River and Brevard counties without making a stop, is still at least two years away, Brightline officials have said.
The project is set to run 30 high-speed trains through the Treasure Coast daily and will require millions of dollars in safety upgrades.
Indian River County joined Martin County and advocacy group Citizens Against Rail Expansion in Florida filing a lawsuit in February in attempt to prevent the train's planned expansion along the Treasure Coast.
The complaint, filed in the U.S. District Court of the District of Columbia, names the U.S. Department of Transportation and the Federal Railroad Administration as defendants.
It alleges the DOT ignored safety, maritime and environmental problems and improperly subsidized the Brightline trains with tax exempt bonds, while violating the National Environmental Policy Act.