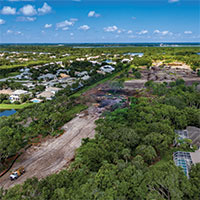 Clearing for The Strand, new community next to Palm Island, underway
STORY BY STEVEN M. THOMAS
Photo: Aerial view of land being cleared for The Strand.

After 14 years and three developers, work is finally underway on a new subdivision that will occupy the last large development tract in Indian River Shores.
The Shores Planning, Zoning & Variance Board approved a master plan for The Strand in May, and the Patten Company is now clearing the 34-acre site that extends from Highway A1A to Jungle Trail between Palm Island Plantation and Indian Trails.
According to the master plan, The Strand will include 47 single-family homes and 21 townhomes in five buildings.
The townhomes will be situated near the community entrance, with houses further back from the road, arranged around a small lake that will serve as a park-like water feature as well as a stormwater retention pond.
The townhomes were listed with Dale Sorensen Real Estate on May 21 and company co-owner, Matilde Sorensen, said the units are now for sale.
"People can put down a refundable $10,000 deposit and choose the unit they want," Sorensen said.
Pre-construction prices for the townhomes range from $799,000 to $995,000, according to Pat Mays, managing broker at Sorensen's Cardinal Drive office. She said the company will put a staffed sales trailer on site as soon as utilities are installed.
Details about the price range of the single-family homes and who will be building them were not available at press time. Patten Vice President of Acquisitions Katherine Dobbins, who bird-dogged the property and managed the purchase, said last year the company "will be selling lots as well as finished homes and is actively seeking local builders to join our preferred builder program, so that we will be able to offer several different models to buyers."
Building officials at the Shores said they recently met with representatives of Lennar, which has a luxury homes division, and that Lennar was thinking of buying a large number of lots at The Strand, but Dobbins said she could not say whether Lennar will be building homes in the subdivision and Lennar did not immediately respond to inquiries about its interest in the property.
A subdivision on the site has been a long time coming.
The property – originally part of a 41.5-acre ocean-to-river parcel – was assembled from grove land in 2004 as the real estate boom was ramping up and sold to McGough, a construction and development company headquartered in St. Paul, Minn., for $16.5 million.
McGough hired Orlando planning and architecture powerhouse The Evans Group to design a high-end island community called Providence that would take full advantage of the gold-plated barrier-island location.
Plans for the development were approved and buyers were putting down deposits on new homes, but the real estate the market began to slow before construction began and McGough put the project on hold.
The land lost value in the downturn and Beachlen Development, a company owned by Philadelphia billionaire Brook Lenfest, snapped it up in 2012 for $10.95 million, creating Charleston Estates Vero LLC as a holding company for the project.
The company talked about building large estate homes priced at more than $5 million on the property but never firmed up those plans. Lenfest's development focus shifted back to Philadelphia where he is building two high-rise hotels, and the property went back on the market.
Three years ago, in October 2014, island businesswoman Katherine McConvey bought the oceanfront part of the tract, paying $7,250,000 for seven acres on the east side of A1A where she hoped to build an ultra-luxurious modernist condo complex with 18 homes priced around $3 million each.
That left the western portion, which has 620 linear feet of river frontage along the historic Jungle Trail.
The Patten Company, a national real estate development firm with offices in Naples and Boca Raton, closed on the tract last summer, paying $5 million for the 34 acres in a transaction brokered by the O'Dare, Boga, French team at Premier Estate Properties.
"Vero has always been on our radar as a strong market in Florida," Dobbins said after the purchase. "We have looked at other properties with Clark French in the past and contacted him again after seeing this listing in an email."
Dobbins said the development represents "a once-in-a-lifetime opportunity" for Patten.
"It is extremely rare to find a large parcel available in a developed and high-end area like Indian River Shores," she wrote in an email to Vero Beach 32963. "The recreational opportunities really make this project special. There will be private beach access across the street, boat docks on the Indian River, biking and jogging on the Jungle Trail as well as all of the nearby shops and restaurants that make this area so popular."
Dobbins said "the community will have a coastal contemporary style that should blend with our existing neighbors."