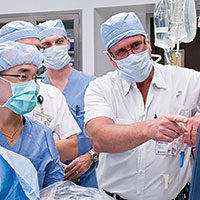 Cleveland seen expanding medical training here
STORY BY MICHELLE GENZ
Photo: Cleveland Clinic anesthesiologist with residents and fellows

As Cleveland Clinic and the Indian River Medical Center enter the final stretch of partnership negotiations, one hospital board member finds herself in the sweet spot.
When Dr. Juliette Lomax-Homier, a practicing gynecologist and dean of the Fort Pierce campus of Florida State University's medical school, cast her vote in January for the Cleveland Clinic to take over Indian River Medical Center, she saw a bright future for her program and the students it trains as well as for the hospital that serves Vero Beach.
With the upcoming acquisition, there is a strong likelihood her students will train at a future Cleveland Clinic Indian River, and talks are underway for Cleveland to take over Martin Health's three hospitals, where FSU students also train. Suddenly, a program that for a decade has quietly trained 40 medical students a year could find itself offering rotations at as many as four Cleveland Clinic hospitals.
"Who would have ever thought this could happen?" she asked.
Lomax-Homier is not the only hopeful one. As the Jan. 30 IRMC board vote for Cleveland was about to take place, a familiar face appeared at the door: Dr. George Mitchell, critical care physician and a beloved member of the faculty at FSU-Fort Pierce; Lomax-Homier called him "a cornerstone of the medical education department at IRMC."
Still in his scrubs, Mitchell slipped quietly into the first available chair, but did not elude the notice of board chairman Dr. Wayne Hockmeyer, who acknowledged his presence with respect and affection.
The unanimous vote that day to join Cleveland Clinic's expanding Florida division opened the door for FSU med students to train at a hospital affiliated with one of the best and biggest teaching hospitals in the country. It also raised the likelihood that residents will be trained at IRMC.
"The combination of Cleveland Clinic and IRMC offers the exciting opportunity to expand the collective academic enterprise as an integrated pan-regional network," Cleveland executives told Indian River. Along with supporting the FSU programs, Cleveland said it "would welcome the opportunity to collaborate to advance and innovate education and research."  
Mitchell, who was awarded the Excellence in Teaching award at FSU's med school graduation last month, is one of more than 200 faculty physicians in Lomax-Homier's program, including 70 based in Vero, who currently teach med students one-on-one for a four- to six-week period. The Fort Pierce students follow the doctors into whatever arena their specialty involves, from the office exam room to the hospital operating suite to conferences on patient care.
"You're really trying to teach the medical student the foundation, the bricks and mortar," said Mitchell, who applied for a faculty position when the FSU campus first opened 10 years ago.
Today, Mitchell helps organize conferences and grand rounds, where physicians and students get together to exchange ideas on an important topic, always with an expert present. He also hosts a monthly "journal club" where articles on the latest research are reviewed with students "to bring everybody up to date."
Systemwide, Cleveland Clinic is currently training 1,900 residents and fellows in 200 programs. At Cleveland's Weston hospital, which officially became a teaching hospital in January, there are 115 residents and fellows, plus third- and fourth-year medical students from Florida Atlantic University.
Residents are medical school graduates, officially doctors, who are still in training under the supervision of more experienced physicians, participating in three years of graduate medical education.
Lomax-Homier and Mitchell hope the FSU program will thrive under Cleveland's leadership as a top academic health system, training residents as well as medical students.
Founded in 2001, FSU College of Medicine is a community-based medical school. Along with Florida International University in Miami and Florida Atlantic University in Boca Raton, it is part of a movement that began in the 1970s.
Instead of being integrated with one main teaching hospital, FSU uses community hospitals surrounding its regional campuses in Orlando, Pensacola, Tallahassee, Sarasota, Daytona Beach and Fort Pierce. The intention is both to expose its students to diverse populations and their health issues, and to diversify where its physician graduates choose to practice. 
Florida is said to be facing a projected shortage of 7,000 physicians by the year 2025, with rural areas suffering the worst deficits, particularly along the state's southwest coast. In 2013, policymakers in Tallahassee undertook funding measures to increase the number of residencies in the state in the hopes that those doctors will set up practice where they have trained.
It is hoped that if IRMC begins offering residencies under Cleveland's ownership, Vero Beach may become home to more doctors.
In March, Cleveland Clinic Florida's CEO and president, Dr. Wael Barsoum, asked visiting IRMC officials if there was sufficient physician interest in a residency program. Lomax-Homier would have answered with a resounding "yes."
"People absolutely want to donate their time and talent," said Lomax-Homier. "They come in all the time and ask if they can give a lecture. It's a way to share your knowledge, like a plastic surgeon who comes in and shows people who have never seen how to repair a burn on the skin, or how to repair someone's face after a car accident. We even have a dentist from Indian River State College who does a dean's round for us on medical manifestation of disease in the oral cavity. It's great."
Lomax-Homier has been head of the FSU's Fort Pierce program for three years. She was recruited for the board of Indian River Medical Center by CEO Jeff Susi, who dreamed of having graduate medical education at the hospital. Susi, like the CEOs of all the hospitals in this area, was on the community board of the FSU Fort Pierce campus. "He understood the need of FSU medical students to go on to residencies," she said.
Those residencies may finally be available in Vero Beach in the not-too-distant future.
"If there's a clear desire on the part of the medical staff and the community to start training programs at Indian River, I don't see any reason why it's not something that we would investigate and try to make a reality," Barsoum said.
A definitive agreement with Cleveland Clinic is expected in July. If approved by the boards of Indian River Medical Center and the Hospital District, regulatory review and approval will follow.