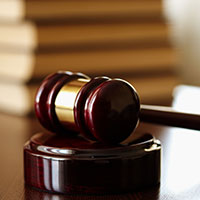 Cox delays ruling on 'Stand Your Ground' defense
STORY BY BETH WALTON

Extensive expert testimony at a hearing last week did not lead to a ruling about whether Mark Deffendall can walk free in the killing of his brother under the provisions of Florida's revised Stand Your Ground law.
After testimony was complete, the prosecutor and defense attorney elected to file written closing arguments, instead of making their final arguments in court, and Judge Cynthia Cox said she will rule on the matter after receiving the written filings.
The 2014 homicide was revisited after Deffendall and his attorney sought immunity under Florida's 'Stand Your Ground' statute for the second time.
Deffendall previously was denied the defense, but Cox granted him a new hearing this year after Florida lawmakers reversed the burden of proof in Stand Your Ground cases.
Before, defendants had to prove they had good reason to be in fear for their life. Now, prosecutors are required to demonstrate a defendant is not entitled to immunity under the statue by proving that he or she was not acting out of fear for their life. The revised law also eliminates a mandate to retreat before shooting.
One by one, expert witnesses attempted to reconstruct the evening Eric Deffendall took his last breath. Investigators have analyzed blood spatter, bullet casings and impact wounds to try and retell the story.
Mark Deffendall shot at his brother eight times after night of heavy drinking and brawling in their father's airplane hangar, investigators say. He only missed once. 
Assistant State Attorney Ryan Butler played an audio recording of the barrage of gunshots in Cox's courtroom Friday.
Indian River County Sheriff's Office Detective Rob Newman testified the first two gunshots recorded by a neighbor's home security system were fired from the top of the stairs.
Mark was shooting down at his unarmed brother, Newman said. There were several other firearms stashed on the first floor, but all remained locked in their cases.
Eric Deffendall was hit at least once before an 11-second pause in the gunfire. Then, five more shots followed in rapid cadence, at least one hitting Eric at point-blank range.
Mark pursued his brother down the stairway and began shooting again in the living room, Newman said. One bullet was a "near contact" wound to Eric Deffendall's head.
That shot severed the victim's brainstem and caused his body to fall forward, the detective surmised. "(Eric Deffendall) is, in fact, on the ground when he is shot the last time."
The victim was later found by his father, face down and unresponsive, according to an arrest affidavit. He was pronounced dead at the scene.
Dr. Linda O'Neil, the medical examiner for the 19th Judicial Circuit, said Eric Deffendall was shot in jaw, neck, chest, abdomen and arm. Bullets went through his brain, liver, stomach, kidneys and heart, she said. The victim had traces of alcohol and cocaine in his system.
Assistant Public Defender Alan Hunt questioned his client about his brother's violent past. Mark Deffendall had been beaten bloody the night of his brother's killing and says he ran into the house to wash off and grab a gun in self-defense.
Mark Deffendall recalled a time from the early 1990s when his brother hit their father. He also said his brother had bragged to him about poking someone's eye out.
Butler fiercely objected to the line of questioning. It's hearsay, the prosecutor said. It also happened more than a decade ago.
"Hell, let's go back to grade school," he told the judge, discounting that such testimony was pertinent to Mark Deffendall's state of mind the night of the homicide.      
Deffendall, 43, wore a red jail-issued jumpsuit at the morning hearing. His handcuffs had been partially unlocked allowing him to take notes at the defense table next to his lawyer. Friends and family sat behind him in the courtroom gallery.
Deffendall, who is being held at the Indian River County jail without bond, was charged with first-degree murder in the 2014 killing, but his case has yet to go to trial, and if Cox rules in his favor it is possible no trial will ever take place.
The day of his arrest, his father, prompted by police, asked his son what happened.
"Eric would not give it up, he wouldn't stop," was Deffendall's response, documented by Detective Chris Cassinari in court filings. 
Mark, he wrote, did not answer when his father asked if he was the one who shot his brother.
Attorneys for both sides promised to issue written closing arguments to the judge next week, and Cox promised a ruling before docket call in August.
State appellate courts offer conflicting rulings as to whether the new Stand Your Ground law can able to be applied retroactively. Cox said she offered the new hearing out of an "abundance of caution."
In her 2016 order denying Deffendall's first attempt at the defense, Cox wrote that the defendant failed to prove that he reasonably believed shooting his brother was necessary to prevent imminent death or great bodily harm.
Deffendall offers no explanation as to why he continued to shoot at his retreating, unarmed brother, Cox wrote at the time. He testified that he does not remember what happened, but the court is not in a position to speculate.