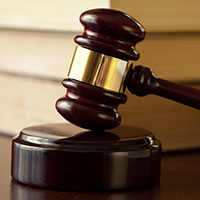 Escrow agent convicted in Heaton hotel case
STORY BY BETH WALTON

A federal jury last week found the lawyer who performed escrow work a decade ago for luxury condominium units at the Vero Beach Hotel and Spa guilty of conspiracy and bank fraud. Unlike hotel developer George Heaton and another co-defendant, Eric Granitur, 60, maintained his innocence and took his case to trial. He now faces up to 30 years in prison.
Prosecutors alleged Granitur, Heaton and others lied to lenders about incentive programs, such as cash-to-close rebates, used to lure prospective buyers to the Ocean Drive development during the real-estate slow down. 
This gave banks a false impression of the viability of the project and allowed developers to secure the funds they needed to complete construction of Vero's most luxurious hotel without proper scrutiny, argued Joseph Capone, Special Assistant U.S. Attorney. The prosecutor specializes in real-estate fraud and travelled from Washington, D.C. to West Palm Beach for the trial.
Granitur's escrow company, Live Oak Title, represented a prospective buyer of several pre-construction condominium units, Capone said. Federal law requires escrow agents to truthfully and accurately prepare and distribute to lenders a settlement statement which details the sales price, closing costs paid by the buyer and any seller contributions before a mortgage is executed.
Yet, hundreds of thousands of dollars in buyer incentives for several condominium units at the Vero Beach Hotel and Spa were not properly disclosed, Capone said. This gave the banks a false sense of confidence that the buyer would be able to repay his mortgage loan.
Financial institutions funded mortgages totaling more than $20 million, according to court records, and some of the units went into foreclosure, costing the banks an estimated $3.3 million.
It's troubling when a seller is paying a buyer to purchase something. It shows how desperate Heaton was to sell those units, Capone explained. "If this transaction was done the way it was supposed to be done, we wouldn't be here today," he said.
This "secret side agreement" was intentionally concealed to ensure the project moved forward and was profitable for all involved, he said. These were "kickbacks," and it was a "sneaky" way to make a deal.
Granitur, dressed in a tan sweater, navy pants and blue collared shirt, appeared relaxed on the first day of the criminal trial. He smiled as prospective jurors responded to questions about home ownership, foreclosure and bank fraud. He sat at the defense table alongside his attorney taking notes.
Benedict Kuehne, his lawyer, quizzed the panel about their ability to be fair. He asked them if they understood how plea agreements work and reminded them such testimony is given in exchange for leniency at sentencing. 
Heaton, who had struck a deal with prosecutors and pleaded guilty to a lesser charge, testified against Granitur at the trial. The developer now faces no more than five years in prison.
Heaton's accountant, who oversaw the deal, and the buyer, Stephen Mc-Kenzie, also entered guilty pleas. They, too, are looking at no more than five years behind bars.
Kuehne told the jury Granitur was a part-time lawyer and a full-time dad, someone who spent as much time volunteering in the garden at his children's school as he did on his legal work.
Never before had his company, Live Oak Title, worked on such large transaction, he explained. Granitur and his staff mistakenly relied on the advice of the developer's lawyers and the banks. "He had the best of the best guiding this transaction," Kuehne said. "He had no knowledge that anybody was doing anything wrong."
Granitur didn't conspire or intend to conceal information, he added. He was helping McKenzie, a longtime client he trusted who turned out be a fraud, he said.  Granitur, Kuehne exclaimed, was "hoodwinked."
The jury took less than four hours to find Granitur guilty of one count of conspiracy to make false statements to a federally insured institution and two counts of making false statements.
His friends and family let out loud sobs as the verdict was read. They had filled up four benches in the courtroom gallery. Several dropped their heads into their hands in dismay. Granitur hugged his crying daughter across the banister, whispering something in her ear.
"Were these people in the same room we were in all week," his wife lamented to the crowd. "Were they in the same room?"
Granitur is one of the nicest people anyone could ever meet, someone else exclaimed. It doesn't make sense.
"Mr. Granitur, his family and I, his lawyer, are completely surprised and devastated by an unexpected verdict," Kuehne said. The attorney has asked the judge for an acquittal, citing a lack of evidence.
"This verdict should be an indication that, once again, banks are improperly holding the public responsible for a crisis that was the banks' doing," Kuehne added. 
"The federal government has misguidedly focused on the wrong side of these transactions, blaming all of the mortgage defaults on everybody but the banks."
Granitur was released on bond pending sentencing. He declined to comment after the trial.