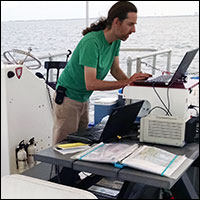 Harbor Branch launches new program focusing on lagoon threats to health
STORY BY SUE COCKING
Photo: Harbor Branch scientist testing water in the Indian River lagoon.

In one of his first moves as acting executive director at Florida Atlantic University's Harbor Branch Oceanographic Institute, Dr. Jim Sullivan is launching a research program to zero in on growing threats to human health posed by problems in the Indian River Lagoon.
Sullivan, who lives in Vero Beach, has seen a steep decline in the ecological health of the Lagoon since he joined Harbor Branch as a research scientist three years ago – to a point where the once clear waters are now sometimes dangerous to people, as well as to fish, birds and marine mammals.
Recently named to the acting executive director position at the famed Fort Pierce-based facility, Sullivan has convinced Harbor Branch's Foundation to put up $650,000 in initial funding for the Center for Coastal and Human Health, which will attempt to penetrate the murky mysteries of recurring harmful algae blooms that foul east-central Florida's primary artery.
Headed by research professor Dr. Amy Wright and staffed by as many as 30 faculty, graduate students and technicians, the Center officially began work this week, on July 1, with a primary focus on how the blooms and the toxins they sometimes generate affect the region's 1.6 million residents.
The scientists will conduct epidemiological studies on people exposed to toxic organisms and respond to reports of blooms that pop up in the lagoon.  Just a few days ago, they took water samples from an algae outbreak called in by a citizen near the Vero Beach Municipal Marina. Fortunately, it turned out to be benign.
"If there is a bloom, we'll will be out there that day or the day after, and we will determine what it is," Sullivan said. "We need to be informed of what's out there. I want to know when I'm at the water whether it's safe to go there with my kids."
The Center is a "big step forward for the whole science community," according to Dr. Duane DeFreese, executive director of the Indian River Lagoon Council, a regional organization that dispenses money for lagoon research. "What Harbor Branch and FAU have done is make a commitment to the connection between the health of our waters and human health," he said. 
"This is a vision I've had ever since I got here," Sullivan said. "We need to do this science all the way to how people are affected and get that information to them. We want to protect the health and safety of the region's population."
Scientists at Harbor Branch have been studying the Indian River Lagoon for decades. But with the new center, Sullivan said, the institute could take the lead in solving the estuary's many problems, in collaboration with other scientists, policymakers, resource managers and citizens.
"The problem is so complex that it requires organization and leadership," he said. "This is an expansion of everything we're doing and integrating it by bringing everyone together to cooperate on this, leveraging all the assets out there."
Researchers will strive to understand the factors driving the myriad algae blooms that kill marine mammals, fish and seagrass and make people sick.
"Is it climate change? Pollutants? Land use practices? How are these toxins getting into the food chain? The central mission is to understand this on multiple levels. A lot of different factors could be driving this," Sullivan said.
The center already has some formidable tools that include the new SeaPRISM – a NASA water-quality monitoring instrument that has been deployed in Lake Okeechobee that determines chlorophyll, turbidity and cyanobacteria levels in real-time.
Dr. Edward Phlips, a professor at University of Florida's Fisheries and Aquatic Sciences program in Gainesville, is eager to collaborate with Sullivan.
The two expect to receive a grant to monitor algae blooms between New Smyrna Beach and St. Lucie Inlet beginning this fall.
"I'm excited about the possibilities," said DeFreese. "We have a strong partnership with Harbor Branch already and look forward to strengthening that."