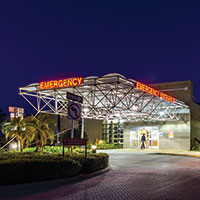 IRMC seeking to curb abuse of ER through a co-pay
STORY BY MICHELLE GENZ
Photo: The entrance to the Emergency Room at IRMC, which many low-income patients use for primary care.

Indian River Medical Center interim CEO Karen Davis wanted one more piece of data before she was slated to appear before the Indian River Hospital District Thursday. She was about to propose a co-pay for medically indigent patients who are showing up in record numbers at the hospital's emergency department, often without emergency injuries or illness.
To make her case, she cited that day's tally. "There were 86 indigent patients that had more than six visits in the last 14 months," she told the District trustees. "That's just where they receive their primary care, as long as it's easy to come in, and there's no financial component to their visit."
"Seventy percent of those who are indigent have lower acuities," Davis said, using the healthcare term for non-emergencies. For patients who are not indigent, the numbers are reversed: Only 30 percent of ER visits are for low acuity conditions.
Other data for the period from October 2016 to May 2018 showed that 31 patients made a combined 900 visits to the emergency room.
"It's making a huge impact in our visits and it makes it very difficult for those who truly have emergencies because we're having to weed through those that are non-emergent," Davis said.
She cited one patient who had come in 55 times in those 20 months. Another came in 36 times, 28 of those for chest pain. Still another patient was a paraplegic with chronic urinary tract issues.
They and other frequent visitors with non-emergencies desperately need primary care, not emergency care, she said. The paraplegic patient, for example, "needs to be seen on a regular basis with routine care," said Davis. The man with chest pain needs medication and monitoring for his blood pressure. Those issues are best dealt with in a doctor's office familiar with the patient, not an ER, where doctors are in constant rotation.
"What's we're looking at goes across the entire gamut. It's not just in the medically indigent population, but it's across commercial payers as well that are trying to control the use of the emergency department for non-emergency issues," she told the board. "Many of the payers, Anthem being one of them, are now saying if it's coded as non-emergent, they are not paying any part of it. Others are making patients pay a great deal, increasing the co-payments to as much as $400, $500, $600 for a visit to the ER. They're saying, Get them out of the emergency room. That is not the appropriate place for care."
Davis suggested the District and hospital officials together determine an amount for a copay that is a portion of the $105 rate negotiated with insurance companies to cover the cost of the medical screening patients get to determine if their symptoms are a true emergency or not.
Currently, even Medicaid patients pay a copay, she said, typically ranging from $3 to $15. "Our goal is to give them the initiative to go someplace else for primary care. I don't want it to be punitive. That's not our goal. But in our minds, it has to be equal or greater than what it would be to go to primary care, in order to be effective."
District Trustee Michael Weiss cautioned that even a small copay could seem like punishment to the clients of the Hospital District, who qualify for help with healthcare because they earn no more than 150 percent of federal poverty guidelines and do not qualify for Medicaid. The District levies taxes to pay for that care, reimbursing hospital bills for the indigent as well as expenses at a half-dozen other community health agencies.
"You're not trying to punish the patient, you're trying to change a behavior so they get quality care," said Trustee Tracy Lockwood-Zudans.
"That's exactly why we started this committee 23 meetings ago," said Trustee Karen Deigl, CEO of the Senior Resource Association, who is part of a joint group looking at the hospital's emergency department logjam of patients needing primary, not emergency, care.
Last month Deigl voiced her strong support of the non-emergency co-pay when the issue arose in a Hospital District meeting. "It's trying to get people to the right care. Fortunately, in this community we do have a continuum of care for them, like Treasure Coast Community Health, Whole Family Health Center, the Health Department. They are all our partners in this. They are the places to move these patients. It's all about changing habits."
On the positive side, habits are changing among the staff at the emergency department. Davis told the District Board that emergency room visits from arrival to either admission to a hospital bed or treatment and discharge has been cut by between an hour and a half to two hours. She attributes that to "just putting processes in place and making sure everyone is accountable for what goes on."
The Hospital District voted to consider the copay and sent Davis back to come up with an amount before taking up the matter for a final vote. In the meantime, the board directed its attorney, Jennifer Peshke, to review the legislative Special Act that created the Hospital District to see if language may limit its ability to charge any fee to indigent patients.
Section 19 of the Special Act states: "Each hospital and clinic established under this act shall be for the use and benefit of the indigent sick. Such residents shall be admitted to such hospital and clinic and be entitled to medical care without charge, subject to the rules and regulations prescribed by said board of trustees."