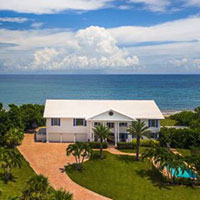 Oceanfront home in the Shores sold at auction
STORY BY STEVEN M. THOMAS

Concierge Auctions last week had its most successful sale so far in Vero Beach, auctioning the oceanfront property at 908 Holoma Drive for $2,044,000, which was nearly 90 percent of the home's $2.3 million list price.
"That is a very high sale-to-list percentage," said Concierge Business Development Manager Katie Lawless, who oversaw the transaction. "The home had been on the market since October without much activity, but we were able to facilitate 75 qualified showing and assemble a field of seven very qualified bidders, all of whom could afford to buy the home several times over."
The no-reserve auction, which opened at 4 p.m. on Tuesday and closed on Friday afternoon, was conducted entirely online. That might seem like it would drain the event of drama – no packed room, strained faces or fast-talking auctioneer – but it didn't.
The first bid popped up online right at 4 p.m. on Tuesday, a measly $800,000 offered by bidder #14693, who did not reappear in the process. Over the next two days, there were eight more bids that pushed the offer up in $100,000 increments to $1.6 million, a figure that stood as high bid for 30 hours.
That phase was less than thrilling, but at 3:56 on Friday afternoon, four minutes before the sale was scheduled to close, the auction site blew up, with seven more bids and three brief time extensions coming in fast succession, the computer dinging loudly with each bid and extension.
"That is typical," said Lawless. "An auction is like a poker game. The players don't want to show their hands too soon."
The first late-breaking offer came from bidder #14330, who had made the second bid in the auction, $900,000, at 4:30 on Tuesday and then gone silent for three days. The offer was $1,650,000.
Within seconds, another bidder upped that number, offering $1,725,000 for the house, which sits on a 1.18-acre lot with 150 feet of ocean frontage.
No. 14330 immediately countered with $1,750,000, only to be quickly topped – ding, ding – by a bidder who had last offered $1,200,000 on Wednesday afternoon and now bid $1,725,000.
Within moments, another bidder offered $1,800,000, a number that stood for less than a minute before #14330 came back with $1,825,000, which turned out to be the winning bid when the sale closed at 4:11 p.m. on Friday.
Lawless said that while bidding online, each bidder also was on a dedicated phone line with a Concierge representative. The three brief time extensions came as a result of bidders saying over the phone something along the lines of, "hold on a second, give me a minute to check something."
The last extension came at 4:09 and elapsed two minutes later. It was followed by two more loud dings – "going once" and "going twice" – and then the auction was over.
The winning bidder has 30 days to close and must pay a 12 percent "buyer's premium," which compensates the auction house and listing agents and raises the total price paid for the property to $2,044,000.
Lawless said the buyers are a local couple who are still deciding if they want to move into the house or renovate it and resell it.
Lawless marketed and showed the 4-bedroom, 4.5-bath, 5,560-square-foot home in cooperation with Premier Estate Properties co-listing agents Clark French, Cindy O'Dare and Richard Boga.
Concierge Auctions has sold about a dozen homes in Vero Beach over the past several years at prices as high as $19 million, but those sales have often netted considerably less than the list price of the properties.