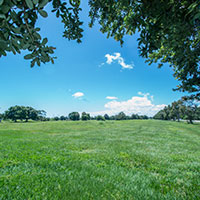 Old Dodgertown golf course development plan moving forward
STORY BY RAY MCNULTY

Vero Beach City Manager Jim O'Connor said Friday a Lakeland-based builder and his partner have decided to try to move forward with their plan to purchase the Dodgertown golf course property and transform it into a mixed-use development that would contain retail shops, restaurants, hotels, office buildings and possibly townhouses, along with plenty of green space.
When developer Mark Hulbert presented a conceptual plan for the project to the City Council last week, several council members expressed concerns about the idea of building a residential community so close to the Vero Beach Regional Airport, and Hulbert said he would consider pulling the townhouses from the plan if the project still makes financial sense without them.
"I called him the next day to see what they thought about the meeting and ask if they were still interested," O'Connor said of Hulbert, whose partner in the project is Terry Borcheller, a race-car driver who lives in Vero Beach.
"He said they're moving forward and hiring a planner to turn their concept into an actual proposal," O'Connor added. "They've done similar projects in the Lakeland area, so I think this one might actually have some legs to it."
Several other proposals to redevelop the former golf course property west of the airport have been floated over the years, but none ever came to fruition.
City Council members said they were interested in Hulbert's presentation, especially if he was willing to delete the townhouse community from the development, which would be built in a pedestrian-friendly, open-air style with trees, park-like fields and retention ponds, all enclosed by fencing.
But they wanted to see more specifics, which Hulbert and Borcheller said were coming soon. "I'm intrigued by it," Councilman Val Zudans said. "Does it fit with our culture? Maybe."
Though there was no final proposal on which to vote, the council authorized O'Connor to begin negotiating the sale of the property and urged Hulbert to come back with a more fully developed plan.
One obstacle to a sale could be the purchase price of the 35-acre property, located at the intersection of 43rd Avenue and Aviation Boulevard.
The city bought the land for $9.9 million in 2005, near the peak of the real estate boom, but it recently appraised for much less than that, just $3.5 million. O'Connor said the city should be prepared to lose money on the deal.
Vero Beach still owes between $5.5 million and $6 million on the loan it took out to buy the land, but O'Connor warned the council not to expect Hulbert and Borcheller to offer even the appraised value.
Contacted by phone after the meeting, O'Connor said the selling price will be "north of $2 million" but probably less than $2.5 million.