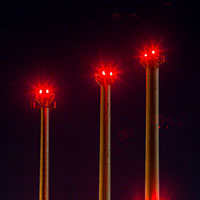 Power surcharge strongly opposed by local officials
STORY BY LISA ZAHNER

In the days before the Florida Public Service Commission approved the Vero electric sale on a 3-to-2 vote, local officials lodged emphatic objections to the PSC staff's stance that Vero customers would need to pay a cost-recovery surcharge on their electric bills to make Florida Power & Light's other 4.9 million ratepayers whole after the $185 million acquisition. 
Though the PSC staff recommended approving the acquisition of Vero's 34,000 customers and expanding FPL's current service territory to encompass all of Vero Beach, Indian River Shores and unincorporated Indian River County, the staff also said $185 million was too much for FPL to pay for Vero's lines, poles, equipment and customer base.
Any dollar amount above what is fair for the system infrastructure and ongoing business of a utility with 34,000 customers would need to be recouped via a cost-recovery surcharge or "rider," the staff says in its report.
Whether the staff provided commissioners with supporting analysis or calculations not included in the backup for the agenda item was unclear.  But  in the end, the PSC approved the sale with no surcharge on Vero customers.
Shores Mayor Tom Slater explained the plight of the Shores customers.
"The acquisition would resolve a unique and complex problem that has beleaguered our Town for decades. Currently, the territorial boundary line between FPL and Vero Electric splits our Town. Some of our residents are served by FPL, others by Vero Electric. This results in my constituents being served by two different utilities, with vastly different rates and levels of service. Moreover, our residents currently served by Vero Electric are completely disenfranchised and have no say in how that utility sets its rates or offers its services."
Florida Senator Debbie Mayfield also wrote a letter defending the $185 million deal: "The acquisition was painstakingly negotiated by FPL, City of Vero Beach, and other stakeholders to resolve unique electric utility issues that have plagued my area for decades," Mayfield wrote. "The acquisition has statewide benefits and I urge you to approve the transaction as it was carefully structured by the parties."
Mayfield's and Slater's letters got similar responses from PSC Chairman Art Graham on commission letterhead, saying, "We appreciate that you took the time to give us a review of the history behind the proposal, how the affected customers have experienced the existing situation, and your insights about the PSC staff recommendation."
Former Vero Mayor Pilar Turner, contractor Toby Hill, Vero City Council member Val Zudans, South Beach utility activist Steve Faherty and Vero Mayor Harry Howle also wrote letters over the past week, Howle taking a hard line with the PSC staff.
"I am writing to express my strong disappointment with the PSC staff recommendations pertaining to the sale of Vero Electric to Florida Power and Light," Howle said. "While your staff suggested that you approve Docket No. 20170235-EI and Docket No. 20170236-EU, they also suggested that stipulations be placed on this sale that I believe are short-sighted, unfair, and will prove to be insurmountable."
Turner pointed out the time and toil that has gone into the sale. "I have had a front-row seat to the hard work so many of our concerned citizens have invested in the effort to bring the sale of our electric system to FPL to completion," Turner said. "As you may be aware, it has been a long struggle, but one I believe is worth it because of the enormous value it will bring to our residents."
County Commission Chairman Peter O'Bryan and Vice Chairman Bob Solari both also penned letters to the PSC. The letter from Solari, a long-time Riomar resident, was a straightforward plea from the pocketbook.
"There is no single thing that can be done in Indian River County to [more greatly] improve the lives of our residents than for all of its residents to have the benefit of FPL's low rates. There will be an immediate economic benefit for all citizens and these benefits will continue to ripple through our community for years to come," Solari wrote. "Please, approve the sale and with as few additional hurdles as possible."
The challenge for the PSC in establishing a fair market value for Vero's electric system is that municipal utilities just don't go on the block that often, so the only "comp" to speak of is 26 years old, and FPL's legal team is expected to argue the facts of that case are dissimilar to the Vero transaction.
The Sebring electric utility, according to Florida Supreme Court records, was in serious trouble when its utility authority brokered a deal with Florida Power Corporation. Court records say Sebring had $85 million in outstanding bonds, and was in default on its bond payments because its rates – which were 39 percent higher than neighboring Florida Power Corporation – were insufficient to cover debt payments.
A 1993 Florida Supreme Court appellate ruling states, "Sebring's rates compare most unfavorably to those of its nearest neighbor, Florida Power Corporation. Customers of Sebring presently pay $110 per 1000 kilowatt hours (kwh) of electricity, while their neighbors served by Florida Power Corporation pay $71 per 1000 kwh of electricity. Decades of territorial conflict and competition have left the two utilities' service areas entwined and confused, emphasizing the rate discrepancy between the two utilities."
The dilemma was either to sell, or to hike rates even more – an estimated 37 percent – to make ends meet. Sebring sold, but was saddled with a substantial surcharge or "rider" for 15 years.
An entity called The Action Group sued the PSC alleging that the Commission did not have the authority to require that Sebring customers pay a surcharge to make Florida Power Corporation's existing customers whole, but the Florida Supreme Court unanimously upheld the PSC's ruling, a precedent the PSC staff is attempting to cite now as justification for imposing a surcharge on Vero ratepayers on top of the base rates that are also periodically set and approved by the PSC.
At least three men involved with the Vero electric sale don't need to dig into the PSC or Florida Supreme Court archives to recall the facts of the Sebring sale. They were in the room when it all happened.
Indian River Shores' former rate consultant Terry Deason was chairman of the PSC at the time. Vero's transactional attorney Nat Doliner of Carlton Fields represented the buyer, Florida Power Corp. and Indian River Shores' utility attorney Bruce May of Holland and Knight represented the seller, the Sebring utility. Deason has also filed testimony with the PSC on behalf of Florida Power & Light in the Vero sale docket.
That firsthand experience from the Shores counsel is evident in the closing of Slater's letter to the PSC outlining what was expected to be argued by attorneys on Tuesday when the PSC convened – or possibly on appeal should the PSC vote to impose a surcharge or rider:
"I'm sure staff was trying to do its job, but the recommendation seems to be preoccupied with a prior proceeding involving a completely different utility's acquisition of Sebring Utilities – an acquisition that took place more than a quarter-century ago. Ironically, the PSC order in that earlier proceeding specifically cautioned that the Sebring case has no precedential value. I've been advised by our counsel that the petition in the Sebring transaction, which is on the PSC's website, shows both Florida Power Corporation and Sebring expressly asked the PSC to impose a surcharge (rider) on the former-Sebring customers. This was understandable since Florida Power believed then that its acquisition of Sebring – as that deal was structured – would not provide net benefits to its other customers. But that is not the case here.  In stark contrast to the Sebring transaction, expert testimony in this matter shows that FPL's acquisition will provide over $100 million in benefits to FPL's other customers. Consequently, a surcharge has never been part of this carefully structured solution. To try to insert one now most certainly would doom this very good deal. In any event, you don't need to be a lawyer or a utility expert to see that the Sebring acquisition is very different from what we are dealing with here."
Shores former Mayor Brian Barefoot, Vero Mayor Howle and utility activist and CPA Glenn Heran all traveled to Tallahassee to speak against the surcharge, on behalf of Vero's customers. The PSC was set to consider and likely vote on the Vero sale and proposed surcharge after Vero Beach 32963 went to press. For reports from the meeting in Tallahassee, go to our online sister publication www.VeroNews.com.