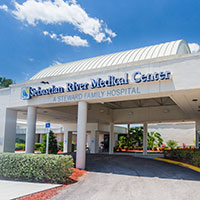 SRMC not helped by Medicare delay on ratings update
STORY BY MICHELLE GENZ

When Steward Health took over Sebastian River Medical Center and two Brevard hospitals last May from Community Health Systems, company leaders had to know the institutions had some preexisting conditions.
That became all too clear in April when, one year into Steward's ownership but with limited fresh data from its tenure, the Sebastian hospital was slapped with an F grade in the widely used Leapfrog Safety report. Steward's Brevard hospitals earned Ds.
If Steward was hoping to see a more positive review in a different safety measure, Medicare's star ratings, it will have to wait. Last week Medicare announced its anticipated July update on overall hospital quality will be delayed over controversy on how it weights its data.
That means last December's ratings, which are not flattering to Steward's local hospitals, could remain on Medicare's Hospital Compare website for months.
Enter Sebastian River Medical Center on the site's search feature, and a wide range of problems are revealed, including problems not covered in the Leapfrog report.
Hospital Compare dings Sebastian for a high rate of readmission after total hip or knee replacement, a high rate of potentially unnecessary CT scans, and a rate of follow-up outpatient breast imaging that is more than twice the national average; Medicare notes a high rate of follow-up imaging could mean patients are getting unnecessary screenings.
While the star ratings won't change, a data update will go forward as scheduled on the Hospital Compare site. That update, due July 25, should include at least some results under Steward's leadership, which officially began in May 2017.
It's not known how the new data would have affected the overall star ratings of Steward's Florida hospitals, but for now, December's disappointing ratings will stand, though they are based almost entirely on data from the era of the prior owner, Community Health Systems, or CHS.
Out of a possible five stars, Sebastian earned two stars as did Rockledge Regional Hospital; Melbourne Regional rated only one star – a dim constellation of assets when viewed alongside the dismal Leapfrog grades for what has become the largest private for-profit health system in the U.S.
Steward has already been informed of Medicare's newest star rating, which is shown to hospitals in advance so they can review and comment. Steward refused to release those preliminary ratings, though at least one hospital has.
If data is updated as expected in July, consumers would see the old star rating, but with a little searching could find the specific procedures or categories with considerably more data drawn since May 2017. Expected updates include data on outpatient imaging efficiency, a mixed bag for Steward's prior owner, CHS, with some areas of concern.
There should also be updates in healthcare associated infections, timely and effective care, and outcome measures, which includes 30-day mortality, 30-day readmissions, and what Medicare calls patient safety indicators.
The Medicare data is important beyond its own star ratings. Leapfrog, in calculating its letter-grade safety ratings, draws heavily from Medicare data, combining that information with data from its own hospital surveys. Chief among the problems it noted at Sebastian were patient falls – among the worst in the nation; bed sores three times the national average; and a startlingly high rate of objects left in a patient's body after surgery, 16 times the national average. All the figures date back to when the hospital was owned by CHS.
The star ratings have been controversial since they first came out two years ago. Last July's ratings were similarly delayed until December 2017. The Centers for Medicare and Medicaid Services has not said how long this latest delay will be.