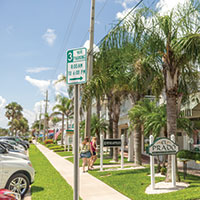 Will valet stands or garage be answer to parking shortage in Central Beach?
STORY BY RAY MCNULTY
Photo: Parking congestion in front of shops on Ocean Drive

Continuing their search for solutions to the parking shortage in the Central Beach business district, Vero city officials are now exploring the possibility of putting as many as four valet stands along Ocean and Cardinal drives. They also heard a proposal for a parking garage from longtime Vero businessman Mark Tripson.
The valet suggestion, introduced by Vice Mayor Lange Sykes at last week's City Council meeting, could involve the use of smart phones, municipal parking areas at Jaycee Park, South Beach and Riverside Park, and shuttles to transport the valets to the lots.
"The technology in that industry has advanced dramatically," Sykes said, referring to drivers' ability to use their smartphones to call the valet stands and request their cars 15 minutes in advance.
Sykes said he believes beachside shoppers and diners, particularly those who complain that they can't park close enough to their destinations, would opt to use the valet service, especially if their only cost was a tip.
City Manager Jim O'Connor said he and his staff are just beginning to research the concept and he wasn't sure who would operate the service, how it would work or who would pay for it.
"We're very early in the process, still trying to wrap our heads around how to go about it," O'Connor said. "We're looking at a few different things, but we don't have any specifics. We might need to hire a consultant to show us how to set things up.
"The biggest challenge, though, is: Who's going to pay for it, other than the city?"
Sykes said he believes the beachside hotel and restaurant workers – many of whom use much-needed parking spaces along Ocean Drive – also could be encouraged to use the valet service, particularly if their employers subsidized the cost.
In fact, Sykes asked O'Connor and his staff to engage the hotel and restaurant owners and managers in hopes of encouraging them "to work with us."
Another intriguing proposal came from Mark Tripson, who owns the Ocean Grill property at Sexton Plaza. He offered to build a five-story, 230-space parking garage on the site of the landmark restaurant's current lot.
Tripson said the city officials have told him that if he makes such an improvement to the property, he'll be required to increase the restaurant's parking capacity from 80 to 110 to meet the city code.
To make such a project worth his investment, though – he estimated the cost of building the facility at $6 million – Tripson said he needs the city to grant a variance that would allow him to build a 50-foot structure and commit to a long-term lease of the 120 remaining spaces.
He said he already has located a company that would deliver the prefab structure, which, if the city meets his conditions, could be built within two months.
"I'm still not sure I'd make any money, but it would alleviate 90 percent of the city's parking problem on the beach," said Tripson, Waldo Sexton's grandson and president of Sexton Inc.
"I could get it built pretty quickly, and it would be pretty," he added. "We'd definitely Waldo it up, so it fits with the local decor."
City Council members – who repeatedly said they were committed to finding a permanent solution to the beachside parking shortage before winter residents and visitors return in the fall – did not seem enthusiastic about the parking garage.
They said they'd prefer to try to find solutions to the beachside parking problem by re-configuring the curbing to add spaces and better utilizing the facilities already in place.
"I've been thinking about this for five years, but they don't want to spend any money," Tripson said. "So, I'm not holding my breath."
In the meantime, the council voted to temporarily go back to a three-hour parking limit in the beachside business district to give visitors more time to shop and dine without getting parking tickets.
The city went from a three-hour limit to a two-hour limit in 2016 to keep more spaces open, after beachside merchants complained hotel and restaurant employees were using the on-street, public parking spaces the businesses needed for their customers.
The new three-hour limit is in effect until Oct. 5. Parking signs with the new time limit were installed last week.