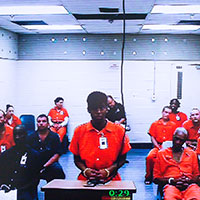 2 nursing aides arrested for defrauding John's Island couple
STORY BY BETH WALTON
Photo: Chiquita McGee makes her first appearance in court via a video feed (CCTV) from the Indian River County Jail.

Police arrested a pair of home healthcare aides last week claiming they defrauded a John's Island couple and spent more than $500,000 of their elderly clients' money on personal expenses and luxury goods, including a Bahamian cruise, a stay at the Plaza Hotel in New York City and a five-day Rolls Royce Ghost rental priced at more than $900 a day.
Both victims suffered from dementia and cognitive impairment and one of them passed away during the early stages of the investigation, adding urgency to the detectives' work, Indian River Shores Police Chief Rich Rosell said.
Officers at the Shores Public Safety Department didn't stop working on behalf of the victims when the suspects were behind bars, Rosell added. The lead detective on the case went to ask credit card companies to forgive the stolen debt. He was able to get Citibank and American Express to forgive over $400,000 in fraudulent debt.
Police allege Chiquita McGee, 29, and Sophia (Brown) Shepherd, 30, both of Vero Beach, used their position as caregivers to take advantage of their elderly and disabled clients.
The two made their first appearance in court via a video feed from the Indian River County Jail March 14. They face charges of exploitation of the elderly, organized fraud and scheme to defraud an organization. If convicted, they could spend up to 60 years in prison.
The women, certified nursing assistants who worked on a contract basis for Indian River Home Care, convinced their patients, a husband and wife, to let them to open credit cards in their names, but under the victims' accounts, reports the Indian River Shores Public Safety Department.
In addition to purchasing luxury car rentals and nautical vacations, their spending spree included cosmetic dental work, plastic surgery, the purchase of high-end jewelry and clothing, a car engine and hotel stays throughout Florida, police allege. Authorities also claim the two fraudulently obtained checks from the victims.
During interviews with police, the wife said she didn't remember authorizing such extravagant expenses. "[She] believed the suspects were buying her husband pants and shirts and things like that," wrote Detective Ken Barrett in an arrest affidavit filed with the court.
She trusted the nurse aides were purchasing supplies the couple needed with their own personal funds and required reimbursement, he explained. She thought Shepherd and McGee were "hard working girls and didn't have that much money so she would pay them immediately," Barrett writes. 
The Hon. Joe Wild set a $45,000 bond for each defendant – $15,000 for each criminal charge. He also issued an order that McGee and Shepherd not contact the surviving victim in the case.
In order to post bond, each woman must prove payment isn't from an illicit source, the judge told defense attorneys Andrew Metcalf and Lydia Pittaway. The allegation is that they have stolen a lot of money. They can't use that to bond out, Wild said.
Both defendants wore handcuffs and orange jail-issued jumpsuits as they appeared before the court via video feed. Family members gathered in the gallery of the courtroom to hear the charges read out loud. Neither woman has a criminal history.
Shepherd, who has since posted bond, said she understood the counts against her. Her lawyer told the judge she had been cooperating with investigators and posed no flight risk.
The defendant expressed her innocence during a January interview with police, court documents note. Before her lawyer advised her to end the conversation, she claimed she had emails from the family authorizing the use of their credit cards.
At the time, she was wearing a yellow diamond ring that matched one of the suspected fraudulent purchases, Detective Barrett notes.
McGee, who is 7-months pregnant, remained in jail Friday. She sat in a wheelchair during her first appearance in court and said she has two children at home who need their mother. She also said the pregnancy is high-risk for medical complications, and that her next prenatal appointment is at the end of the month.
Both women have been fired from their jobs.
"This is a very serious issue," said Margot Kornicks, owner of Indian River Health Care. "It's very sad that it ever happens."
Kornicks' company contracts with certified nursing assistants and coordinates scheduling their work for its clients.
All CNAs go through a background check before entering into an agreement with Indian River Health Care, as required by the state, Kornicks explained. The agency also listens to its clients' concerns and needs, she said.
After family members expressed concern last fall that appropriate care wasn't being provided to their relatives, Kornicks said she terminated the company's relationship with the defendants and encouraged the family to report their suspicions to the Florida Department of Health.
Staff at the Indian River Shores Department of Public Safety began their investigation in December, Rosell said. A team of two detectives and an officer quickly determined the case was not just alleged fraud but also exploitation of the elderly.
"This was a very complex case from the very beginning," he said.  Shores officers partnered with family members, attorneys, accountants and doctors to build the case, Rosell added. "If it wasn't for their cooperation, we might not have been able to secure these arrest warrants."
Indian River Shores residents who suspect they might be victim of fraud or wrongdoing should contact police immediately, Rosell said.