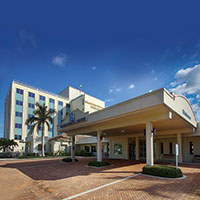 Cleveland Clinic may add Martin, St. Lucie to Vero
STORY BY MICHELLE GENZ

In January, Cleveland Clinic's chief strategy officer told Vero hospital officials the health system wanted to add not just Indian River Medical Center but a string of hospitals to its Florida division.
How soon?
"Last week, if it were under our control," she said.
Increasingly, it appears Cleveland is getting control.
With a letter of intent signed by Stuart-based Martin Health announced last Thursday, the world-renowned Cleveland Clinic may be poised to add not only Indian River Medical Center but up to four other coastal hospitals.
After Boca Raton Regional Hospital announced earlier this month that Cleveland was a finalist in its partnering process, Martin Health revealed it was a step ahead of that, opting to forgo a lengthy courtship phase with multiple suitors and focus solely on a Cleveland merger.
Currently in the midst of due diligence, Martin officials say no timeline for negotiations is included in the letter of intent. At maximum, talks could lead to a merger that would add Martin Health's three hospitals to the lone hospital Cleveland has here now, in the southwest Broward County community of Weston. That is a two-hour drive from Vero Beach.
Martin Health's main campus is half that distance, tucked in a quiet neighborhood just beyond downtown Stuart. A second smaller hospital is a 15-minute drive south in Port Salerno. The third and newest facility is in Port St. Lucie, a position that would give Cleveland Clinic a presence in St. Lucie County.
Were a Cleveland Clinic logo to go up on the recently expanded Tradition Medical Center, it would be seen by throngs travelling I-95, a very visible gift tag on a ribbon that could wrap from Vero Beach to Fort Lauderdale.
"Cleveland has been telling us all along that their plan was to move up the east coast of Florida," said Marybeth Cunningham, chairman of the Indian River County Hospital District board of trustees and the first to propose that Indian River Medical Center consider a change in its independent status.
"A strong Florida presence is good for everyone, similar to what they built in northeast Ohio," Cunningham said.  She added that "it should come as no surprise" that Cleveland Clinic is in talks with other nearby hospitals. That is especially true for one reason: very few independent hospitals remain up for grabs.
Between Vero and Weston, there is only one stand-alone independent nonprofit hospital not in talks with Cleveland: Jupiter Medical Center. Jupiter says it intends to remain independent, and insists it has the financial wherewithal to do so, according to Kathleen Ahern, the hospital's director of marketing.
Martin Health has been in talks with Cleveland Clinic for several years, officials say, most recently to firm up an affiliation with its cardiovascular program. Before that, the two systems worked together to develop a clinically integrated network.
Cunningham said Cleveland Clinic – as well as other health systems – first contacted then-IRMC CEO Jeff Susi even before a decision was made here to pursue a partnership.
A collaborative committee of members of the hospital board and the District trustees had hired Stroudwater Associates to help consider the hospital's options for the future after dismal financial results were reported.
In June 2017, Stroudwater reported that "revenues were insufficient to address IRMC's strategic and investment needs." That conclusion, along with predictions the hospital's bond rating would plummet to junk, triggered the decision to partner.
Martin Health CEO Rob Lord gave no inkling of similar financial distress at the growing system he leads. "Patient revenues are solid," he said. "We have consistently operated in the black from operations year after year, and then done really well philanthropically as well.
"This hospital has tripled in size since I came to work here 20 years ago. And we opened a new hospital that's been remarkably successful in Port St. Lucie."
Lord said residents of Indian River County "should be very proud" of their hospital. "I know they've had challenges, but it's a fine hospital. It's just going to be harder and harder as time goes on to do it all yourself."
Unlike Indian River, which visited two hospitals operated by each of four finalist health systems, Martin Health has plunged into talks with Cleveland without a lengthy consultant-led courtship involving multiple potential partners.
Vero's exhaustive search process may have had something to do with that.
"The Martin Health Board of Directors and its executive committee have watched closely as other hospitals in the area have sought opportunities for partnerships, and were aware of the various health systems that were seeking to become partners with those hospitals," said Scott Samples, Martin's corporate communications director. "The decision collectively was to focus on seeking one potential partner, rather than go through a selection process with multiple organizations."
As to how Indian River and Martin Health might co-exist as neighbors in the system, Lord was cautious about specifics.
"Each community that's involved in these discussions has in my opinion a right to expect that there are certain things their hospitals are going to do. Basic orthopaedics, or taking an appendix or gall bladder out. If I lived in Vero or Stuart or Port St. Lucie, I would expect my hospital to do those sorts of things.
"Then there are certain things like heart transplants that are so expensive and complicated, so challenging, that you would want to go to Weston or maybe even Cleveland. I would want access to that highly specialized care. Our job is to figure out how we put that system together."
Lord said when he visited Cleveland Clinic's main campus in Cleveland, he watched doctors performing heart surgery on a fetus in utero, an experience that still makes him marvel.
He was clear that his conversations with Cleveland have only to do with Martin Health. "I have an idea how things would work [in an integrated Cleveland healthcare system] but I'm not considering what Indian River is going to look like. I have to be careful with that. Our decision has to be based on our considerations. We're not conspiring together to do something. It's an individual entity. And if it doesn't work with Cleveland, there are other places."
"We are a strong organization. We are a healthy organization. We could last for years and years and years. But there's an opportunity that exists right now. Just because I've got an old car out there that keeps running if I work on it doesn't mean I shouldn't look at a new one if an opportunity comes along."
With a law degree from Stetson, Lord started at Martin Memorial as chief legal counsel. He oversaw much of the development of Tradition Medical Center, more than a decade in the making, which finally opened in 2013. Lord was named COO the following year. He was named president and CEO in July 2016.
Tradition recently underwent an expansion that doubled its number of beds to 177.
Martin Medical Center, formerly known as Martin Memorial, remains in its original 1939 location on the St. Lucie River near downtown Stuart. Fundraising is underway to renovate the 244-bed facility, most of it built in the 1970s. Plans include expanding and improving the crowded emergency department.
The system's third hospital was built in 1992 on Salerno Road in the southern end of the county. Known as Martin Hospital South, it has 100 beds and recently collaborated with Health South to open a rehab facility on the campus.
Samples says part of the reason for Martin Health's success is that as early as the 1980s, it began following an outpatient model, an approach that experts say is increasingly important today as healthcare revenues shift away from overnight stays and into alternative arenas like ambulatory surgical centers and telemedicine.
Currently, the health system has a dozen non-hospital locations including physician offices, lab stations, imaging centers and a freestanding emergency room.  A new outpatient clinic is under construction on a 13-acre parcel on Kanner Highway at Indian Street.
Of the system's 500 physicians on staff, 150 are employed by Martin Health.
In all, Martin Health has three boards: one for the system as a whole, another for the Stuart hospital, and a third for the foundation. Unlike Indian River, there is no hospital district in Martin County, so the system operates without taxpayer support, outside of Florida's Government in the Sunshine laws.