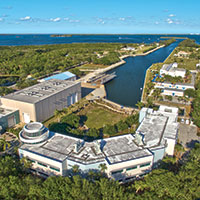 Dr. Anton Post out as director of Harbor Branch after just 15 months
STORY BY KATHLEEN SLOAN

After just 15 months on the job, Dr. Anton Post is out as executive director of Harbor Branch Oceanographic Institute, but Florida Atlantic University is portraying the move in a positive light.
Harbor Branch has seen considerable turmoil and uncertainty since longtime executive director Margaret Leinen left to take a job at Scripps Institution of Oceanography in San Diego in 2013, with an unpopular interim executive director overseeing the decline of its marine mammal rescue and research program, and a lawsuit filed by the Harbor Branch Foundation against FAU.
When Post, a renowned oceanographer with a blue chip career, was hired to lead the Institute in November 2016, many viewed it as a new beginning and hoped for smoother sailing going forward.
Now, though, Post is gone, replaced by James Sullivan, Ph.D., who was appointed interim director last week.
A principal Investigator and research professor for the last three years, Sullivan is a "rising star," according to university insiders. His concentration on harmful algae blooms in the Indian River Lagoon and the applied science and solutions that may come from the research have gained notice.
Prior to joining Harbor Branch, Sullivan earned his master's and doctorate in biological oceanography from the University of Rhode Island, becoming research faculty at its Graduate School of Oceanography as well as a Senior Oceanographer for the private company, Sea-Bird Scientific WET Labs Inc., which manufactures tools for measuring and monitoring ocean activity.
Post, meanwhile, has assumed a new title that is a bit of mouthful:  "Associate Vice President for Corporate and International University Relations within the Division of Research [at FAU]," according to Assistant Vice President of Communications Cara Perry. 
Florida Atlantic is seeking more research partnerships with private corporations and Post has been tapped to lead the effort, Perry said.
"Dr. Post is uniquely qualified for this position and was chosen specifically by the Vice President for Research, Dr. Daniel Flynn," Perry added, citing Post's "international connections."
Born in the Netherlands, Post got his bachelor's and doctoral degrees from the University of Amsterdam and then spent a year in Japan as a Brookhaven Institute intern. Other post-doctoral studies were in Israel, at Hebrew University, University of Chicago, Massachusetts Institute of Technology and University of Rhode Island. He was also worked for the federal government as program director at the Division of Ocean Sciences for the National Science Foundation.
In his new position, Post will "help the Division of Research facilitate collaborative research with small, medium and large corporations," Perry said. "He will facilitate memorandums of understanding and working agreements with international universities that share FAU's common research interests."
Post will concentrate on finding corporations interested in FAU's "pillars of research," the Institute for Healthy Aging & Lifespan Studies, the FAU Brain Institute, the Institute for Sensing & Embedded Network Systems Engineering and the FAU Harbor Branch Oceanographic Institute.
The staff shakeup comes during a litigious interval between the independent Harbor Branch Foundation and the University that took over Harbor Branch Oceanographic Institute 11 year ago. 
Harbor Branch, founded in 1971 by J. Seward Johnson, Sr. and famed Inventor Edwin A. Link, flourished for several decades and became one of the top oceanographic research institutes in the world, pioneering deep sea expeditions in submersibles, small submarines conceived and created by Link. After Johnson died, though, his heirs did not continue the kind of financial support he had provided and Harbor Branch struggled to stay afloat, selling off research ships and cutting programs.
As a means of survival, Harbor Branch agreed to an FAU takeover in 2007, turning over $92 million, mostly in land and buildings, to the university, essentially giving the institute to the Florida Atlantic.
As part of the deal, an independent Harbor Branch Foundation kept the institute's $40 million endowment and continues to maintain separate oversight of the endowment and funds generated by the specialty "Save Our Seas" license plate program created by former Harbor Branch marine mammal program leader Steve McCulloch to fund research at Harbor Branch prior to the FAU takeover.
In the 11 years since the merger, the foundation increased the endowment from $40 million to over $70 million and funded many research projects.
Then, a year ago, in reaction by a move by FAU, the foundation brought suit against the university, claiming it was trying to illegally take over the endowment funds and fire the foundation staff.
The case went to mediation December 2017. On March 14, 2018, mediation was declared at an impasse and litigation is continuing, according to Katha Kissman, president and CEO of the foundation.