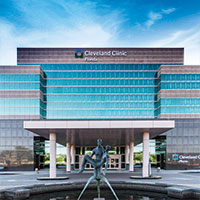 Hospital officials tour Cleveland Clinic Florida
STORY BY MICHELLE GENZ
Photo of the Cleveland Clinic Florida in Weston

WESTON – Cleveland Clinic Florida put itself on the exam table Monday, allowing a sizeable contingent of Indian River Medical Center officials to take a close look – right down to the studs – as part of due diligence before IRMC finalizes a Cleveland Clinic takeover in Vero.
The 155-bed Weston facility that since 2006 has  been the famed health system's only Florida hospital gave a dozen or so Vero Beach visitors an intimate tour that included donning hardhats and dodging ladders in one section, basking in the serenity of art-filled halls in another just-completed section, and in still another area, watching over a doctor's shoulder as a heart procedure unfolded through a glass window.
"How are you doing?" asked the gregarious cardiologist, looking up at the Vero group from his monitor on the visitors' side of the glass. "We're doing great, and our patient's doing great! That's what counts!"
That doctor's eagerness to communicate his love for his work may be one of the first things Vero hospital staff members learn to emulate.  As soon as the Cleveland sign goes up, communication training begins, said Dr. Wael Barsoum, an orthopedic surgeon who is Cleveland's Florida division CEO and president.
"Communication classes, collegiality, grand rounds, creating education platforms. These are all things we can create right away," Barsoum said.
From the Weston hospital's somewhat dated lobby to its stunning two-year-old neurological and cancer treatment center to the $300 million patient tower and emergency department slated to open this summer, the various stages of transformation spoke to what lies ahead for Cleveland Clinic Indian River, as the Ohio marketing department has already labeled IRMC.
That name change of course presumes a deal to take over the hospital goes through; a letter of intent – a few weeks delayed and rumored to have been lawyered to the max – was signed last week.
Expansion, renovation, modernization and integration are common themes on both sides of the final negotiations, expected to conclude within 90 days, according to the letter of intent.
During Monday's tour in Weston, visitors saw areas built in 2001, when the hospital first opened, but even those are at the brink of change: A $50 million sprucing up is about to get underway that will likely give the comforting if vaguely dated front lobby, for example, the same sunlight-drenched whitewashing that has become the Clinic's signature.
"We want folks when they walk into Cleveland Clinic Florida to know they are in a Cleveland Clinic facility, this whole feeling of being in an environment that is conducive to healing," Barsoum said.
Barsoum, who as CEO of Cleveland Clinic Florida will be the top boss of the blossoming division, already seems like an old friend. After visiting Vero Beach in the fall for Cleveland's initial presentation of its plans for IRMC, he has returned to talk to around 200 caregivers and 100 physicians.
"I cannot tell you the number of follow-up calls and emails I've had," he said.  If he made a good impression on the Vero staff, the feeling was mutual.
"When I toured the hospital, every caregiver seemed incredibly engaged about what they do every day. That's foundational. If you have that every day, that makes everything easier," he said of the transition to the Cleveland brand.
As the anticipated partnership with Cleveland Clinic moves ahead, the way forward is no longer a strategy metaphor, it's a two hour-plus drive into the heart of Broward County. Hospital officials hired two black Lincoln Navigators for the slog south on the Florida Turnpike.
Arriving at 9 a.m. the group toured the stunning Braathen Center, home to both the Maroone Cancer Center and the Pauline Braathen Neurological Center. The building, which opened three years ago, has key aspects of the Cleveland hospital – a minimalist design with maximum serenity and lots of sunlight, believed to aid in healing; thoughtful accommodations for patients and their families, including a wig boutique and café; and onsite diagnostics, physical therapy and pain management.
Alternative health treatments like massage – free for patients and their families – are available as well as art therapy as patients receive their infusion treatment for cancers.
Barsoum's current territory extends well beyond the Weston hospital, spanning Broward and Palm Beach Counties with clinics and medical offices in Coral Springs and Parkland; and in West Palm's CityPlace, Palm Beach Lakes Boulevard, Palm Beach Gardens and Wellington.
When the letter of intent was signed with Indian River, the Cleveland Clinic brand had already nudged northward into Martin County. A January affiliation with Martin Health's cardiovascular program brings the familiar Cleveland Clinic signage into view for tens of thousands more south Floridians.
For now, that brand reflects the reputation of its Cleveland hospital, ranked second in the nation by U.S. News, with its heart program ranked No. 1 for 23 consecutive years.
But the Broward hospital does not share that same distinction; Weston's cardiovascular center is not even ranked "high performing," though its cancer and geriatric programs are. The hospital has two nationally-ranked specialties – gastroenterology (42) and orthopedics (31). 
Weston also scores well in the treatment of COPD, heart failure, colon cancer surgery and hip replacement.
Overall the hospital ranks eighth in Florida in the U.S. News listing, two spots behind Orlando Health and Adventist, which tied at No. 6 last year. Cleveland Clinic Weston ranked second among south Florida hospitals, behind Baptist Health in Miami. And Weston rates a weak two stars on Center for Medicare Services' Hospital Compare. The most common ranking of hospitals is three stars, the website notes.
That rating system, only recently devised, is problematic for Weston, Barsoum said, because of the severity of the conditions of the patients it sees. Cleveland Clinic Weston, like its parent in Cleveland, is considered a quaternary care center, seeing the sickest of the sick, and they are less likely to survive and more likely to be readmitted, both of which count against the hospital in the CMS ratings.
"We're not readmitting congestive heart failure patients," he said.  "We're readmitting someone who's getting a heart transplant."
Cleveland Clinic Weston is also slammed with patients, with occupancy rates over 90 percent. As a result, ER waits for admission run long – another black mark in ratings, but one that is about to be addressed when the new tower opens with 75 more beds, and space for 25 more. "Space has been a major limitation for us. The hospital is packed," Barsoum said.
Just before the Vero visitors arrived in Weston, a Cleveland Clinic physician an hour away was seeing the first patient at the new 7,500-square-foot clinic in Wellington.
That location, the fourth in Palm Beach County, officially opened Monday with primary care and cardiology services. Gastroenterology doctors will be place by summer.
Barsoum has openly shared his dream of having a hospital, not just clinics, in Palm Beach County and, with Boca Raton Regional Hospital about to announce its partner of choice in a takeover strategy announced last summer, there are strong hints from industry insiders that Cleveland Clinic is very high on a very short list to acquire the facility.
A 45-minute drive north and east from Weston, Boca Raton Regional serves an affluent market Cleveland Clinic has targeted for years. Built in 1967, it has grown to a 400-plus bed tertiary care center.
Asked about the potential acquisition, Barsoum demurred. "It's not my secret to tell," he said. Then he pointed to his broad grin.  "Do you see me smiling?" he asked.
There has also been speculation about Jupiter Medical Center being a target of Cleveland.
Like Boca, an independent, nonprofit hospital with 207 acute-care beds plus 110 for long-term care, rehab and hospice, it scored high on the Hospital Compare analysis, receiving four stars out of five, though none of its specialties hit the U.S. News marker of nationally ranked or high performing.