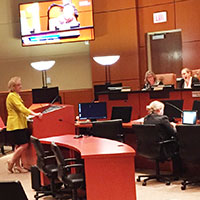 Hospital seeks to reduce delays at jammed ER
STORY BY MICHELLE GENZ
Photo: Hospital CEO Karen Davis addresses the District Board on the ER.

A bad flu season combined with drastic staff cuts at the county's health department have combined to jam up patient flow at Indian River Medical Center, making emergency room waits longer.
Last week, IRMC's interim CEO Karen Davis described to the Hospital District board a systemwide effort to ease congestion at the hospital resulting from a 10-percent increase in patients.
"It's just a crunch everywhere," said Davis. "Every bed that we can physically put in that building, we have put in.
"We've moved people out of offices [to make room for patients] . . . I don't want to leave the chair in my office for long for fear that someone will be in that chair too."
Davis anticipates that some of the estimated 600 patients a month who are being turned away by the Health Department due to recent cuts in primary care will be turning to the ER for treatment. Some may be arriving for minor non-emergency problems, while others will have true emergencies that are the result of not having been treated at an earlier stage.
Thanks to a Hospital District initiative, there are now patient navigators in the ER to help patients find the right place for non-emergency treatment. Early numbers point to a 50-percent success rate at arranging for patients to get appointments at facilities that are less focused on acute care and less expensive, where they can form a relationship with one doctor as opposed to dealing with the rotating ER docs.
"We're screening with a physician from the beginning," Davis said. "If it's not an emergent case, we're giving them options of places where they could receive care that would be less expensive than coming to the [emergency room]."
At the other end of the hospital stay spectrum, case managers have the task of arranging for transitional care either at home with the help of nursing agencies and Meals on Wheels, or in rehab facilities. Now, those case managers are being assigned to patients when they come in the door, Davis said. "That's the time you start to think about discharge, not when they're ready to leave."
Davis has decades of experience in addressing such problems. A senior director of the national health care consultancy Alvarez and Marsal, she was selected by a nine-member search committee of IRMC officials who came together to find a temporary replacement for retiring CEO Jeff Susi.  (IRMC is in merger negotiations with Cleveland Clinic, which would doubtless appoint a CEO of its choosing.)
Davis has a master's in health administration and B.S. in nursing. She has served as president and COO of Health South's imaging division and has been CEO of a hospital in Framingham, Mass. She has also acted as interim CEO at several other health systems.
Davis began taking a hard look at the hospital's problematic emergency department, which has been plagued with unusually long delays for years, soon after taking over leadership of the hospital almost three months ago.
Her strategy to improve patient flow involves metrics at every level. "It's full visibility and transparency on the responsiveness of the lab, radiology, how long it takes for a physician to see them and treat them; how long it takes from the time they register until the head is in the bed or their feet are out the door."
Six weeks ago, with the approval of the hospital's board of directors, Davis contracted with Emcare, a national physician outsourcing company, to take over the staffing of the emergency department.
Thursday, Davis praised the new doctors, calling them "a wonderful pleasure to have."
At the same time, Linda Walton, chief nursing officer, has created a flex-pool for the nursing staff so that familiar faces stay on the floor when the crunch times hit, and the hospital doesn't have to resort to hiring contract nurses.
"We've honestly had to do some incentives during the busy period. We have people working two or three extra shifts, but they're willing to do it. And I had much rather have our own staff do it than have somebody else that we hired from the outside."
Even housekeeping has proved a critical arena. "That's one of the big issues and it was something I noticed when I first came in. It just didn't feel like it should," Davis said.
Now, staff custodial workers are tasked with the most important work – properly cleaning hospital beds – while contract workers help with common areas like lobbies and waiting rooms.
As a result, Davis says quality scores on environmental services have "absolutely" gone up. "That's a huge accomplishment."
Beds represent the wrench in the works of emergency treatment. "In the past four months, our hospital has been completely full, including today," said Davis. "We have had 200 patients on average every day come into the emergency department, and there are 41 beds in the ER. Just the math tells you where the issue is. We have to wait for discharges."
While a triage nurse and a physician now see a patient immediately, there still has to be a bed in the ER for the patient to be examined. Once an examination room opens up and it turns out the patient needs to be admitted to the hospital, a second wait – often much worse – begins. "When we have holds in the ER of eight or nine hours, it's only because we're trying to get a bed emptied," Davis says. "The beds don't have a chance to get cold before we've putting another patient in it."
She has called in a group consisting of representatives from every department to help cure those delays. "We're taking this apart thread by thread," she told the District Board trustees at their monthly meeting last week.
Davis is also talking with representatives from the agencies that provide transitional care after patients are discharged. Those include home health nurses and Meals on Wheels for patients being discharged to home, and for other sicker patients, nursing facilities, rehab hospitals, and even hospice. Her hope is to "form a continuum with them, a partnership, so that they can help us get patients out."
Another frequent cause of delay is insurance payors, whose approval is often required before patients can move into post-acute care. "Oftentimes, patients are held two or three days in the hospital waiting for approval from the insurance companies to be able to go to a skilled facility or home healthcare," said Davis.
The hospital team is holding  "summits," as Davis called the meetings, and has already worked with representatives from United Healthcare to speed up the approval process.
"I think you can see we're starting with 'A' and going all the way to 'Z,'" Davis told the trustees. "That's the reason I have a commitment to you that our changes will be sustainable and you'll see improvement in our services in the ED.
"The emergency room is the one department that is impacted by all the departments," Davis said. "We're optimistic that if we can solve this in the busy times, the slower times will be a piece of cake. Everyone in the organization is excited about the process. No one misses a meeting."