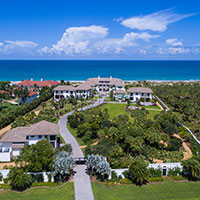 Island's biggest house, sold 3 months ago, put on market for $29.9M
STORY BY STEVEN M. THOMAS

The biggest house on the barrier island, auctioned off for $19.6 million just three months ago, is back on the market for $29.9 million.
The investment group that bought the property put "several million dollars" into redecorating and refurbishing the 40,800-square-foot estate in hopes of flipping it at a profit, according to Premier Estate Properties broker associate Clark French.
"As soon as the sale closed in January, the owners turned over the keys and a very generous budget and we've had dozens of workers in there putting in 18-hour days, completely redoing all the finishes and putting in all new furniture," French said.
The revamped house, located at 1940 S. A1A in the Estate Section, was debuted at a party earlier this month attended by more than 300 potential buyers and influence brokers, according to French.
Hosted by Jonathan Goldsmith, who played "The Most Interesting Man in the World" in Dos Equis beer commercials for 10 years, the party featured luxury product displays by Mercedes Benz and Rolex, along with a premium tequila bar serving Astral tequila, the brand Goldsmith now represents.
Invitations went to selected people in the Mercedes, Rolex and Premier Estate Properties databases and to the owners of $10-million-and-up homes between Vero and South Florida.
"There are 1,600 homes between here and Miami with a tax-assessed value of $10 million or more and all of those people got invitations," French said.
As part of a worldwide marketing campaign, the estate is being advertised on the front page of the Palm Beach Daily News, aka The Shiny Sheet, and will be one of handful of luxury properties featured in the catalogue for Christie's upcoming sale of the Peggy and David Rockefeller art collection, which will be auctioned off in May for an estimated $1.5 billion with the proceeds going to charity.
"Premier is a member of the Christie's network and Christie's reps came and looked at the house and decided to include it in the program, out of all the thousands of luxury properties marketed by Christie's International Real Estate," French said. "That is a real validation of how exceptional the property is. The house is not being auctioned, but buyers with the means to participate in the art sale will see it."
Situated on a 7-acre parcel with 315 linear feet of Atlantic Ocean frontage, the 18-bedroom, 27-bath house was custom built for Robert Allen McGuire Jr. by Joe Foglia of Foglia Custom Homes and Vic Lombardi of JV Enterprises, two leading local builder/developers who have partnered on a number of projects.
Constructed with luxury finishes and the latest smart-home technology over a period of two years and completed in 2015, the main house and guest houses encompass 27,588 square feet of air-conditioned living space and nearly 41,000 square feet under roof.
"It was a lot of fun to build," said Foglia, prior to the auction. "It was dream job for a very good client who made timely decisions and is a really good guy. There is nothing else that large on the Treasure Coast. You would have to get into Palm Beach to find something comparable.
"There are four kitchens, four elevators – including one commercial grade – and a 25-person movie theater. The pool is extraordinary. An average pool is 450 square feet. That one is 10 times as large, with a surface area of 4,500 square feet and a capacity of 186,000 gallons."
French says the movie theater has a half-million-dollar projection system and cost well over a million in total and that the pool is "the largest in Indian River County."
When he decided to sell the property, McGuire listed it for $45 million with French and his partners Cindy O'Dare and Richard Boga to set a nominal value, but did not aim for a traditional sale.
Instead the home was put up for auction by Concierge Auctions, a luxury property sales company that auctioned six homes in Vero in 2017.
Nine bidders, from China, Switzerland, the U.K. and the United States, participated in the 26-hour, online, no-reserve auction, but the high bid was only $17.5 million, about half what McGuire is reported to have spent on the estate. With a 12 percent buyer's premium added on to compensate the brokers and auction company, the total amount paid was $19.6 million.
"We were hoping for more," Katie Lawless, a business development manager with Concierge Auctions, said at the time.
While she and McGuire may have been disappointed by the sale price, however, it opened the door for some serious arbitrage.
At the price it went for, the deal was "too good an opportunity to pass up" for the investment group that bought the property.
French declined to identify any members of the investment group, a limited liability company called Sunrise Design.
The LLC's principle address is 10 Ocean Lane in Indian River Shores, according to state records. Dennis Stattman, who is listed as the Authorized Member of Sunrise Design, purchased the Ocean Lane property at a Concierge Auction last March for $10 million.
Even though the McGuire house was new and had not been lived in for more than a year or two, the investors believed the finishes and décor, which were dark and lacked sophistication in some instances, were a mismatch with the underlying quality of the building and land and a drag on the value of the property.
Clark French's wife, Lu French, and Clive Daniels Furnishings collaborated to redecorate and refine the interior, making it lighter and more chic, to highlight its Côte d'Azur architectural intent and make it more appealing to high-end buyers.
If the strategy is successful, and the house sells in the next year close to asking, the investment group stands to make a substantial profit on its approximately $22 million investment.
While the original $45 million list price was unrealistic in the opinion of Vero brokers and builders, and the $19.6 auction sale price was a bargain, the current asking price of $29.9 million may well represent the property's realistic value.
Mansionquest.com, a website that evaluates luxury properties in Florida, ranks the 1940 S. A1A estate as the most valuable in Indian River County, with a just value of $28,869,142 in 2016.