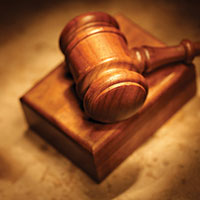 Prosecutor: State not stalling on road-rage shooting
STORY BY RAY MCNULTY

State Attorney Bruce Colton flatly denied growing speculation that prosecutors have decided not to file criminal charges in a fatal road-rage shooting in Vero Beach in November and are deliberately putting off an announcement in hopes the public will lose interest in the case.
"That's not true," Colton told Vero Beach 32963 last week, adding that he had discussed the case with assistant state attorneys Steve Gosnell and Chris Taylor only days earlier "to see where we are" more than four months after the shooting.
The top prosecutor in Florida's 19th Judicial Circuit, which includes Indian River County, Colton said the shooting remained under investigation – that witnesses were being re-interviewed, more detailed information was being gathered and evidence was still under review.
He said most of the witnesses didn't see anything until they had heard the shots.
"We want to know all the facts, or as many as we possibly can, before we make a legal determination," Colton said. "Once we do, we will make public our decision. Whether it's a popular or unpopular decision, we'll make a public statement, and let you know what it is and why.
"We hope it won't be much longer."
Colton, who lives in Vero Beach, said he understands why many in the community are outraged by the frightening, headline-grabbing incident, in which the shooter killed an unarmed man he claimed had threatened him at a busy intersection on one of the county's most heavily trafficked roads.
He's also aware that some in the community have begun wondering why it's taking prosecutors so long to reach a decision, and whether his office wants a difficult-to-win case to quietly go away.
In fact, Colton, the four-county circuit's state attorney since 1985, said he has been questioned by neighbors about the status of the case and the delay in determining whether the shooter should be charged.
"The public is very interested in this case, which, under the circumstances, is certainly reasonable," Colton said. "And it bothers me, too, that a shooting like this happened at a busy intersection, early in the evening.
"But we have to go by what the law dictates, whether I like it or not, and whether it's popular with the public or not."
According to sheriff's reports, the shooting occurred at about 7 p.m. Nov. 16 at the intersection of State Road 60 and 53rd Avenue, where a road-rage incident escalated into deadly gunfire.
The reports said Dennis Wayne Hicks became irate with an unidentified motorist while driving along 58th Avenue and began angrily honking his horn at the driver while their vehicles were stopped at the traffic light at State Road 60.
Hicks, 38, of Vero Beach, was stopped again – this time, at the traffic light at 53rd Avenue, in front of Applebee's restaurant – when he yelled over to the driver of the vehicle in the next lane, the reports stated.
Timothy Daniel Sartori, 29, of Sebastian, told deputies that his window was down when Hicks pulled up next to him, looked over and said, "What's your problem?" Sartori replied, saying he didn't have a problem.
It was then, Sartori claimed, that Hicks verbally threatened to shoot him and appeared to reach for something inside the vehicle. In response to the alleged threat, Sartori said he grabbed his gun and "opened fire" in self-defense. Hicks died at the scene.
Sartori, who pulled into a parking lot adjacent to the intersection and dialed 911 to report the shooting, was interviewed by deputies for several hours immediately after the incident but was not charged with a crime at that time.
Apparently, Sartori was not the driver Hicks had honked at during the previous traffic stop.
Gosnell, who was summoned to the scene, said there wasn't enough probable cause to charge the shooter at the time and that he would wait for sheriff's detectives to complete a full investigation.
"There's no timetable," he said. "I'm not going to take any shortcuts."
Sheriff Deryl Loar said Gosnell's initial assessment of the incident supported Sartori's self-defense claim under Florida's controversial "stand your ground" law, despite the fact that deputies didn't find a gun in Hicks' car.
However, in an interview with Vero Beach 32963 one week after the incident, Loar said he believed "there should be some type of charge, possibly for recklessly discharging a firearm in public."
Detectives found that four of Sartori's bullets traveled across traffic lanes and struck a third vehicle in which a 3-year-old boy was a passenger. Neither the driver of that car, Michael Clemente, nor his young son were injured.
"It wasn't like it was one or two or three rounds," Loar said, referring to Sartori's decision to shoot. "It was 10 to 15 rounds. He emptied the gun . . . We can't condone someone just discharging a weapon the way he did."
Colton said Loar's public remarks "didn't help," but he understands the sheriff's feelings, "which are shared by many others in the community."
Complicating the matter is an obvious conflict between two Florida laws: One that allows a person who believes his life or property is being threatened to stand his ground and, with no obligation to retreat and avoid the potential danger, discharge a firearm in public; and one that makes it illegal to recklessly discharge a firearm in public or from a vehicle within 1,000 feet of any person.
Colton declined to comment on the merits and bounds of the stand-your-ground law, saying only that more shooters are citing it in their self-defense arguments. He said his prosecutors will be in court this week in other counties for pretrial hearings on "stand your ground cases."
In Sartori's case, Colton said prosecutors must consider the shooter's self-defense claim, even though there's no way to verify that Hicks actually threatened him, verbally or by reaching for something in his vehicle, since Hicks is dead and can't tell his side of the story.
"Was it a reasonable reaction under the circumstances as we know them?" Colton said. "That's what we're looking at, and we're reviewing it over and over. We're going to make the call."