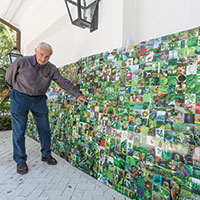 Tiny 'offending' image leads IRMC to toss large artwork
STORY BY MICHELLE GENZ
Photo: Duke Habernickel and his 30-foot-long photo montage, "Studies in Green," at his home in John's Island.

Retired CEO Duke Habernickel spent two years assembling the 2,400 photos he shot for his "Studies in Green," a 30-foot-long montage that recently hung in the annual John's Island art show.
And still a tile or two can suddenly catch his eye.
"Look at that," he said a half-dozen times one morning last week, interrupting his own interview to lean in at an image.
Habernickel believes that a single photo will draw in a particular person for a reason. At least that's how he explains how a hospital executive stepped out of her office last week and zeroed in on one 2-inch by 2-inch slightly risqué photo out of the vast wall of images.
"And that was it," said Habernickel. "After that, this thing was non grata."
 It happened just minutes after the artwork was installed outside an Indian River Medical Center waiting room, a dream for Habernickel, who wanted the artwork displayed where it would serve a purpose: distracting and delighting people in a stressful situation.
The offending photo was a shot of Habernickel himself, taken by his 13-year-old grandson as the two were out for a walk. Habernickel, who is in his 80s, is impishly grinning beside his own raised middle finger. A nearby sign warning not to feed the squirrels – the target of Habernickel's defiant gesture – is cropped from the shot.
"I'm offended by this," said the executive to Joel Rossmell, one of two men Habernickel hired to wrangle the three 10-foot by 8-foot panels into place. After maneuvering through a tight stairwell, they installed the plexiglass panels end to end on a track outside the new intensive care unit and recovery room.
Interim hospital CEO Karen Davis had helped pick the location, Habernickel said. The hope was that the tiny images of nature, people and fine art would help people pass the time as they waited and worried about friends or family being treated nearby.
Habernickel, a Princeton graduate who for many years led his father's mail-order clothing business, Haband, has been pursuing his art fulltime since retiring to Vero more than a decade ago. From more traditional works like portraiture he has moved to whimsy, vividly painting coconuts he sets out in his John's Island front yard at Easter, and carving a 12-foot-tall totem pole out of a holly tree.
"Duke really has become a star," says Janet Tribus, organizer of the well-respected John's Island show for more than a decade. "He has a real artist's mind."
Habernickel is a member of the hospital's Eagle Society, donors who over a lifetime give more than $10,000. Not long ago, he also was a patient after suffering a stroke from which he has fully recovered. He even has a souvenir of his stay embedded in "Studies in Green": a tight shot of the shower drain in his hospital room.
He hadn't pointed out that shot to Davis when she happily agreed to exhibit the work, Habernickel said. She only saw a few sample panels and they did not include the finger photo, nor any of several others that could be construed as controversial: a squatting dog, a swastika, a sign saying "Jesus is Looking for YOU!"
It didn't take long for those images to find their audience, as the executive and one other passer-by took umbrage, warily scanning the tiny tiles in a sort of Where's Waldo of offensiveness.
Rossmell said a dozen other viewers reacted favorably to the artwork during the 20 minutes he was there. 
First thing the next morning, Habernickel got a call to pick up his work of art. A hospital maintenance crew had already dismantled it and left in on a cart in Davis' office, he said.
Asked for comment, neither Davis nor the offended executive responded directly, nor was the hospital forthcoming about a general policy regarding the art it displays. But an emailed statement from the hospital's marketing person seemed to tread lightly on the inference that anything was actually shocking, and referred only to "negative feedback regarding a few of the thousands of images."
"Knowing that art is subjective and that we are here to provide care and comfort to people from the community, we felt it important to be responsive to those who objected to some of the images."
"I suppose they're kind of nervous about the impending Cleveland thing," says Habernickel, referring to the current negotiations with the Cleveland Clinic to take over IRMC.
"In my heart I kind of thought that when Cleveland Clinic saw that thing hanging outside of their waiting rooms that they'd be really excited and interested in the art. I expected that a couple of months from now, it might be moved into some new building they're going to put up here."
And who knows but that Cleveland might have been pleased. Placing art in healthcare spaces is a growing movement, with the Cleveland Clinic perhaps its biggest advocate.
The Clinic formed an "aesthetics committee" in 1983, followed by a formal art program in 2006. The 6,300 works in the collection at the main campus in Cleveland are so significant that docents are on staff to give tours.
"Artwork lends comfort, beauty and wit to the environment," states former CEO Toby Cosgrove. "Fine art is good medicine."
It can also be a hard to swallow. Cleveland didn't respond to a request for its policy, but a 2010 piece in the New Yorker says certain topics are off-limits there – no images of violence or explicit sexuality. "But that doesn't mean that the images [that are allowed] aren't challenging," the author wrote.
"I wouldn't want to be the one to make that call" as to whether Habernickel's photos were offensive, said Tribus, an artist herself. She liked "Studies in Green" so much she kept it up an extra day or two after the John's Island show.
Even the offended hospital executive had trouble finding backup, said Ross-mell. "She grabbed another woman from the hospital just to prove her point. But the other woman just looked at it and laughed. She said, 'I don't find it offensive at all.' "
"I don't know this man. I don't know what he's thinking about. But I think it's funny," the second woman said, according to Rossmell.
"Out of 2,400 images, there's going to be something for you to react to," said Rossmell. "So for that woman to walk up and go to that picture, in my mind, that's your deal, you know?
 "It was almost like, the shoe fits. That was the funny part about it."
When Duke's wife Gael suggested replacing the offending images, they debated how they would do it. "We had other images that we could have made work," said Rossmell, "[but] the hospital took it down before we could even change anything."
Now, Habernickel has decided his work of art won't be changed, no matter what; an artist shouldn't bow to censorship. But Rossmell has come up with a possible solution: Post-it notes, stuck to the offending tiles, declaring "This offended so-and-so."
When Habernickel got his artwork home, he noticed there was a minor but notable addition – and it wasn't a Post-it note. On a photo of a Renaissance-era nude, someone had penned in two dots for nipples.
"That photo was way up high," said Rossmell. "Someone must have done it while it was on the cart."
The dots came off; no harm, no foul. So far, though, Habernickel hasn't been able to get a commitment from another organization to hang the piece. He has talked to the Environmental Learning Center and McKee Botanical Garden; both showed interest, but when asked, a spokesperson for McKee said offensive photos would have to be swapped out.
"I could use it for a roof somewhere, or a sidewalk," Habernickel jokes. "It's big. There's no room in anybody's house for it. But deep in the good part of my mind, I think it is soothing, beautiful and very entertaining."
Asked if he was upset by the hospital's decision, Habernickel instantly shrugged it off.
"Nah. You can't enrage me. Come on. Get a life," he said. 
"They don't want it. I understand their point of view, but I'm not going to change it. It's my art," he declared. "I wouldn't take out one image any more than Rodin would say OK if somebody at the Metropolitan Museum who doesn't like big boobs were to say, 'Hey Rodin, would you reduce the size of these?'"