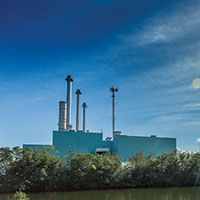 Vero Electric clears another hurdle as FMPA exit nears
STORY BY LISA ZAHNER

The Fort Meade City Commission Monday night became the last of the 20 electric co-op member cities required to approve letting Vero Beach out of the Florida Municipal Power Agency, paving the way for Vero to sell its electric utility to Florida Power & Light.
Mayor Harry Howle and County Commissioner Tim Zorc traveled to Fort Meade Monday night for the discussion and vote, which took about 35 minutes.
"This is truly a day to be celebrated. Many people in the community and many facets of our local governments have worked in conjunction in hopes this day would come," Howle said.
Howle and Zorc both thanked all the FMPA member cities, and also FPL for sticking with Vero in the negotiations even when it looked like there was no hope of closing the deal.
Now FPL and the city's transactional attorney Nat Doliner of the Carlton Fields law firm hope to complete the transaction on or before Oct. 1, pending regulatory approvals.
"This journey has taken nearly a decade for all the FMPA cities to be voting to allow Vero Beach to exit," Zorc said, adding that Monday's vote was an "historic day both the residents of Vero Beach and the residents of Indian River County served by Vero Beach electric.
"This puts us one step closer to rate reductions that our community will benefit from to the tune of nearly $20 million every year," Zorc said, citing the rate disparity between Vero and FPL rates that will stay in the pockets of residents and businesses after the sale closes.
The next step in the process is for the FMPA Board of Directors and the FMPA Executive Committee to formally vote on March 15.
Top FMPA officials have crisscrossed the state in close negotiations with the 19 member cities, plus Vero, who are equity partners in the agency's All Requirements Project (ARP).
The remaining ARP members will be assuming Vero's share of the virtual ownership in three power generation projects – Orlando's Stanton 1 and Stanton 2 coal plants, and FPL's St. Lucie Nuclear plant – in exchange for $108 million that will come out of the $185 million FPL is paying to acquire Vero Electric.
"It was months of preparation on the part of FMPA. Nothing was left to chance," Vero Councilwoman Laura Moss said last week during a council meeting, recognizing especially the efforts of FMPA CEO Jacob Williams and chief counsel Jody Finklea.